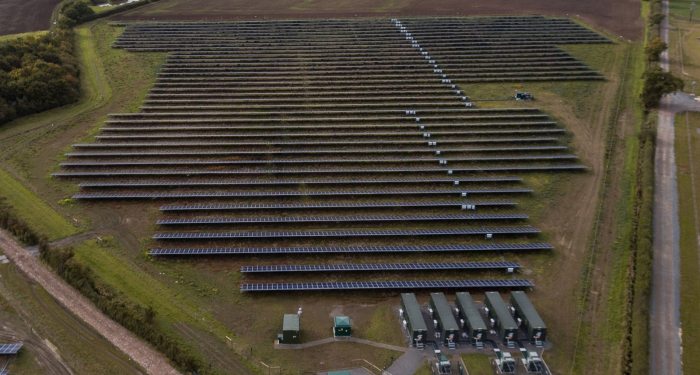 The UK's first large-scale solar facility to operate without a government subsidy was officially opened earlier today.
Located in Bedfordshire, Anesco's Clayhill Solar Farm and energy storage facility consists of 10MW of BYD solar panels and 6MW of energy storage, also from BYD. The station will generate enough electricity to supply around 2,500 homes.
 "The cost of solar panels and batteries has fallen dramatically over the past few years, and this first subsidy-free development at Clayhill is a significant moment for clean energy in the UK," said Claire Perry MP, the UK's Minister for Climate Change & Industry.
As with solar power in Australia, PV in the UK has rapidly evolved from fringe to mainstream. Minister Perry said solar panels installed across the UK were already generating enough electricity to power 2.7 million homes; with 99% of that capacity installed in the last seven years.
Anesco states it has 100 solar farms in its portfolio, with a collective capacity of 480MW. The company also has 29MW of energy storage installed in the UK to date, with that portfolio expected to exceed 185MW by the end of next year.
Construction and installation of the Clayhill solar farm project took just 12 weeks. Anesco says another major achievement associated with the project was the use of 1500V inverters supplied by Huawei, the first time inverters of this type have been deployed in Europe.
"For the solar industry, Clayhill is a landmark development and paves the way for a sustainable future, where subsidies are no longer needed or relied upon," said Anesco Executive Chairman Steve Shine.
UK's "Greenest" Summer
In other news out of the UK, National Grid says the nation experienced the greenest summer ever with regard to electricity supply. According to an article on The Guardian, a combination of solar, wind and nuclear power saw carbon intensity of the grid more than halved compared to its level over the same period four years ago.
In partnership with WWF and Environmental Defense Fund Europe, National Grid is also trying to help electricity consumers push carbon intensity down further with the launch of an online application that forecasts the "greenest and dirtiest" times of day to use electricity, up to two days ahead.
In April this year, Britain experienced its first working day without coal-fired power generation since the Industrial Revolution. Mining of the little black rock, which has been occurring in the UK since Roman times and peaked in 1913, is also being shown the door – deep pit coal mining ended in 2015.
Solar power isn't just helping to replace the filthy fossil fuel in the UK, it's also assisting in cleaning up the mess coal has left behind.