The 546,000+ rooftop solar power systems installed in Victoria and South Australia made a valuable contribution towards keeping the lights on and air-conditioners pumping in both states during recent stinking hot days.
According to information supplied by Dylan McConnell from the University of Melbourne's Climate College, rooftop solar cut peak electricity demand by 650 megawatts in Victoria on Thursday (graph shows previous 24 hours).
On Friday, SolarCitizens tweeted  graphs from Mr. McConnell; showing peak grid demand reduction of hundreds of megawatts on Thursday thanks to small scale solar power (again, dates on the graphs are a little confusing).
While South Australia imported electricity during the heatwave event and NEM Watch was showing "liquid fuels" being used in SA at some points, apparently the state's shiny new diesel generators are yet to be called into service (except for testing).
Coal Units Cark It
Alinta Energy's CEO found himself in a difficult situation last week after Loy Yang B's Unit 1 generator reportedly failed on Thursday afternoon. This was just a few days after Alinta finalised its acquisition of the plant and chief executive Jeff Dimery stated he was confident there wouldn't be any issues with the power station during the heatwave.
Loy Yang B wasn't the only brown coal electricity generator to fail in Victoria in recent days. According to The Australia Institute (TAI), Unit 1 at the Yallourn W brown-coal fired power plant again failed on Saturday night and an unsuccessful attempt was made to restart it at 1.15am yesterday morning. It looks like it was still offline at 6am Sunday.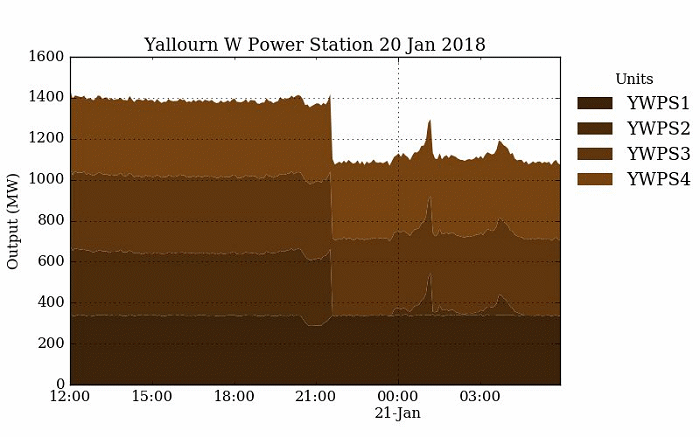 TAI says there have been 25 gas and coal power generator breakdowns so far this summer and Yallourn W has been a repeat offender.
Reposit Power Claims A Victory
When Loy Yang B's Unit 1 spat the dummy, Reposit Power says its customers in Victoria and South Australia helped stabilise the electricity grid by supplying energy stored in their solar batteries, earning them GridCredits.
"The GridCredits event lasted more than two hours and customers earned GridCredits between $5 and $37 depending on the size of their battery," says the company.
Depending on the plan, Reposit Power customers receive $1.00 for each kWh exported to the grid during a grid credit event, which is rare.
Tesla's "big battery" in South Australia also cashed in on the Loy Yang B situation and Federal Energy Minister Josh Frydenberg found himself subjected to ridicule over his perspective on the situation. 
It doesn't seem to have discouraged him. Minister Frydenberg took another shot at wind power in South Australia on the weekend; stating it was not only causing reliability issues, but price volatility as well. There were certainly times during the heatwave when wind power in SA was contributing little during peak periods.
With Adelaide heading for temperatures in the 40's toward the end of this week and things heating up in Victoria, summer looks set to continue to deliver more testing times and more opportunities for solar energy to shine. However, with the next event at this stage looking to mostly occur over the long weekend, electricity demand should be reduced.