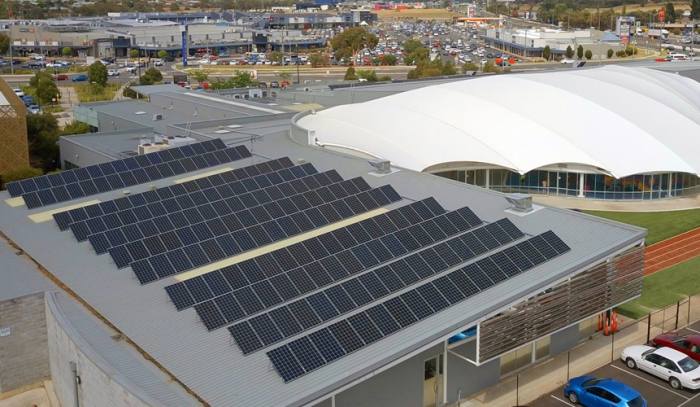 Another City of Greater Geelong facility has gone solar –  Leisurelink Aquatic Centre in Grovedale – with other buildings to have solar panels installed this year.
300 solar panels are installed on top of the building, with a total capacity of ~100kW. The installation is part of the City's Zero Emissions Carbon Strategy that aims to halve emissions based on 2014-15 levels (23,135 TCO2-e)  by 2020. In the longer term, the City is shooting for a 75% reduction by 2035 and to be zero-emissions by 2050.
"It's important for local government to lead the way with environmental initiatives," said Mayor Bruce Harwood. "This is a great project for the City to reduce emissions as we work towards becoming a Zero Carbon Council. The benefits from installing these solar panels across City buildings will also extend to the community with significant annual savings."
The City's other solar energy installations include City Hall (6kW),  North Zone Depot (12kW), Boorai Centre Ocean Grove (80kW) and the National Wool Museum (6kW).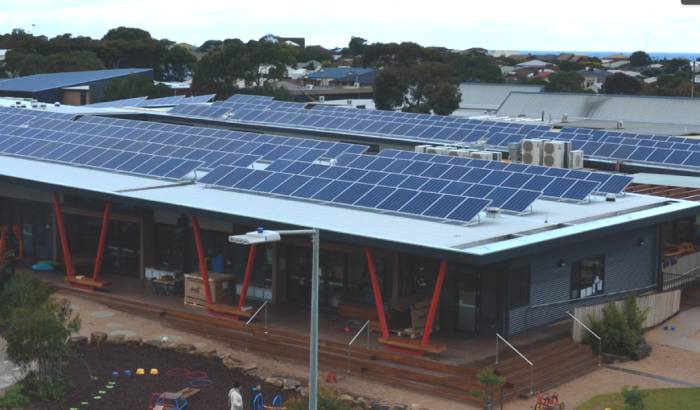 In 2015/16, 178,000 kilowatt-hours of energy was generated by Council from renewables. While that was a drop in the bucket compared to consumption, more solar is to be installed on buildings this year, including:
National Wool Museum – another 80kW
City Hall – another 30kW
41 Anakie Rd. – 50kW
Kardinia Pool – 50kW
Bellarine Aquatic and Sports Centre – 100kW
Splashdown – 20kW
Waterworld – 100kW
These and other facilities will also undergo various efficiency enhancements, including LED lighting upgrades, automating building control systems and upgrading heating/cooling systems.
Electricity is a major expense for the City, costing $5.5 million in 2015/16. Solar power and energy efficiency upgrades to buildings included in its 2017-18 program are expected to save $200,000 and avoid 1,600  tonnes of greenhouse gas emissions each year.
Looking ahead, there certainly doesn't appear to be a shortage of buildings to whack more solar panels on if Council chooses – it has 760 in its portfolio.
Elsewhere in Geelong, community solar energy is on its way. In October last year, we reported the Victorian Government was providing a $140,000 grant to support the implementation of Geelong Sustainability's community solar investment model. The latest update from Geelong Sustainability is residents will get their opportunity to invest in the first project soon.
Solar power in Geelong also has a healthy showing among households, with thousands of rooftop systems installed throughout the region.
When City of Greater Geelong requested feedback on its Community Zero Carbon Action Plan, solar PV was the most mentioned theme in relation to current and future actions to reduce carbon emissions; with community owned renewable energy hubs and roof top solar power ranking the highest.