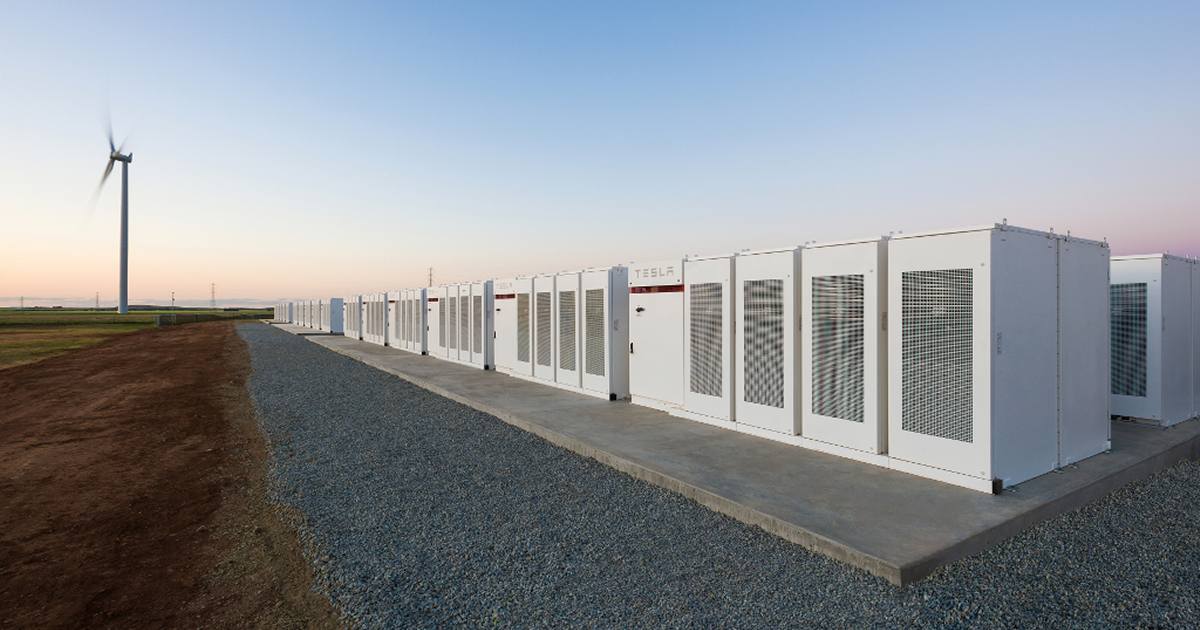 The world's largest operating lithium-ion battery system, Hornsdale Power Reserve in South Australia, is to expand its capacity by 50%.
Also known as the Tesla Big Battery, Hornsdale Power Reserve is located approximately 15km north of Jamestown and situated adjacent to the 309MW Hornsdale Wind Farm. The energy storage facility can currently supply up to 100 megawatts of power and store 129 megawatt-hours of energy.
Hornsdale Power Reserve commenced operations on December 1, 2017. It  not only made money for owner Neoen in its first year of operation, but improved grid stability and pushed down the cost of ancillary services such as frequency stabilisation; saving energy consumers an estimated $50 million.
More Services, More Savings
Now nearly two years old,  Hornsdale Power Reserve is continuing to impress with its performance and will broaden its services with a 50 MW / 64.5 MWh expansion. Neoen says Hornsdale will be the first grid-scale battery in Australia to provide inertia benefits to the National Electricity Market (NEM), by emulating behaviour of existing fossil fuel-based services. Inertia testing and demonstration will be carried out in conjunction with the Australian Energy Market Operator (AEMO).
Neoen states the expansion will mean increased savings for SA electricity consumers and enable more wind and solar energy to be used in the grid.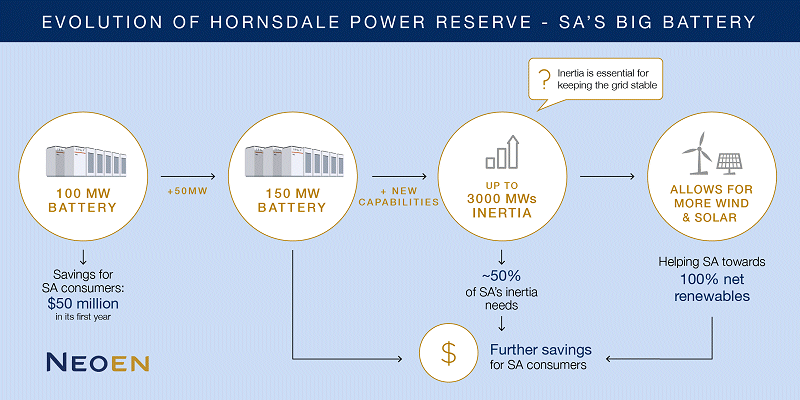 Supporting the $71 million expansion is $8 million in funding from the Australian Renewable Energy Agency (ARENA).
"We hope this project will not only demonstrate the versatility of batteries in providing a range of grid services but also help pave the way for market reform," said ARENA CEO Darren Miller.
The Clean Energy Finance Corporation is also participating; committing up to $50 million in project finance. Additionally, Neoen will receive $15 million over 5 years from the South Australian Government's Grid Scale Storage Fund – the first project to be supported under the fund.
"By providing an additional 50 MW of fast ramping market capacity it is designed to reduce spot price volatility and protect the grid from network disturbances, resulting in more affordable, reliable, and secure power for all South Australians," said SA's Minister for Energy and Mining, Dan van Holst Pellekaan.
Construction has already commenced and is expected to be completed in the first half of 2020.
Hornsdale Power Reserve utilises Tesla Powerpack 2 batteries1, which have an expected operational life of at least 15 years. Once the Hornsdale facility is decommissioned, all battery packs and modules will be recycled by Tesla and 60% of the materials recovered for reuse.
Footnotes
It's not clear whether the expansion will involve more Powerpack 2 units or the Tesla Megapack ↩