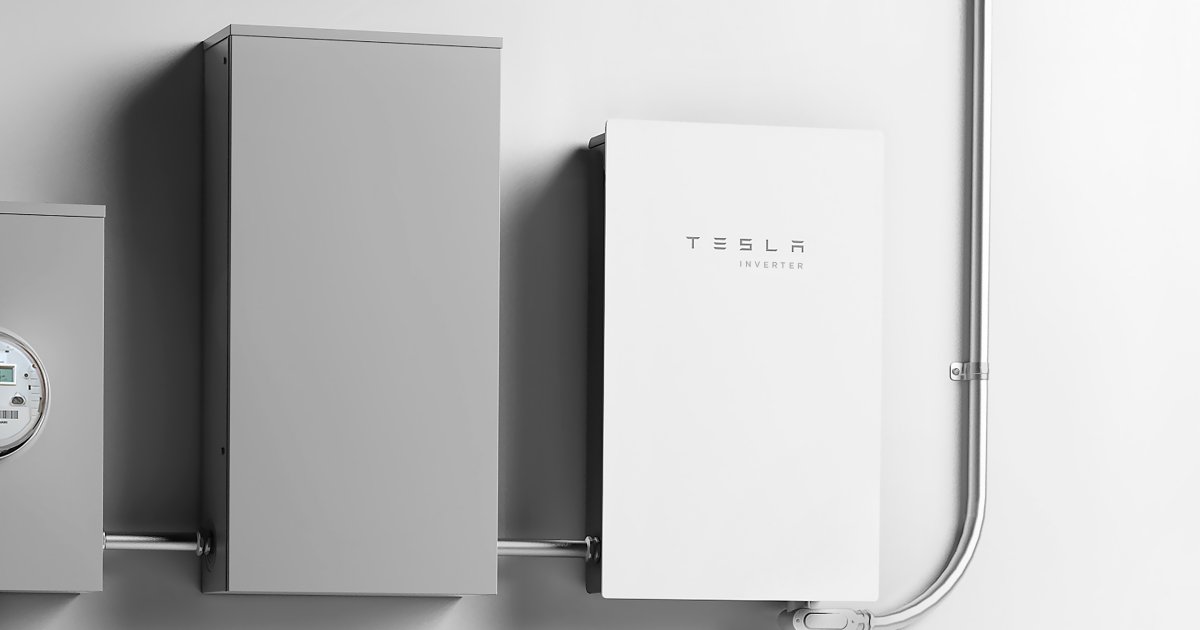 Tesla recently took the wraps off its solar inverter. There's not much information available on it yet, but here's what we know.
The first thing you'll notice when visiting the Tesla Solar Inverter page if you're accessing it from Australia (and probably a bunch of other non-US countries) is the message: "404 – I'm afraid I can't do that".
In the USA, Tesla's operations include the sale of solar power systems – something it isn't doing in Australia yet. (Correction: If you buy a Powerwall directly from their site, Tesla will ask if you want solar too).
The Tesla Solar Inverter is available in two capacities – 3.8kW and 7.8kW. Both have a claimed efficiency of 97.5%, so nothing particularly exciting there. You can find that level of efficiency (or better) in good solar inverters even at the budget end of the spectrum.
A feature in the 7.8kW model that is interesting: 4 maximum power point trackers (MPPT).
An inverter with multiple MPPT is needed in order to optimise overall system performance where you have solar panels mounted across multiple roof areas facing different directions. You can learn more about MPPT here.
It's pretty common for solar inverters to have two built-in MPP trackers (and the Tesla 3.8kW model has two), but four is still rare. We recently reported that Delta Electronics' new H8E (8kW) and H10E (10kW) inverters, which will available in Australia in the second quarter of this year, will have 4 MPPT.
Aside from that, there's not much of note in the Tesla Solar Inverter specifications provided. The inverter offers Wi-Fi, ethernet and cellular connectivity with over-the-air updates and is designed to integrate with Tesla Powerwall and Tesla app. Its dimensions are 660 mm x 411 mm x 158 mm and it weighs in at around 23.5kg. Safety features include integrated rapid shutdown, arc fault and ground fault protection.
One curious aspect of the Tesla Solar Inverter is its warranty length – 12.5 years. Why not 13? Did triskaidekaphobia come into play? Still, 12.5 years is very good for an inverter as a standard inclusion, assuming it's a solid warranty.
The cost of the inverter hasn't been mentioned and it may not be made available as a stand-alone item; only as part of a Tesla-installed system – so whether we'll see it available in Australia is anyone's guess.
Another U.S. Tesla Powerwall Price Hike
Electrek reported yesterday that Tesla has again increased the price of its Powerwall battery system in the USA – the second time in just a few months. In October last year, the price was increased by USD $500 (around AUD $650 at current exchange rates), and it has just been boosted by another USD $500.
In Australia, Tesla jacked up Powerwall pricing by $800 in October last year. Whether we'll see another increase in line with the USA is again anyone's guess, but checking Tesla's Australian page for Powerwall this morning indicates the price hasn't shifted one way or the other – yet.
SolarQuotes founder Finn Peacock has pointed out the Australian dollar is up 11.5% from one year ago, so maybe Tesla will skip the Powerwall price increase in Australia.