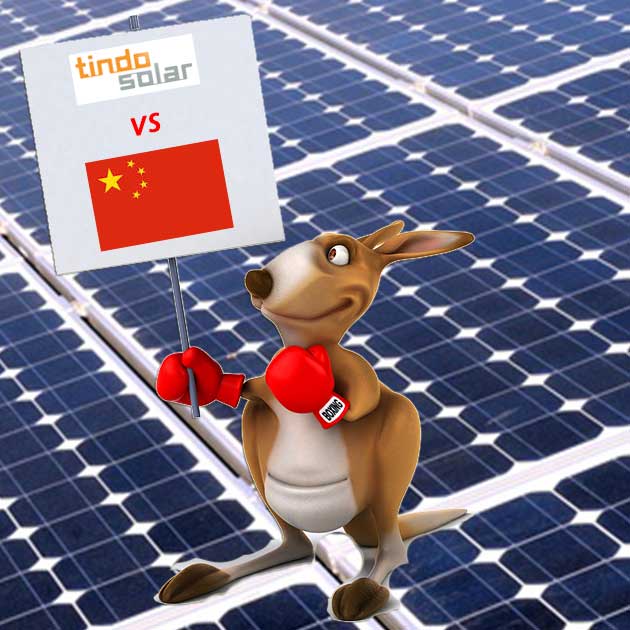 Today I'd like to welcome a new contributor to the SolarQuotes blog – Ronald Brakels. Ronald is technically minded and has a lot of passion for the Australian renewable energy industry, and is not afraid to put his opinion forth. I'm not always going agree with every opinion Ronald holds – but I always enjoy how he articulates those opinions. I think you will too. Over to you Ronald:
—
Tindo Solar is Australia's only solar panel manufacturer and its Adelaide facility employs a total of 25 people. They produce high quality solar panels specially designed for the harsh Australian environment. Finn tells me he has 24 of them on his roof and they are working great. They are panels that I highly recommend.
Or at least, I used to be able to recommend them. I'm not sure I can do that with a clear conscience any more. Why? Because Tindo Solar has embarked on a course of action that I believe may well harm both Australia's solar industry and the world's environment.
Tindo have asked the Australian Anti-Dumping Commission to investigate whether imported Chinese solar panels have been sold here at below cost. If the Commission rules that dumping has taken place it will impose punitive tariffs on Chinese panels that will increase the cost of solar for Australians, reducing installation rates and increasing our greenhouse gas emissions.
Now, whether or not Chinese panels have been dumped in Australia is an open question. That is, one of those questions to which the answer is both yes and no. Let me explain.
Yes because pretty much everything Australia imports from China is subsidised by low cost loans to industry, funded by the state stealing from the savings of Chinese citizens via interest rates on deposits that are considerably lower than the inflation rate.
No because this is not regarded as dumping by the Commission. Instead they will be looking to see if solar panels have been sold in Australia (taking into account the cost of transport) at a lower price than they were sold in China.
However, some Chinese manufacturers have sold panels in Australia at an introductory low price just to get their foot in the door and build some brand recognition in a competitive market. And some Chinese panels that were meant for Europe and the US were probably sold at a discount in Australia once those areas introduced punitive tariffs to protect their own, considerably more than 25, solar panel manufacturing employees. The Commission is not supposed to class business practices commonly used in a rapidly growing sector, or temporary market events caused by changing conditions, as dumping. However, there is plenty of scope to claim evidence of so-called dumping if political influence was brought to bear in favour of such a finding. Of course such a thing could never happen in Australia! It would be as unlikely as putting a known climate change denier in charge of reviewing Australia's Renewable Energy Target.
Would punitive tariffs on Chinese solar panels be such a bad thing?
That is a reasonable question to ask. And the answer is:
"Yes! It would be!"
There are several reasons why.
Firstly, when a country spends its own money to make the goods it is selling you cheaper, the correct response is to write them a polite thank you note. This is because they are basically giving you stuff for free. Now, this doesn't mean a country should let its own people working in that area suffer, but if a country has no people working in an industry and rejects subsidised goods then that's a damn fine definition of the word stupid. Australia has next to no people working in solar panel manufacturing. The total is 25 and that includes management and sales positions. The benefit, to the nation, of receiving subsidised panels would far outweigh the cost.
Secondly, punitive tariffs could potentially be quite high and this will harm Australia's solar installation industry which employs thousands. For every solar panel manufacturing job that gets helped, about 700 solar installation jobs would be harmed. While we can sympathise with Tindo Solar, punitive tariffs are clearly unfair to the solar industry as a whole. In addition, the increased cost of installation that would result would be a blow to Australian business which is now starting to rely on solar power to control costs, and it would harm average Australians by increasing the cost of household rooftop solar.
Thirdly and most importantly, by raising costs, punitive tariffs will reduce the amount of solar capacity that is installed and result in more greenhouse gases being emitted than without the tariffs. This puts everyone in the world at greater risk of economic or direct physical harm from the effects of climate change, with a great deal of the burden falling upon the world's poorest people. Tindo Solar's actions have, to at least some extent, put human lives at greater risk. I suppose it is possible that everyone at Tindo Solar is a climate denialist and so don't think they're putting anyone in harm's way, but I kind of doubt that. Normally people who seek out careers in renewable energy do so out of a desire save the world and its inhabitants from harm and these people have always been my heroes. Up until now.
If the Anti-Dumping Commission found that dumping had occurred and put a punitive tariff in place that was high enough to cover the cost of finding work for the 25 people involved in solar panel manufacturing in Australia if they should lose their jobs, I would be totally down with that. It could pay for income support while they search for new work, or train or study, or they could receive some sort of payout if they instead preferred to retire or take an extended vacation. The important thing is, this tariff would be tiny, a fraction of a cent per dollar's worth of Chinese solar panel imported. However, punitive tariffs don't work like that and if introduced they would almost certainly be much larger and so considerably increase the cost of installing solar with negative consequences for the Australian solar industry and the environment.
Just to be clear, I don't want Tindo's 25 workers to lose their jobs if their company can't hack the competition, whether that competition is fair or otherwise. I don't even want them to feel stressed over the possibility of losing their jobs. Unfortunately, I don't have any magic permanent employment pixie dust I can sprinkle on them. However, I could ask people working in Australia's solar installation industry to offer jobs to these people if they need them. While there are some significant differences between solar manufacturing and solar installation, having a job available if you need it is certainly better than not having one, and I encourage Australia's solar industry to offer these people employment if Tindo Solar closes as a result of low cost imports.
Of course it's easy to ask other people to do things. Perhaps I should think of something I could do myself. If Tindo Solar can't compete against imports in its current form, rather than shut down and have its equipment shipped off to say China, perhaps it could continue to manufacture panels in Australia if it was reorganised as a non-profit. Successive Australian governments have pushed the creation of a huge volunteer sector in the economy and as more service jobs become automated this trend is likely to continue, so there could be some support for this, and I'd be willing to contribute labour and some capital towards making this happen.
The other option that I think Tindo could consider is to simply position themselves as making Aussie made, high end, high performance, and – yes, slightly more expensive – solar panels for the end of the market that doesn't mind spending a bit more on a top-of-the-range product manufactured locally to exacting standards.
Instigating this dastardly dumping investigation certainly seems like a risky move for Tindo. They risk alienating lots of their brethren in the solar industry, the very people that they need to be out there promoting them and putting their panels on people's roofs who I'm sure would otherwise be more than happy to support a boutique Aussie panel manufacturer. They risk tarnishing their brand with memories of the harm Tindo attempted to bring upon the Australian solar industry by inviting the bureaucrats in to poke around accusingly inside Australian solar panel importers at a time when they need to be focussed on simply surviving the stacked RET review which threatens to decimate Australian solar without Tindo's help.