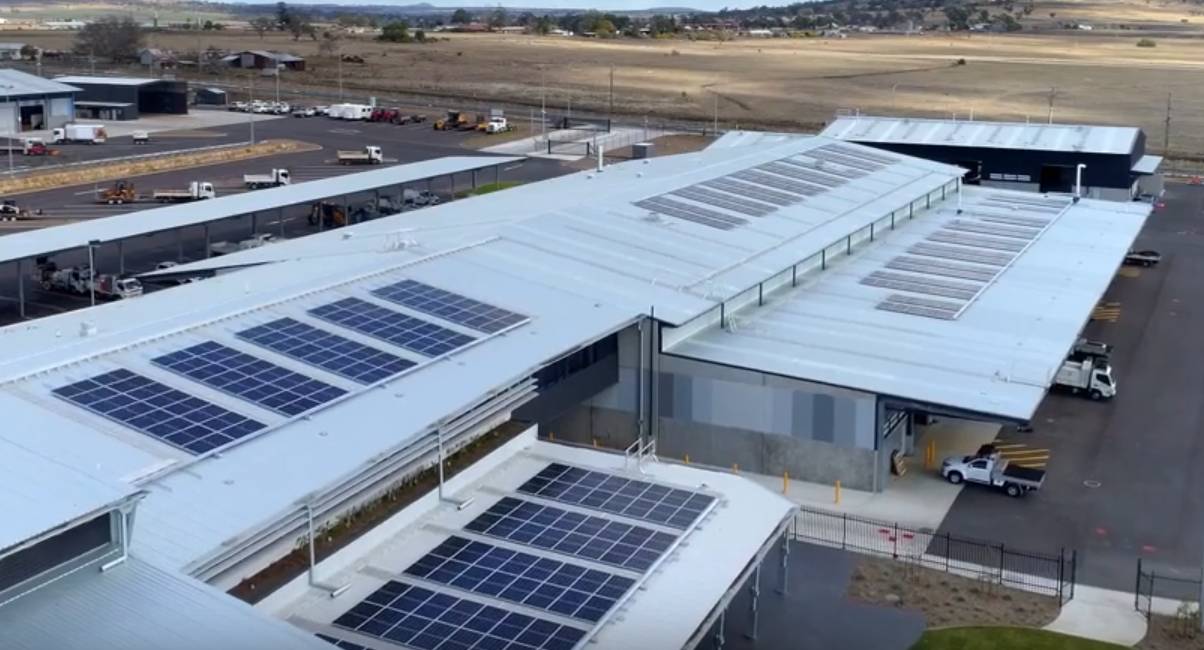 Toowoomba Regional Council Mayor Paul Antonio officially opened Council's new solar powered $67 million Principal Depot in Charlton last week.
Among the sustainability features of the new depot is a 750,000 litre rainwater tank and solar panels installed on the rooftop of the central operations building and main workshop. Mayor Antonio said the depot "will run entirely on solar power".
So, how big is the system? The Mayor didn't mention capacity, but this page states there would be an initial installation of a 200kW solar system and 400kWh of battery storage, with a further estimated 300kW of solar capacity to be installed late this year. It's also not clear if the battery system is already in place; or what it is/will be.
The depot installation adds to Council's existing portfolio of PV, which include systems installed at:
Highfields Sport and Recreation Park
Toowoomba City Library
Greater Toowoomba Waste Management Facility
Kleinton Waste Management Facility (under construction)
Additional details on these systems, as with the new Depot system, were difficult to find. It seems Council still hides its solar street cred under a bushel somewhat, or whatever the equivalent would be.
Solar Energy And The Toowoomba Region
What isn't difficult to determine is the popularity of PV in the local government area generally. In Toowoomba, solar panels are a common sight on the rooftops of homes and businesses and more than 11,457 small-scale systems had been installed in the 4350 postcode as at the end of June.
4350 is one of Australia's top solar postcodes according to Clean Energy Regulator statistics and local demand for solar power systems has supported a bunch of great solar installers servicing Toowoomba and surrounding areas.
There's also significant large-scale solar activity in the Toowoomba local government area. Among the projects:
Bulli Creek Solar Farm
Oakey Solar Farm
Yarranlea Solar Farm
Yarranlea Solar Farm is a 121 MWdc/100 MWac project owned and operated by Risen Energy that connected to the mains grid in January this year. Canadian Solar's Oakey solar farms were a two-stage project, with the first stage of 25MW commencing electricity production in March last year and the 55MW Oakey 2 solar farm in September 2019. The latter has endured more than its fair share of setbacks.
Bulli Creek Solar Farm will be developed in stages up to a total of a whopping 1,200 megawatts capacity and approximately 3 million solar panels. Construction is yet to commence on this facility and developer First Solar recently applied for – and was granted – extension of approvals for another 5 years.