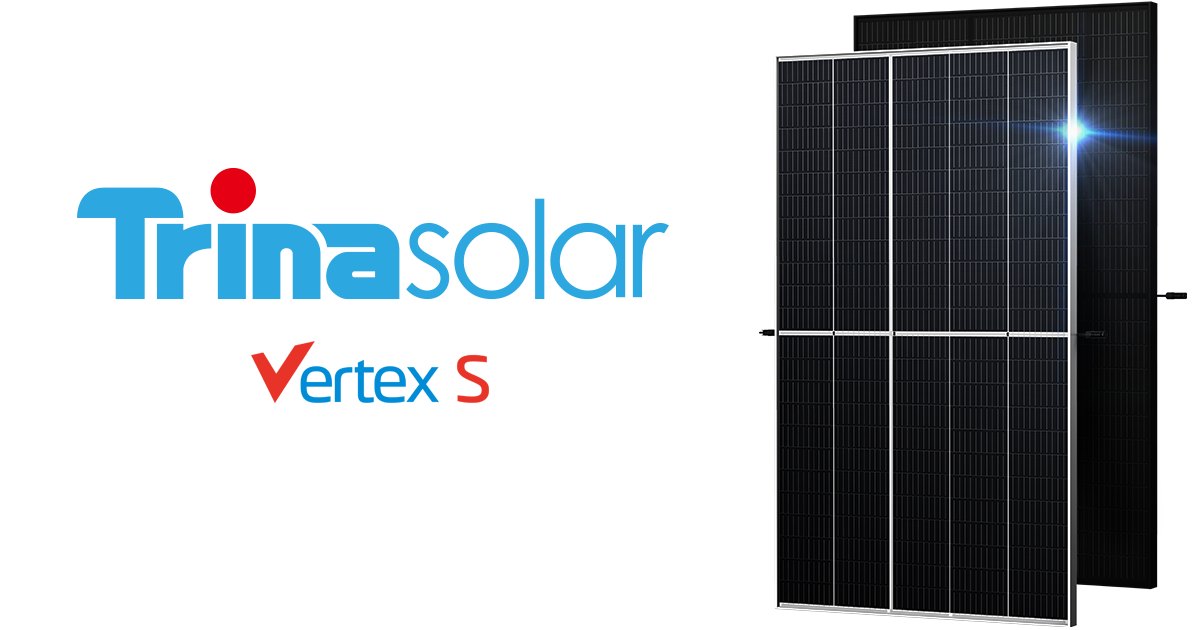 There's a new face in the high-power Trina Solar Vertex line-up, and this solar panel will be suitable for rooftops.
Trina has been developing some monster modules under the Vertex banner – up to 600 watts capacity. They aren't just big on power, but also size and weight:  up to 2172 x 1303 x 35 mm and 35 kilograms per panel. To this point, Vertex has been aimed at the utility-scale sector.
Yesterday, the company announced the launch of Vertex S.
"The Vertex S series is another milestone in the long developmental history of the PV industry," said Trina Solar chairman  Gao Jifan.  "This product is a module with ultra-high power and a small form factor, tailored to the needs of rooftops and distributed energy systems."
A few Vertex S specifications (full datasheet yet to materialise at the time of writing):
Capacity – 405W
Dimensions – 1754mm x 1096mm
Weight – 21kg
Efficiency – >21%
Product warranty – 15 years
As well as the bump up in power compared to other Trina home solar modules, the Vertex S offers a better product warranty of 15 years compared to 10 years for other Trina solar panel products. The company has heralded the Vertex S as:
"the first ultra-high power module type specifically designed for non-utility segment in PV history."
Perhaps that claim isn't just puffery – it just depends on what you define as "ultra-high power". There are plenty of 400W+ modules around, but most have the larger form factor generally not suitable for rooftops. SunPower released a 400W Maxeon 3 module for the home market in Australia last year, which has a little less capacity than the Vertex S and is smaller, but comparing the two could be a little like comparing apples and oranges given the difference in pricing. SunPower modules are at the upper end of the pricing range, while Trina solar panels are usually at the lower end. It wouldn't be unreasonable to suggest the Vertex S will be cheaper than a Maxeon 3.
On a related note, you can see where SQ-approved solar panel brands generally sit on the pricing spectrum in our Solar 101 guide (along with inverter and mounting system brands too), and also check out Ronald's article from last year on some of the challenges associated with installing larger solar panels.
Vertex A Winner For Trina
It was only in February this year when the company unveiled its 500W Vertex, and within five months it took the wraps off the 600W model. Trina recently stated it had received signed orders for more than 2GW of Vertex modules from European, Asia-Pacific, Latin American and Middle Eastern customers; added to whatever it has on the books for local sales (capacity not mentioned). Trina Solar said it expects total production capacity for Vertex modules to reach around 22GW by the end of 2020.
Trina says its solar cell production capacity is projected to reach around 26GW by the end of next year, with 70% of that to be production of 210mm cells used in the Vertex.
As for the Vertex S specifically, the company has very high expectations for it – 15GW capacity (assumed: production capacity) in 2023. At 400 watts a pop, that would work out to be around 37.5 million Vertex S solar panels.
Update February 5, 2021: Trina says the Vertex S will be available across Australia in April 2021.