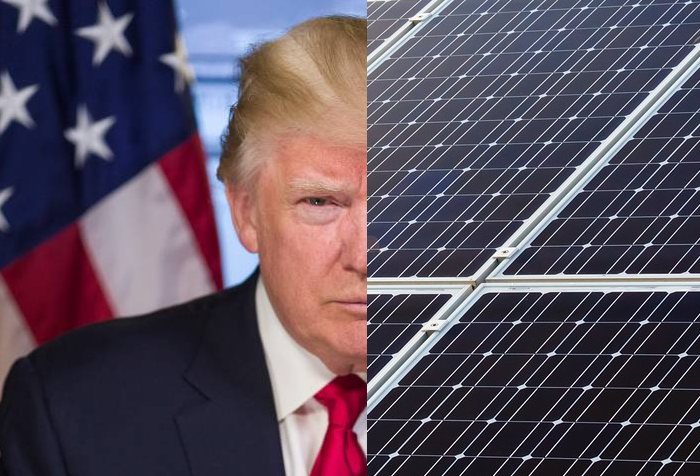 Some of the biggest names in the solar panel manufacturing industry have filed requests to be excluded from U.S. punitive duties on imported modules and cells – and one applicant may raise a few eyebrows.
In January this year, U.S. President Donald Trump gave the go-ahead for punitive tariffs of as much as 30 percent to be levelled on imported solar panels and cells. The decision has been referred to as the "Trump Solar Tax," Trump Solar Tariffs", but is more formally known as the Solar Products Safeguard Measure.
The Office of the United States Trade Representative (USTR) in now in the process of considering applications to exclude certain products from the tariffs.
Among the solar panel manufacturers looking for exemptions to the Solar Products Safeguard Measure (links point to exclusion requests):
SolarWorld Are Cheeky Buggers
SolarWorld Industries GmbH being on the list with their cap in hand will no doubt draw some ire.
The Solar Products Safeguard Measure is the end result of a petition from Suniva, Inc., that was later joined by SolarWorld Americas, Inc. – which was at that point a subsidiary of SolarWorld AG.
SolarWorld AG subsequently went bankrupt, then was acquired by a group of investors and revived as SolarWorld Industries GmbH.
Dr Frank Asbeck, who was Founder and  CEO of SolarWorld AG, is also Founder and Managing Director of SolarWorld Industries GmbH – and one of the group of investors.
However, SolarWorld Industries Americas was not part of the buyout and is now a separate US entity. You can read more about the SolarWorld saga here.
In comments accompanying its exclusion request, SolarWorld Industries says:
"SolarWorld Industries' products are complementary to U.S. products and do not cause injury in any form to the U.S. manufacturers, but instead jointly support the competitiveness and development of the U.S. high-quality and sustainability market. While also targeting the unhealthy dominance of low quality imports in the U.S. market."
U.S Rejects EU Solar Tariff Alternatives
In related news, Greentech Media reports the US has rejected EU alternatives to the safeguard tariff. The EU had suggested a quota allocated by country or a minimum import price; arguing solar panels manufactured in the EU did not pose a threat to the US solar manufacturing sector due to volume and higher prices.
The U.S. reportedly stated it was a no-go, leaving it now open to retaliatory measures.