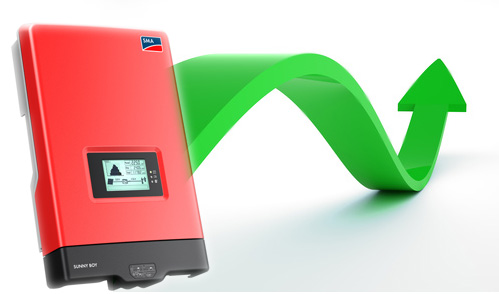 In my last blog post I explained how to find an inverter's real-world efficiency instead of relying on the inverter manufacturer's  numbers.
The CEC or European Efficiency numbers that I talked about are a much better number to use when comparing solar inverters. And for most people they will be all you need. However if you really want to understand how your solar system is going to perform then you should also look at the inverter's "efficiency curve".
Your inverter does not simply have one efficiency that it always operates at. The efficiency of your inverter will depend on two minor factors and one major factor.
The 2 minor factors are:
1) The ambient temperature of the inverter. The hotter your inverter gets the lower its efficiency will fall. Which is why it should always be installed in a shaded, well ventilated location.
2) The DC Voltage going into the inverter from the solar panels.  This gets quite technical, so I won't cover it here, but if you are a sadist, feel free to ask the solar salesperson what they have done to optimise the DC Voltage from the panels to maximise inverter efficiency. Then stand back and enjoy the long silence!
The big kahuna that affects your inverter's efficiency more than anything else though is the inverter load.  The inverter load is another name for the amount of power that the inverter is supplying compared to its rated power. e.g. a 1kW inverter which is only supplying 800W of power is operating at 80% inverter load.
Look at the inverter spec sheet (your solar vendor did supply one right?). You should see a curve that looks a bit like this: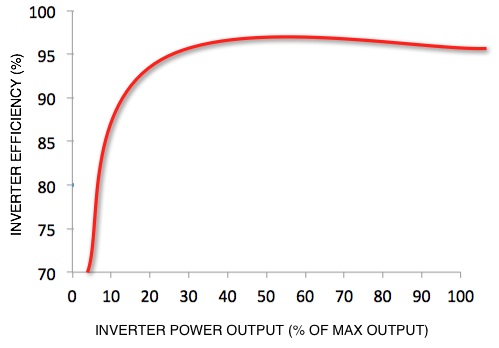 This is the inverter's efficiency curve. It is a graph that describes how the inverter's efficiency changes with the inverter's power output. Here are the 2 reasons you must look at these curves before buying a solar system.
Reason #1: To check that your Solar panels aren't operating on the worst part of the curve.
As you can see from this one, if your inverter regularly operates below 20% of its rated power then your efficiency is down the toilet! How could that happen? Well imagine that this is the curve for a 4.5kW inverter. That means that 100% output equals 4.5kW. Now imagine you only have 1.5kW of panels. (I have seen deals like this advertised!). When your system is operating at full power you will only be operating at 33% of the inverter's max power. The power doesn't have to drop very much for you to move left along the curve and watch your efficiency fall off a cliff. This could easily happen on winter days, cloudy days etc.
So That's one good reason to be wary of solar companies that try to flog you a super sized inverter that is far bigger than you need for the amount of panels you are buying!
You can also see from the curve above that from 30% to 70% power output, the curve is pretty constant at about 95% efficiency.
So the first thing to check on the efficiency curve is that you will be operating at a point on the curve that is reasonably flat. Expect the curve to be flat down to about 20% of the rating of your solar panel array's max power.
Reason #2: To be sure that the inverter with the highest max efficiency really is the most efficient.
One final thing to use the efficiency curve is to check that the inverter with the higher "max efficiency" really will perform better than another one with a slightly lower efficiency. Take the 2 inverter efficiency curves below. Inverter A has a higher maximum efficiency, but Inverter B will actually perform better as it has a higher efficiency over a broader range of power output: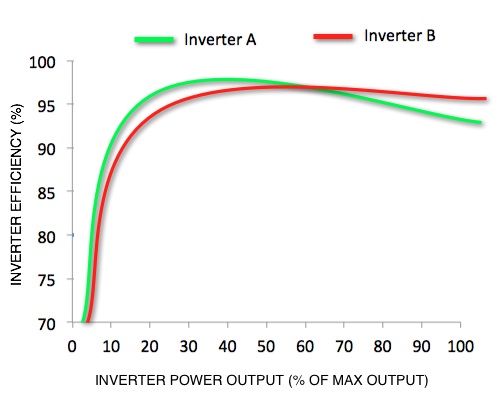 So there you have my 2 reasons that I think it is worth glancing at an inverter's efficiency curve before you buy a solar system. And if your solar vendor can't provide one, then they've given you the biggest reason of all spend your hard earned cash with someone else that can!