I'm often wary when I hear someone say "regulation is getting in the way of innovation", because it's so often led to disastrous deregulation of things that matter – public safety, building regulation, product safety and the like.
However, in this early-March Sydney speech posted to YouTube, Dr Jeffrey Hardy, of Imperial College London's Grantham Institute, makes a convincing argument that energy market regulation is hobbling the development of business models that would help the UK get to its net zero emissions target. The video is well worth watching in its entirety.
In the speech, "(User-centric) UK Zero Carbon Energy Futures", Dr Hardy's contention is that while the world has nearly all the technology needed to reach a zero carbon target, consumer behaviour has to change as well.
Technology "absolutely isn't" the answer, he said, "because only around 38% of the carbon savings are pure technology plays, where you replace something with something else."
While there will be a lot of "new kit", he said, "the rest has something to do with behaviour", such as changing peoples' mode of travel (to EVs) or heating (the ubiquitous gas boiler in UK households); and changes to social behaviour (less flying is a good example).
"You cannot do this transition without people doing things differently and willingly," he said.
Getting people to change their behaviour willingly means the industry needs to invent products and services encouraging change:
"This is a massive opportunity for data-driven, more consumer centric business models", stated Dr. Hardy.
Consumers Are Ready
Because of the huge profile the environment has in UK politics (wouldn't it be nice if Australia caught up?), consumers are already showing the willingness Dr Hardy said is needed.
"Consumers are prepared to play their part in the transition," he said, but what they get in the future "has to be better" than what the industry delivers today.
But you need a definition of "better", because it's one of those words that can mean pretty much anything.
It's hard to imagine "better", though, if people don't know what kind of products and services might exist in the future.
Dr Hardy said one characteristic of future energy products will be that they match demand to supply, rather than the other way around:
"It makes much more sense for demand to follow supply, because that's when energy is going to be cheapest, as long as you can get it from A to B".
And the business opportunity is huge he said, citing research conducted by his organisation together with Leeds University that identified a possible £21 billion "pool of untapped value" available to UK retailers, on the way to 100% renewables.
These include between £75 and £1,809 million in plant efficiency; £5 to £9 billion in new services, up to £4.6 billion in local low carbon generation and up to £8 billion in large-scale low carbon generation, up to £2 billion in "flexibility optimisation", and up to £1.7 billion in carbon capture and storage.
The Role Of Regulation
Why is regulation standing in the way of the "new services" slice of that value pool? Because, he said, UK energy market regulation today concentrates on processes – how billing works, what is printed on the bill, how retailers answer the phone and so on.
The shift to a more complex services model, in which one provider might focus on EV charging packages while another encourages peer-to-peer energy supply at a local level, simply doesn't fit with how UK energy market regulation now operates.
"There are a lot of companies exploring energy-as-a-service", Dr Hardy said, but the same model underpins all of them: a service provider depends on selling a commodity, in a world that's consuming less of the commodity.
"By the time you get through [the UK's] regulatory spaghetti … there's only one model you can be: just a bill with a different sticker on it."
That's what Dr Hardy would like to see change. Rather than regulating processes, he wants the regulatory environment to encourage new energy business models (without sacrificing consumer protection and supply stability).
Dr Hardy said his teams have identified six characteristics of a future market that can inform how we regulate future energy markets:
Energy retailers need to be more like other retailers – supermarkets, with their data-driven understanding of how to shift multiple products, rather than living in the old world of selling a single, simple commodity. This needs to be accompanied by "risk-based" regulation rather than process regulation. The retailer would be responsible for convincing the regulator it has properly risk-assessed its proposed new product, possibly with new insurance products that would help mitigate potential harms.
The market will move to more bundling. For example, you might get your transport, electricity, entertainment and telecoms from the same company.  It might make sense to bring consumer regulation under a single entity, "because it might not make sense if there's no visibility between different services." He said there's a parallel discussion about whether economic regulation in the energy market still needs to be in different sectors.
With more service provider freedom to create business models, "the regulator's going to have to have a commensurately large hammer to bring down on bad behaviour … potentially putting CEOs in jail"1.
The regulator has to "be better at data than any of the companies … it cannot be in the centre pulling levers, it has to be at the perimeter looking in, spotting trends, spotting things that might result in harm".
Data becomes "incredibly important", and while this will almost inevitably lead to strong industry opposition, "energy data should be considered a public good, and therefore open."
He also said the industry has to take a new look at how it achieves security of supply, switching from the old habit of "security means build more stuff" to managing demand so as to avoid building new generation.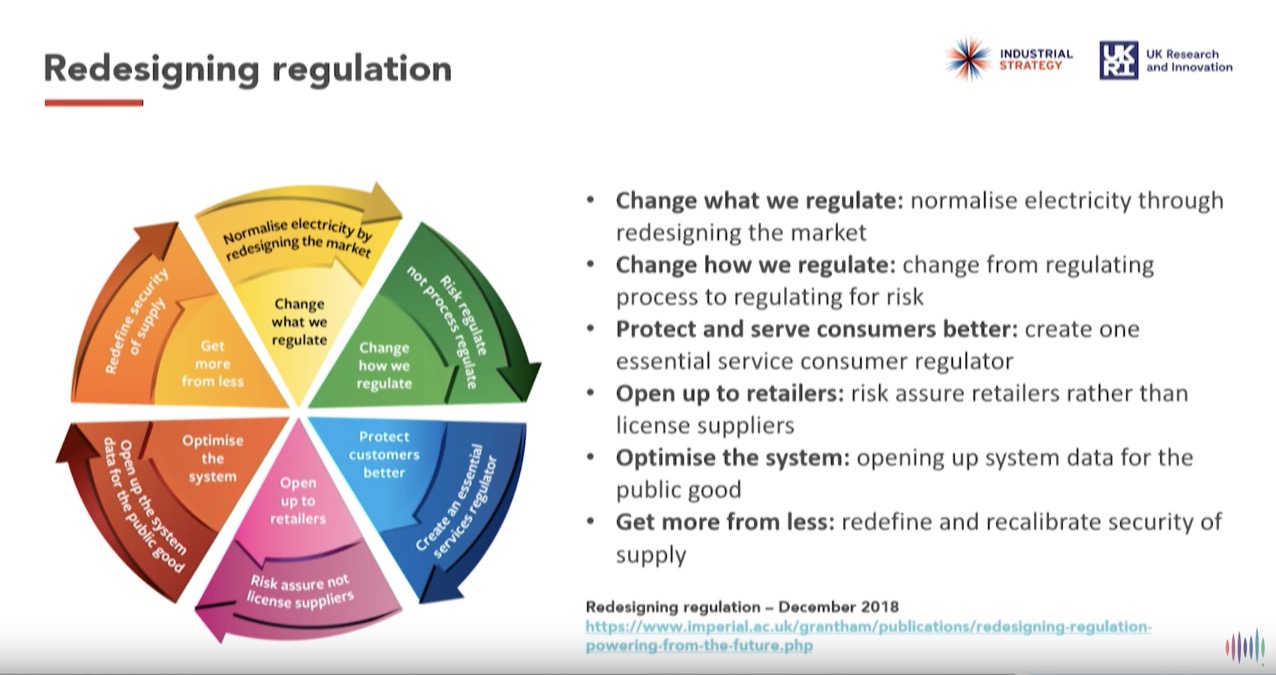 Finally, the Q and A session following the talk is below. Particularly interesting is Dr Hardy says based on his research, the Australian Government's latest 'Technology Roadmap' approach to reducing emissions will simply not work…
Footnotes
note from Finn: hang on a minute! ↩