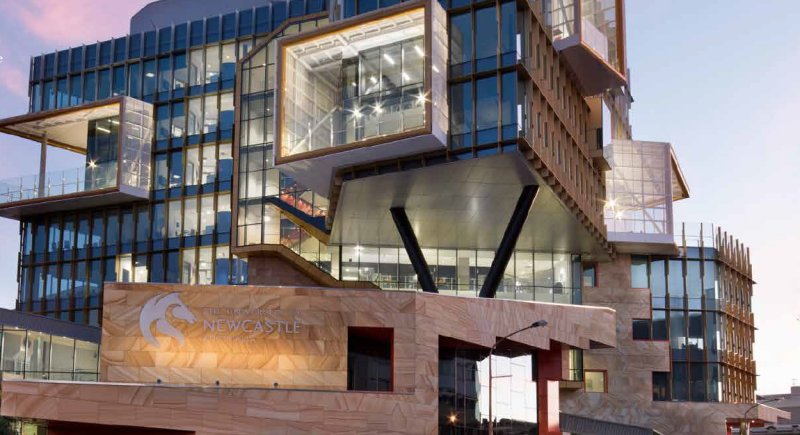 University of Newcastle (UON) has inked a seven-year contract with Snowy Hydro-owned Red Energy that will see it purchasing 100% renewable electricity for its Newcastle and Central Coast campuses.
The contract starts from the beginning of next year, with the renewables-sourced electricity supplied from 1 January 2020 – which is when Red Energy's contracted solar energy and wind power will be in place.
 "Social and environmental responsibility is at the very core of our operations. Our students, staff and community told us they want us to demonstrate our commitment to environmental sustainability in a tangible way, so we are extremely pleased to partner with Red Energy to use 100% renewable electricity," said UON Vice-Chancellor and President Professor Alex Zelinsky AO.
The move goes beyond green warm and fuzzies – Professor Zelinksy says the University will also be saving on electricity costs through the contract.
The Newcastle Herald reports the contract will cost $48 million over seven years, with Red Energy supplying approximately 40 gigawatt hours of electricity a year. Assuming the Herald's figure is correct, a quick back-of-virtual envelope calculation:
$48 divided by 7 = ~$6.86 million per year
$6.86 million divided by 40 ( gigawatt-hours) = $171,500 per gigawatt-hour
$171 per megawatt-hour
17.1c per kilowatt-hour
That kilowatt- hour figure may also include various other charges usually associated with electricity supply.
"Firmed" Renewables
Under the arrangement, hydro power from the Snowy Scheme will underpin ("firm") Red Energy's contracted wind and solar generation.
In November this year, Snowy Hydro announced it had signed eight wind power and solar energy contracts totalling  888 megawatts capacity across New South Wales and Victoria. Collectively the projects are expected to generate approximately 2.8 terawatt hours of electricity each year.
"In simple terms, 'firming' works by transforming intermittent energy into reliable energy so it's available on-demand when a customer needs it," said Snowy Hydro. "While the energy output of individual projects varies, Snowy Hydro's power stations can work in combination with wind and solar, creating 'firm' reliable energy."
On-Site Solar Power At UON
The University has 278 solar panels (75kW) installed on the rooftop of the library at Ourimbah campus. A total of 345 panels are also installed on buildings in Tamworth, Port Macquarie and Taree, with the largest system consisting of 228 panels installed on the Tamworth Education Centre.
UON is rolling out a further 7,000 modules (~2MW) on 25 buildings at Callaghan, plus more at Ourimbah.
Working on a 2007 baseline, the University aims to deliver a 20% reduction in carbon dioxide emissions per m2 of gross floor area by 2020 through an increased investment in on-site energy efficiency and renewable energy.