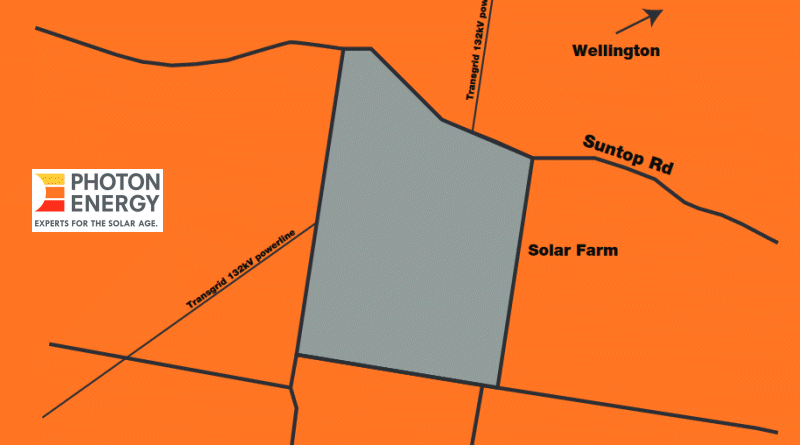 Suntop Solar Farm is the second large-scale PV project to be given the green light by the NSW Department of Planning and Environment this week. 
Suntop is a 170-megawatt (AC) solar energy facility to be built approximately 10km west of Wellington, which is within the local government area of Dubbo Regional Council. The power station will cover 472 hectares and consist of up to 550,000 solar panels installed on single axis tracking systems according to the project EIS. 118 inverters will be used for the project, supplied by Ingeteam in fully containerised stations.
A new 132 kV substation will be established on the western boundary of the site that will connect directly to the existing 132kV transmission line traversing the site.
The project will generate enough electricity to meet the needs of equivalent to ~65,000 households and avoid 357,000 tonnes of carbon dioxide equivalent (CO2-e) each year according to developer Photon Energy.
Up to 250 construction jobs will be created during peak construction periods and Suntop will support six to ten operational jobs during its 30 year life. At the end of that time, the facility will either be updated or decommissioned and the site restored as close as possible to its original condition.
The planned construction start is in the first quarter of 2019 and the installation should take approx. 12-14 months.
..But Wait, There's More – Suntop 2
Also in the pipeline is Photon Energy's Suntop 2, which will be larger than its predecessor, at approximately 230MW (AC) and constructed within the same general area. The status of that project at this point is the Secretary's Environmental Assessment Requirements (SEARs) have been issued.
Further details on Suntop 2 can be found here.
There's been an uptick in large-scale solar power related news out of New South Wales over the last week or so.  Yesterday we reported Seraphim solar panels are to be used at Bullarah Solar Farm, construction of which is due to start soon. Earlier this week it was announced the 275MW Darlington Point Solar Farm had been approved and also that the Department of Planning & Environment's NSW Large-Scale Solar Guideline had been published.
Last week, New South Wales Minister for Energy and Utilities Don Harwin was busy spruiking NSW's renewable energy progress at the Smart Energy Summit.
In late November, the Clean Energy Council said large-scale renewable energy projects currently under construction in the state represent close to $4.3 billion of investment and almost 2000 direct jobs. However, it warned that in the absence of strong policy from the next NSW Government, new renewable energy investment is likely to hit a wall.