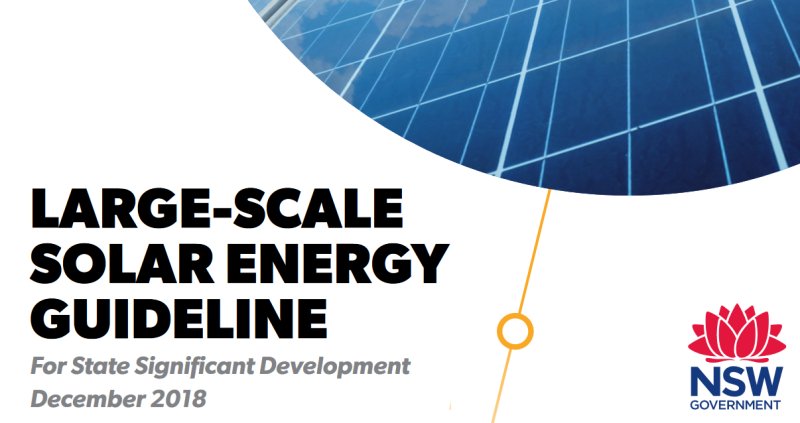 The New South Wales Government released its Large-Scale Solar Energy Guideline yesterday, which it says puts farmer and resident needs "front and centre".
While solar energy is generally very popular in Australia, at times large-scale projects cause major concerns for communities in the areas in which they are to be constructed. Common concerns include the use of productive agricultural land, aesthetics, glare, construction noise and potential negative impact on property values. These concerns can be amplified when communication from the developer involved is poor.
The new Guideline seeks to help address some of these issues. It was developed for large-scale solar power projects in New South Wales with a minimum capital investment value of $30 million, or in the case of the project site being an environmentally sensitive area, $10 million. These projects are considered State Significant Developments (SSDs).
The key requirements in the Guideline relate to:
Who should be consulted when preparing a proposal, including local community and environmental groups – and the need for early and continuous consultation.
Site constraints that must be considered, such as agricultural viability.
Key issues to be assessed in an Environmental Impact Statement (EIS).
The Guideline aims to ensure impacts are assessed with best practice methods and in a consistent manner.
The Large Scale Solar Energy Guideline can be viewed in full here (PDF).
NSW's Large-Scale Solar Power Boom
NSW Department of Planning and Environment's Deputy Secretary, Policy and Strategy, Alison Frame, says that to date 49 large scale solar energy projects across the state with a total capacity of more than 3300 MW had been approved by State Government and independent regional planning panels.
"Solar energy technology is an evolving industry, with a high potential for significant technological advances in the future, but the rapid growth in the pipeline of renewable energy projects across NSW highlights the need for careful management of potential impacts on surrounding areas," stated Ms. Frame.
Eight large-scale solar projects are now operating in the state, up from three facilities just six months ago. Among the facilities to have been commissioned this year are Parkes Solar Farm (66MW), Griffith Solar Farm (36MW) and Coleambally Solar Farm (189MW). Another six solar farms are currently under construction, with an additional 34 under assessment or in the planning pipeline.
All this activity is driving billions of dollars of investment and supporting thousands of jobs.
Another tool that large-scale developers can use to demonstrate their commitment to a successful project that keeps the needs of local communities in mind is the Clean Energy Council's Best Practice Charter For Australian Renewable Energy Developments, which was launched in August this year.