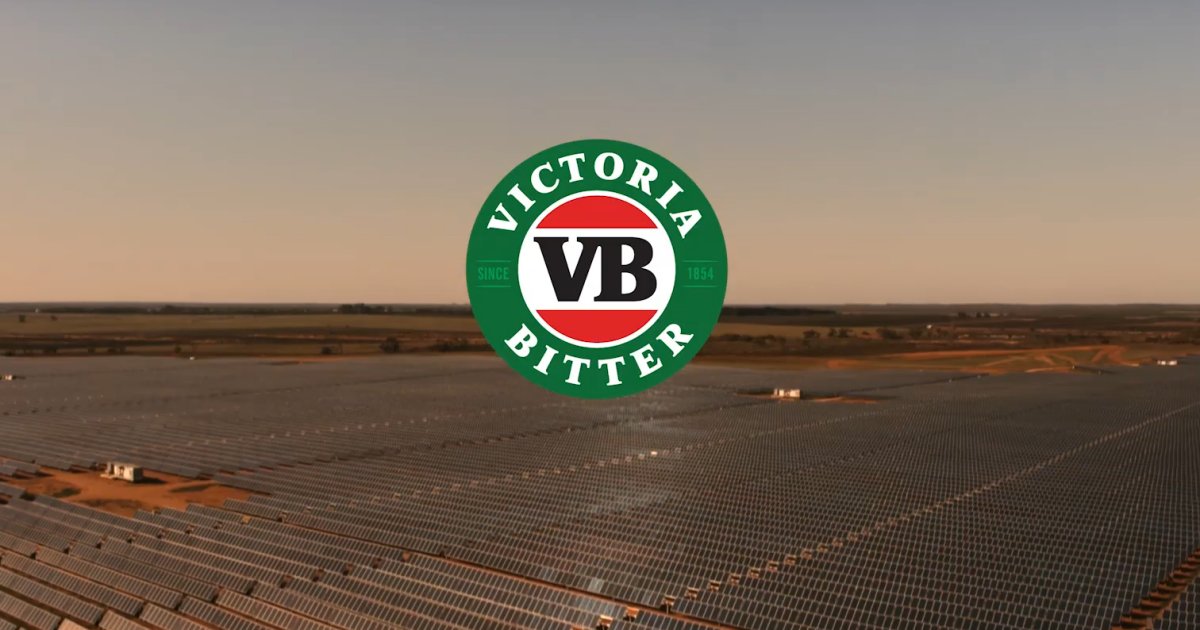 Carlton United Breweries (CUB) brand Victoria Bitter has launched a TV commercial highlighting its use of solar power – but the leadup was somewhat a misfire.
On Thursday, a post added to the VB Facebook page said "things are changing at VB" without going into further detail. This was met with some concern from the brew's fans after changes to the tipple years ago didn't go down too well with many of its drinkers.
But fears were allayed on Friday when Victoria Bitter announced VB will be brewed with 100% offset solar electricity in 2020. The announcement was accompanied by the launch of this TV commercial:
"The iconic beer's shift to solar electricity will be powered by solar generated from the Karadoc Solar Farm under a 12-year Power Purchase Agreement (PPA)," says a Carlton United Breweries statement. "The renewable electricity will power the brewing of more than a hundred million litres of Victoria Bitter, satisfying the hard earned thirsts of Australian beer drinkers all over the country."
The statement also notes solar panels are being installed at its Abbotsford Brewery in Melbourne and Queensland's Yatala Brewery.
"We ruffled a few feathers with our statement claiming that Victoria Bitter is changing, but it's all for the better … We're simply enlisting the Australian sun to help make our VB," said Victoria Bitter Marketing Director Chris Maxwell.
Mr. Maxwell also pointed out a couple of other recent efforts in "greening" VB – including removal all plastic from can packaging and a claim VB stubbies use less glass than any other similar sized beer as a result of its " efficient design".
Plastic six-pack rings have been particularly problematic in aquatics environments where marine animals have been impacted by entanglement, along with ingestion of plastics as the rings break down. According to VB, the change from plastic to cardboard packaging will see 25 million fewer plastic six-pack rings entering the waste stream each year.
CUB And Solar Energy
The use of solar energy by CUB goes well beyond just the Victoria Bitter brand. CUB is being supplied with 74,000 MWh of electricity per year from Karadoc Solar Farm through the 12-year PPA announced in March last year. Karadoc is 112MW PV plant comprised of 330,000 tracker-mounted solar panels situated around 35 kilometres south of Mildura in Victoria.
Carlton United Breweries is owned by Anheuser-Busch InBev SA/NV, which has made a commitment to source 100% of all its purchased electricity from renewables by 2025, across its operations globally.
Not All Beer And Skittles For Karadoc
In related news, last week the Australian Energy Market Operator slashed the allowable output from five solar farms in Victoria and NSW by half due to voltage issues – and one of the plants affected is Karadoc. How long the order will be in place isn't clear. A further discussion on the situation generally can be found on RenewEconomy.