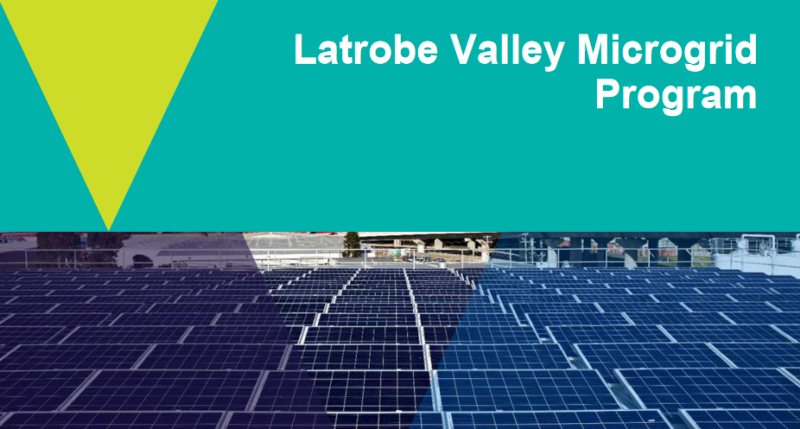 The Andrews Labor Government has announced a new $3 million grant program in the Latrobe Valley to support the development of microgrids that benefit local business/industry customers.
A microgrid is a local network of electricity generation and storage sources that can operate either connected to the mains grid or disconnected from it when required;  for example, when there's a blackout
Projects eligible for the Latrobe Valley Microgrid Grant Program (LVMP) include microgrids, virtual power plants and smart embedded networks where renewables are the primary energy source.
The LVMP's aims:
Lower the cost of electricity for participating businesses
Result in attracting new business or the expansion and retention of existing businesses
Create direct and indirect jobs
Stimulate investment
Support the Latrobe Valley's transition to a low-emission economy
The Latrobe Valley is no stranger to electricity generation –  it's traditionally been a significant source of this country's related emissions given the amount of brown coal burned by power stations located in the region. The closure of Hazelwood Power Station in March 2017 had a marked effect in reducing Australia's electricity sector emissions, but Loy Yang A, Loy Yang B and Yallourn remain.
Many see renewables as the way forward for the Latrobe Valley, including the Andrews Government – with the LVMP to play a small but important role.
"We're ensuring businesses in the Latrobe Valley have access to cheap, clean, and reliable energy," said Minister for Energy, Environment and Climate Change Lily D'Ambrosio. "This microgrid program will mean local businesses can save money and strengthen investment in the local economy."
Organisations eligible to apply for the LVMP will be those that operate in the state, can demonstrate at least three years' operational history and will meet a minimum $3 funding to each dollar of government cash.
Applications close at 2pm, 17 September 2018. Successful projects will need to be completed by June 2022. Further details on the LVMP can be found here.
The new program is an add-on to the Government's $10 million Microgrid Demonstration Program available across the state that was announced in December last year. Successful applicants of that scheme, which will provide grants of between $100,000 and $5 million, will be announced shortly.
Walking The Renewable Energy Talk
The Victorian Government has been pulling out all the stops on progressing renewables in the state. On Sunday, it announced a new solar rebate for households that will cut the cost of installing solar panels by 50% (up to a maximum of $2,225) – that's on top of Australia's existing major solar subsidy. There's also support in the package for solar hot water system purchases. SQ's Ronald has provided details on the Solar Homes Package here and an update with new information here.
The Victorian Renewable Energy Target (VRET) sets a goal of  25 per cent renewables by 2020 and 40 per cent by 2025 – and it looks like the state will have no problems in reaching it. When the VRET became law last year, Renewables accounted for approximately 17 per cent of Victoria's electricity generation.
Solar Homes is expected to generate 12.5 per cent of Victoria's 40 per cent target for renewable energy by 2025.