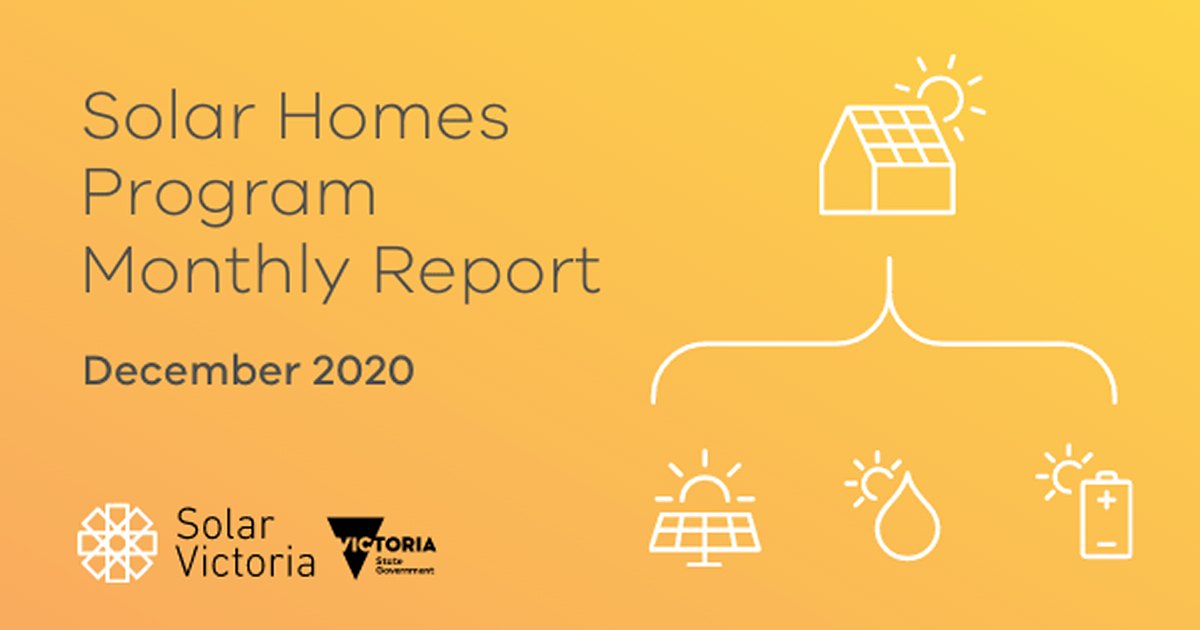 December 2020 was a big month for Victoria's very popular Solar Homes program, with thousands more applications lodged and systems installed.
The program provides rebates for solar panels, solar hot water and battery systems.
Victoria's solar panel rebate currently offers up to $1,850 for residential solar power systems, plus there's an optional interest-free loan available up to the same amount.
The goal of the program, which kicked off in August 2018, is to assist 778,500 Victorian households over a ten-year period.
Victorians are particularly lucky as they can also take advantage of Australia's national solar subsidy, available to just about everyone, which can knock thousands off the cost of a PV system.
For example, a good quality 6.6kW solar system installed in Melbourne would cost around $4,750 after both the Victorian and national solar rebate. According to SQ's solar calculator and using the calculator's default settings, a system of this size installed in Melbourne could achieve simple payback in just 3 years, 3 months.
Solar Victoria says December saw the most new applications since June last year and was the second biggest month ever for completed installations, even given the disruption caused by the holiday season.
Last month, 6,114 applications were approved for the program, bringing the total number of approved applications to 132,072. 6,602 installations were completed in December, for a total of 116,393 installations since August 2018. The vast majority of these installations have been PV systems – 113, 971, with 1,049 solar hot water systems and 1,373 battery systems making up the remainder.
Solar Victoria reports $230 million in rebates have been paid out since the program commenced.
In December, the top localities for installations were:
1. Tarneit
2. Clyde North
3. Craigieburn
4. Point Cook
5. Truganina
6. Wyndham Vale
7. Cranbourne East
8. Wollert
9. Berwick
10. Pakenham
In November last year, the Victorian Government announced it would bring forward a bunch of PV rebates to cater to demand, bringing the total number to 140,000 over the next two years. Small businesses should also soon be eligible for the solar panel rebate. The agency is currently working on the design of the program roll-out and the last we heard, 15,000 rebates have been earmarked for small businesses (register interest here).
Also announced in November was 17,500 solar battery rebates would be available over three years (5,000 this year) and postcode eligibility requirements removed.
At the time of publishing, around 1,833 PV and 949 battery rebates were available. But even if they were to suddenly disappear, don't panic – fresh batches are never far away. Looking to the end of the financial year, 2,500 solar panel and 250 battery rebates will be released each fortnight, and the next release is this Wednesday.