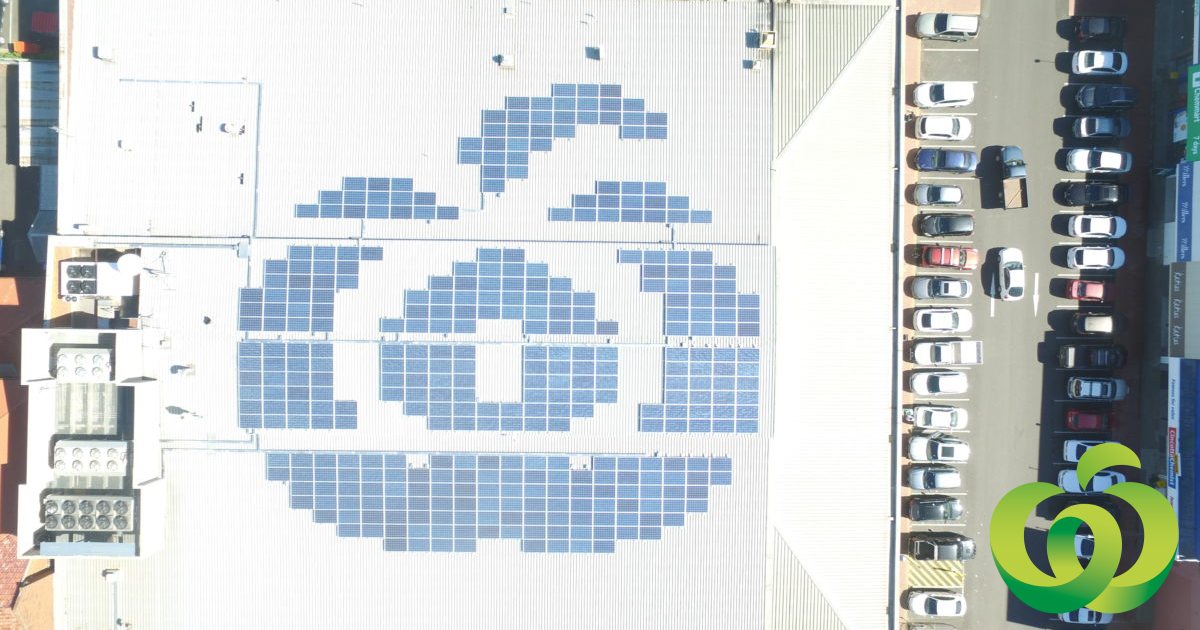 Woolworths have added a very corporate touch to its latest PV installation – solar panels arranged in the shape of the company's logo.
Woolworths Orange's (New South Wales) very distinctive rooftop array is made up 357 solar panels. It's the 100th supermarket to have PV installed and one of more than 140 Woolworths Group sites across the country generating electricity from solar energy.
The Orange installation is expected to generate 150 megawatt hours of electricity each year and supply equivalent to around 8 percent of the store's energy requirements.
"At Woolworths Orange, we're pleased to be doing our bit for the planet with this solar installation," said Store Manager Rae-Anne Ross. "It will not only reduce the store's environmental footprint, but also help keep costs down so we can continue offering the best possible prices to our customers."
A lot more solar panels could have been installed within the project footprint if it had been a conventional installation (and there's still a lot of other roof space that could host panels), but it's good to see Woolies continuing to embrace PV.
A statement from the company says Woolworths supermarkets generate more than 15,000 megawatt hours of electricity using solar power annually.
More Solar To Come
There's more commercial solar in the works for Woolworths Group, including what will be the largest installation in its portfolio. Back in February this year we reported an expansion of its Adelaide Regional Distribution Centre (ARDC) at Gepps Cross will include the installation of a 1.6MW system that will generate equivalent to around twenty per cent of the centre's electricity requirements.
Emissions Reduction Efforts
According to the company's 2019 Sustainability Report, emissions from its retail stores make up around 90% of Woolworths Group's direct carbon footprint, mostly in connection to refrigeration, air conditioning and lighting.
Last year, Woolworths Group emissions were 18% below 2015 levels, quite an achievement and a big jump from 2018 when it had achieved a 13% reduction. In addition to PV, other strategies helping to achieve this included more than 800 supermarkets having energy efficient LED lighting, which reduces energy consumption in a store by around 10-15 percent.
"These upgrades to lighting in supermarkets alone have offset the equivalent power consumption of 50 stores," states the company.
All Australian stores are connected to an Energy Management Centre, which enables real‑time visibility of energy usage and helps identify opportunities for improvements in energy efficiency.