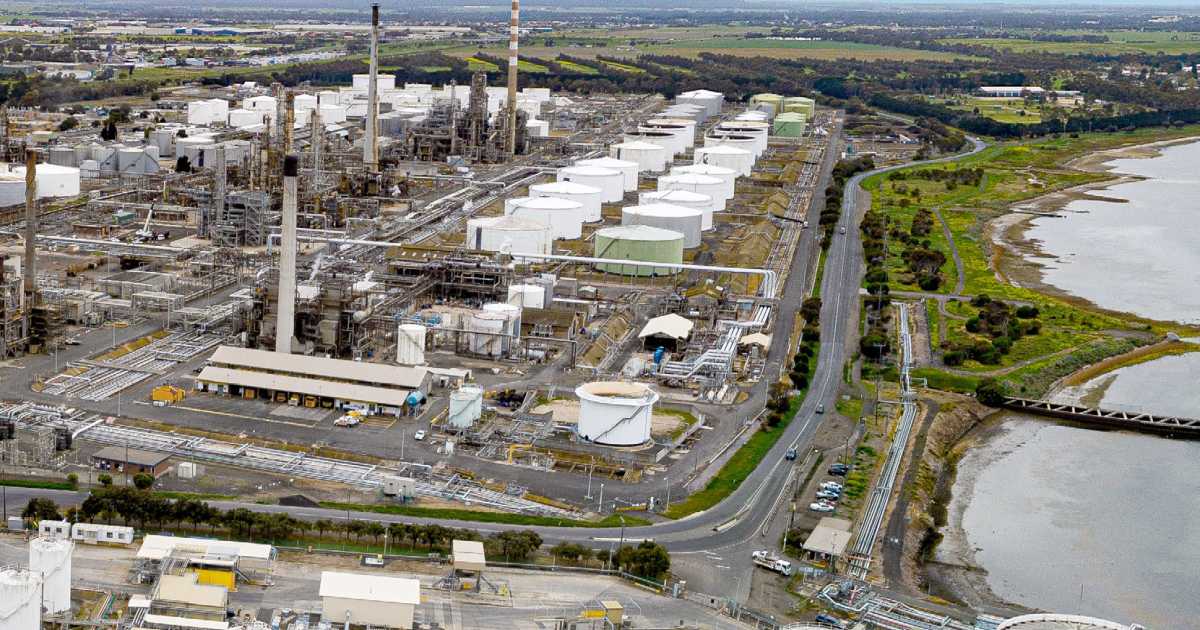 Viva Energy's oil refinery in Geelong, Victoria could be turned into an "energy hub" incorporating solar + storage – but also more fossil fuels.
Operating since 1954, Geelong Refinery is situated on 235 hectares of land adjacent to Corio Bay and is one of just four refineries remaining in Australia. According to Viva Energy, it supplies over half of Victoria's and 10% of Australia's fuel.
The coronavirus pandemic had a significant impact on its operations, with demand for petrol decreasing and jet fuel demand falling off a cliff. Back in April the company announce it was shutting down major processing units and scaling back output. Yesterday Viva said it was to commence a major maintenance program while units are already shut down and refining conditions remain weak.
The company also announced it was looking into diversifying with a number of potential future energy development projects that could be co-located with the refinery.
LNG Terminal, Alternative Fuels
"Our early focus is on the development of an LNG supply and storage facility to bring natural gas from production fields in other parts of Australia, or further afield, to where it is needed in Victoria and south east Australia," said Viva Energy CEO, Scott Wyatt.
Development of an LNG import terminal would involve an extension of the existing Refinery Pier, the mooring of a Floating Regasification and Storage Unit (FSRU) and construction of a new ~6.5km pipeline to take the gas from the facility to the existing gas transmission system.
The company has provided assurances it will undertake a range of assessments and investigations to assess potential environmental impacts of the project. At the moment, it's is at pre-FEED stage  – which is a process to assess technical and economic feasibility – and this is expected to be completed towards the end of 2020.
Other potential projects for the site include hydrogen and alternative fuels production, and the development of strategic oil storage facility to support Australia's fuel supply security.
A Solar Power Assisted Refinery
Oil refining is an energy intensive process and Viva's operations as they currently stand (or at least, stood) make it one the top 10 electricity consumers in Victoria.
There's a significant chunk of currently unused land immediately north of the refinery owned by the company that makes up around 17% of overall land area at the site. Viva says it is appropriately zoned for a solar energy facility + battery storage and isn't subject to flooding.
"From the 41 hectares of refinery land available, a solar farm of this size could generate around 25MW of clean energy1 from solar photovoltaic (PV) panels, equivalent to around 20% of our electricity needs." states Viva.
Viva Energy already has a Power Purchasing Agreement (PPA) with Acciona's wind farm near Colac, which supplies equivalent to around a third of the refinery's electricity consumption. Between the two, around half of its electricity requirements could be covered by renewables – but then there's the added bells and buzzers such as the LNG import terminal.
The company says it is currently conducting a study to understand the scope, scale and cost of the potential solar power station project.
In other somewhat related news, BP said yesterday it sees the COVID-19 pandemic as potentially having an enduring impact on the global economy, resulting in weaker demand for energy for a sustained period.
"bp's management also has a growing expectation that the aftermath of the pandemic will accelerate the pace of transition to a lower carbon economy and energy system, as countries seek to 'build back better' so that their economies will be more resilient in the future."
Back in February, BP announced its ambition to become a "net zero company" by 2050 or sooner. Shell followed with a net zero commitment (of sorts) in April.
Maybe Viva should make space for a few more solar panels.