Excitement is building in the small town of Yackandandah in northeast Victoria as it moves towards a fossil fuel-free energy future.
Totally Renewable Yackandandah (TRY) was formed in 2014 and aims to achieve "energy sovereignty" for the town by 2022 through 100% renewables. The group has been working with the community to improve energy efficiency and install solar and storage systems.
Part of the 100% renewables goal is to develop one of Australia's first commercially operated mini grids, which will enable residents to share electricity with each other.
TRY has also set up a Perpetual Energy Fund (PEF) that raises funds from donations to be reinvested in related projects around the town.
TRY has been making solid progress and late last month 550 kilowatts of solar panels arrived, ready for the first Yackandandah 'bulk-buy installs' scheduled to start this month.
Another important part of the project is energy monitoring. A device designed by AusNet subsidiary Mondo Power, the "Ubi", is about to be installed in participating premises.
Ubi monitors solar energy system performance, but also sends alerts with personalised feedback, such as when the solar panels need cleaning and when it may be time to consider acquiring solar batteries.
"This device is part of the way of creating a smart grid … It really adds understanding and control to AusNet at a micro level," said TRY co-chair Matthew Charles-Jones. "It's really quite an exciting step forward."
In other related news from the area, North East Water has shown off its new solar power system installed at the water treatment plant in Yackandandah.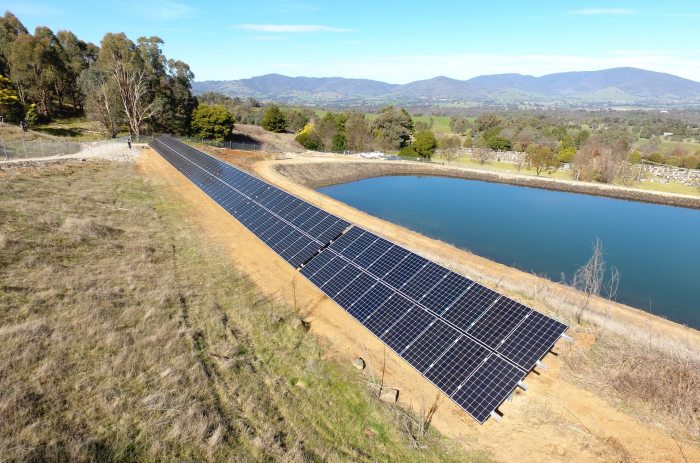 "This is our amazing new 40 kW solar panel array soaking up the sun in #Yackandandah. It'll help power the town's water treatment plant in conjunction with a new battery storage system," said North East Water. "It's a joint project with the Intelligent Water Network and supports Totally Renewable Yackandandah's push to take the town off grid by 2022."
In a news item from March, North East Water stated the solar panel array will be paired with 40kW of battery storage.
You can learn more about Totally Renewable Yackandandah here.
According to information from Australia's Clean Energy Regulator, 267 small-scale solar power systems were installed in Yackandandah's postcode (3749) as at August 1, representing just over 1MW of collective capacity. No doubt those figures will see a significant boost in the months ahead.