If you are looking for the most efficient solar hot water system then solar PV panels powering a heat pump are hard to beat.
While both the panels and heat pump will need to be proficient performers, it is possible for the combination to beat solar thermal hot water which is widely considered the most efficient method.
A typical heat pump hot water system is 3 times more efficient than a conventional electric hot water system that uses electrical resistance heating.  This is because rather than using electricity to create heat, they use electricity to move heat around.  Heat pump hot water works in exactly the same way as a refrigerator does, aside from the fact they work in completely opposite ways.  That is, a refrigerator pumps heat out to keep what's inside cold, while heat pump hot water pumps heat in to keep what's inside hot1.
Because heat pump hot water systems conserve energy they are eligible to receive Renewable Energy Certificates called STCs that lower their cost.  While these are the same certificates that are received for installing rooftop solar, the number received is determined differently.
While they are efficient, heat pump hot water has suffered from a number of drawbacks that have held them back from widespread acceptance.  These include:
High initial cost.
Poor reliability.
Expensive to repair.
High noise output.
Misleading claims by manufacturers.
Despite this apparent surfeit of dead albatrosses slung around heat pump hot water's neck, I am confident the technology will improve and we are likely to see an increasing number of heat pump hot water systems in Australia.
What The Hell Is A Heat Pump?
In 1852 Lord Kelvin worked out the mathematics of heat pumps and, as a result, had the Kelvinator refrigerator named after him.  But — and this is an important point — not right away.  He had to wait until he was dead for 7 years before that happened.
The first heat pump was built in Austria around 1856 by Peter Ritter von Rittinger2.  He developed a practical method of taking advantage of how gas heats up when compressed into a liquid and cools down when it evaporates to move heat around.  This meant heat could be moved into a confined area, such as with a heat pump hot water system, or out of a confined area such as with a refrigerator.  Household air conditioners are capable of either and can move heat out of a home in summer and move heat inside in winter.
Heat pumps can exchange heat between water, the ground, and air.  In Europe, where the temperature can drop to -30ºC just to punish people for not living in Australia, ground heat pumps are very common because the ground a few feet down is a hell of a lot warmer in winter than the air.  But in Australia where temperatures rarely reach freezing, almost all heat pumps use air and these are simply called air sourced heat pumps.
Occasionally heat pump hot water systems are referred to as solar heat pumps because 99.98% of the heat they pump originally came from the sun3.  But I think this misleading as they don't require sunlight to operate.  After all, in winter almost all the heat an air conditioner pumps inside your home originally came from the sun and no one ever refers to it as solar air conditioning.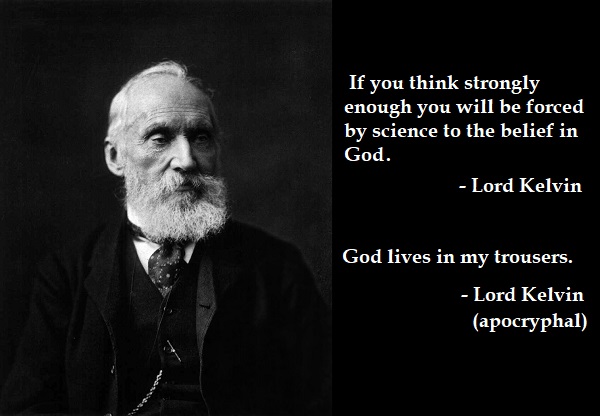 Heat Pumps Use CO2 As A Working Fluid
These days heat pumps often use carbon dioxide (CO2) as their working fluid4.  While CO2 is a greenhouse gas, the total amount is usually less than one kilogram, which is around how much is emitted from generating one kilowatt-hour of electricity from coal, so there is no need to worry about your heat pump roasting the planet if it leaks.  As long as it displaces more than one kilowatt-hour of coal generation over its lifespan you're golden.
Also, one kilogram of CO25 is not enough to be dangerous to your health unless it is in a very confined space, such as your lungs.
Heat Pump Hot Water Is Around 3 Times More Efficient
The heating element in a conventional electric hot water system transforms 100% of the electrical energy it uses into heat and transfers about 98% of that heat to the water in the storage tank.  That's close enough to 100% for me6.  But it can be far more energy efficient to move heat around instead.
An air conditioner is a heat pump and an energy star label for one generally looks like this:
And here's a close up of the capacity output and power input figures:

On the right hand side within the far reddish rectangle is the power input for heating in kilowatts of electricity.  Next to that is the capacity output in kilowatts of heat.  So the air conditioner can take 0.86 kilowatts of electricity and use it to move 4.45 kilowatts of heat inside.  That's a ratio of more than 5 to 1.
But below the 4.45 figure you'll see it says the heating capacity at 2 degrees is only 3.6 kilowatts, reducing the ratio to 4.2 to 1.  This is because the colder it gets, the less effective the air conditioner's heat pump is at moving heat inside because of the greater temperature differential.
Unfortunately, heat pump hot water systems are not likely to be as effective as this air conditioner.   For each kilowatt-hour of electricity they consume they will generally provide around 3 kilowatt-hours of heat, making them 3 times as efficient as a conventional electric hot water system.  The exact efficiency will vary through the year, because the greater the difference between the air temperature and the hot water temperature, the lower the efficiency.
If you look at information about heat pump hot water systems online you will often see they generally claim to be more than 3 times as efficient.  Unfortunately, this may not be the case.
Manufacturers May Mislead About Efficiency
A commonly given measure of efficiency of heat pump hot water systems is their Coefficient Of Performance or COP.  This is a straight forward measure.  If a heat pump uses 1 kilowatt-hour of electricity to provide 3 kilowatt-hours of heat it has a COP of 3.  If it uses one kilowatt-hour of electricity to provide 4 kilowatts of heat it has a COP of 4.
Most heat pump hot water systems state they have a COP of 3 to 4.5 or even higher.  But a COP of 4 doesn't mean it will only use 25% as much electricity as a conventional hot water system.  This is because it will use energy for more than just operating the heat pump.  For example, when it is very cold ice will form on the outside exchanger of a heat pump and it may need to be defrosted every few minutes.  This either requires energy to power heating elements to melt the ice, or more often the unit will be designed to switch to using a standard heating element to warm water and so in cold temperatures it will function as a conventional electric hot water system.
As the highest hot water consumption occurs during cold weather, their reduced efficiency at low temperatures and their habit of either spending energy to defrost or simply giving up on operating as a heat pump, can considerably increase the amount of electricity they use.
Heat Pumps Can Be More Efficient Than Solar Thermal
Solar thermal hot water has generally been considered the most efficient way to heat water using sunlight.  This graph I stole from an Apricus solar thermal hot water brochure shows the efficiency of flat plate and evacuated tube solar thermal systems for both the total, or gross, area of the collectors and also for the smaller absorber area:
The "Delta-T" at the bottom of the graph is the difference between the air temperature and the collector temperature and is likely to average at least 40 degrees.  If we assume it is 40 degrees then the highest efficiency by gross collector area is around 54% for flat-plate solar thermal.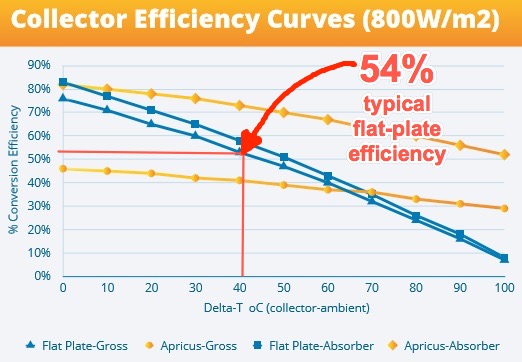 Heat pump hot water can be more efficient than this, although it often isn't.  New solar panels these days are typically around 17% efficient and by the time the electrical energy they supply reaches a heat pump it is not uncommon for various losses to have reduced their output by 20%.  This will knock the effective efficiency of 17% panels down to 13.6%.  If a heat pump provides 3 times more heat than a conventional electric hot water system the total efficiency will come to 41%.
But if very efficient panels are used, such as SunPower's X-22 panels that are 22.1% efficient, then even if losses drop that down to 17.7%, when used with a heat pump that is 3.5 times more efficient than a conventional hot water system the total efficiency will be 62%.
So for people who don't mind paying for premium panels, using them with a high efficiency heat pump hot water system can be the most effective way to make use of limited roof space.
Heat Pump Hot Water Can Receive STCs
While heat pump hot water doesn't generate electricity like rooftop solar, it does reduce its use compared to conventional hot water systems and a kilowatt-hour of electricity saved is as good or better than a kilowatt-hour of clean electricity generated.  For this reason, heat pumps qualify to receive Small-scale Technology Certificates or STCs as part of Australia's Renewable Energy Target.
This page will let you download a list of all the approved heat pump hot water systems and the number of STCs created when they are installed.
If you want to know exactly how many STCs a system will receive, you can go to this page and enter its brand, model, and the postcode it will be installed in.
The exact number you will receive will depend on which zone you are in.  But these zones are different from the ones for rooftop solar PV.  Here is a map of the hot water zones for both solar thermal hot water and heat pump hot water: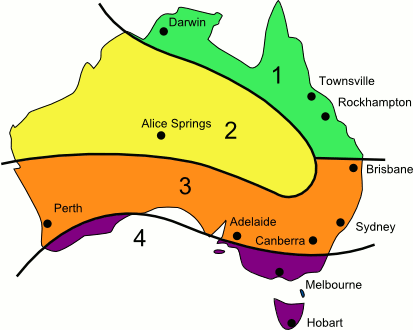 The number of STCs received depend on how much electricity is likely to be saved by a system in each zone and this is affected by amount of hot water people use and by its efficiency there.  So in zone 1 heat pump hot water operates efficiently all year round because it never gets really cold, but people there don't use a great deal of hot water on account of how it never gets really cold, so zone 1 receives less STCs than colder zones.
What isn't shown on this map is special zone 5 which is only in the Snowy Mountains and mountains of Tasmania.  These are the coldest places in Australia and you might think they would get the most STCs because hot water use there is likely to be the highest.  But because heat pump hot water will often operate with lower efficiency there, zone 5 can receive fewer STCs than zone 4.
The number of STCs received will be cut by one tenth at the start of 2022 and cut each year after that until they are phased out entirely by the end of 2030.
Solar Power, Timers, And Heat Pump Hot Water
I recently wrote about putting conventional hot water systems on timers so they will switch on during the day when they will hopefully be able to take advantage of surplus solar electricity that would otherwise go into the grid and receive a feed-in tariff.
It is easier to run heat pump hot water systems off surplus solar using a timer because they usually draw only one kilowatt or less, which is around half as much as even the smallest standard heating element used by conventional electric hot water systems.  This low power draw makes it much more likely rooftop solar will provide enough power to run them without needing to dip into grid electricity.
Because the average temperature is higher, heat pump hot water will operate more efficiently when run during the day and will be much less likely to need to waste energy defrosting or operating as a conventional hot water system.
Heat pump hot water also has the advantage of generally coming with their own built in timers.  Besides setting them to turn on when a surplus of solar electricity is likely, they also allow households that are on time-of-use tariffs take advantage of low cost off-peak power.
Solar Hot Water Diverters Cannot Be Used
Solar hot water diverters that send surplus solar electricity to the heating elements of conventional hot water systems cannot be used with heat pump hot water.  The type of current they supply is not compatible with pumps or electronics and may damage them.
Threshold Power Can Be Used
Devices that can send normal household AC power to devices when there is sufficient surplus solar energy to operate them can be used with heat pumps.  Examples are the Fronius relay and SunMate diverter.  These devices also permit users to select minimum activation times and activation delays after the surplus solar power threshold is reached to prevent clouds rapidly turning the heat pump on and off.
Controlled Load Or Economy Tariffs Can Be Used
Heat pump hot water systems can be used with controlled load tariffs, which are also known as economy tariffs.  Note there are some systems where the manufacturers recommended they have access to electricity for more than 8 hours a day, which can make them unsuitable for most controlled load tariffs.
Lukewarm Water Is Dangerous
No matter what method is used to power a heat pump hot water system, it is a matter of life and death that the storage tank reach a minimum temperature of 60 degrees every three days to control dangerous microorganisms such as Legionella.
They Aren't Cheap
An installed heat pump hot water system is likely to cost $2,500 to $4,500 including the reduction in price from STCs.  Households in Victoria can also receive Victorian Energy Efficiency Certificates or VEECs which are worth approximately $500 when replacing an existing conventional hot water system.
The total cost is often at least 2 to 3 times as much as an equivalent conventional electric hot water system.
Warranties Are Often Short
Warranties for heat pump hot water systems are often horrifically short and may be as little as one year.  The longest I have seen is 6 years.  While they may have much longer warranties on their storage tanks, that is not the part that is likely to break down.
Their short warranties suggest their operating life cannot be expected to be long and combined with high initial cost and high cost of repairs, many people don't consider them an attractive investment.
They Can Be Noisy
Some heat pump hot water systems generate a considerable amount of noise.  The quietest I am aware of is the Sanden Eco Plus which operates at 37 decibels.  This is as loud as a quite fan operating a low speed, which shouldn't be surprising because that is exactly what makes the noise it produces.
Because they are similar in operation and power use, most heat pump hot water systems make noise comparable to room air conditioners, which can range from a mild hum to a mild cacophony7.  Some manage to be so loud they have been banned from operating at night so they won't disturb the neighbors.
Potential Savings
The most cost effective location in Australia to install a heat pump hot water system is likely to be Western Australia.  This is because controlled load tariffs that lower the cost of using conventional hot water systems are no longer available and the cost of electricity is high.
In Perth the large majority of households use natural gas hot water systems.  But if there was a family that, despite the warm climate, was a very large user of hot water and had a conventional electric hot water system, they could potentially reduce the number of kilowatt-hours they use to heat water annually by 1,500 with a heat pump hot water system.  If all their electricity came from the grid it could save them $400 a year.
Elsewhere in Australia the savings generally will be far less.
If my parents in rural Queensland were huge users of hot water and were able to cut annual electricity use by 1,500 kilowatt-hours by installing a heat pump hot water system, as their hot water system is on tariff 31, they would save around $260 a year.
Elsewhere in Australia where controlled loads are usually lower and feed-in tariffs sometimes higher, the benefit is likely to be even lower.
Environmental Benefit
While the economics of heat pump hot water are not yet favorable, it can provide considerable environmental benefit by either greatly reducing the amount of fossil fuel a home uses to heat water, or alternatively by freeing up rooftop solar generated electricity to be sent into the grid where it will reduce fossil fuel generation.
But many households will find they will be better off economically and provide greater environmental benefit by using the money to instead install a larger rooftop solar system than they would have otherwise.
Those who have already installed as large a solar system as is practical may find heat pump hot water an effective way to further reduce emissions.  There are many people who will find that worthwhile even if the return on a heat pump hot water system is extremely low or even negative.
The Future For Heat Pump Hot Water May Be Rosy
While heat pump hot water hasn't been a roaring success in Australia so far, in the future its prospects may improve.  The amount of STCs it receives won't start to be reduced for over 4 years and in this time costs are likely to fall and reliability improve.  A number of nations overseas are working on improving heat pumps and we will benefit from their efforts.
But one drawback I can see for heat pump hot water is that the cost of operating conventional hot water systems may fall as as the cost of rooftop solar continues to decline and increasing renewable generation puts downward pressure on controlled load tariffs and the off-peak rates of time-of-use tariffs.