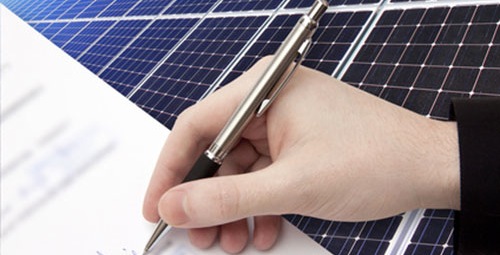 Your Solar Panel Warranty and Solar Inverter Warranty have tough new minimum standards by law. Changes to the Australian Consumer Law came into effect on 1 January 2012. These are good changes which help protect you as a solar consumer from toothless warranties when buying a solar system.
One of my big bugbears last year was  a small number of solar companies hawking a warranty that looked great on the surface. But if you were to dig a little deeper into the small print (you always read the small print right?) the warranties were full of holes.
For example, I saw a few inverter and panel warranties that made it your responsibility to get the inverter removed from the wall or the panel removed from the roof and ship it off to the manufacturer. Ever seen how much a 10kg parcel to Beijing (or Berlin) costs?
A lot of warranties also had small print that excluded any loss of income from the warranty. If your system goes down and takes a month to repair, that could be a good few hundred dollars in lost income for some people.
Law abiding solar installers now have to provide you with an upfront, plain English document that includes the following (no hiding the salami in the small print!):
1) The document must explain exactly what they will do to honour the solar system, panel or inverter warranty.
In the case of a solar system I would expect them to state:
how they will determine if there is a problem
who will remove the faulty component
whether it will be repaired or replaced
who will re install it
2) The document must explain what you have to do in order to be entitled to the warranty.
Do you have to have a periodic "service" or do anything else for the warranty to remain valid?
3) The document must include this text word-for-word:
"our goods come with guarantees that cannot be excluded under the Australian Consumer Law. You are entitled to a replacement or refund for a major failure and for compensation for any other reasonably foreseeable loss or damage. You are also entitled to have the goods repaired or replaced if the goods fail to be of acceptable quality and the failure does not amount to a major failure"
Look for this text in the document that your installer hands you. If that text is not there then you may have a problem… Also ask for this document as part of the quote, to be sure that you are dealing with a company that understands their obligations under the new law.
The phrase "and for compensation for any other reasonably foreseeable loss or damage" means that they have to compensate you for loss of income if your system is out of action for any period of time whether that is from lost Feed In Tariff  income or lost electricity that would have been used up in your home.
4) The document must clearly state their name, business address, phone numbers and email address. (And please, never accept a quote that doesn't have these details on it!)
5) The document must clearly state the time period that the warranty applies for.
Look for 10 years for the solar panel manufacturers warranty.
Look for at least 5 years for the inverter (10 years is better – as the inverter is the component that is the most likely to fail early).
Look for at least 2 years on the installation warranty (5 is better!).
Look for at least 25 years on the solar panels' power output warranty.
6) The document must explain who will bear the expense of any warranty claim.
Who will pay to test, remove, ship and reinstall the equipment? I would recommend looking for a company that will bear this expense, instead of you!
How you can use this new law to your advantage.
So a company selling you a solar power system, now has a legal obligation to provide you with a plain English document that explains your solar system's warranty. This document is a great way to help you decide between multiple quotes:
When getting quotes for solar, first make sure you ask for this document as part of the quote. If anyone refuses to provide it, cross them off the list, that's your first filter! Your second filter is then to read each document and ask yourself: "Who has the best warranty?" Refer to point 5 of this blog post to help. Remember that the solar system will be on your roof for decades, so a good warranty is worth a lot!
What has your experience been of reading (or making a claim) on your solar panel, inverter or system warranty? Let us know in the comments below!