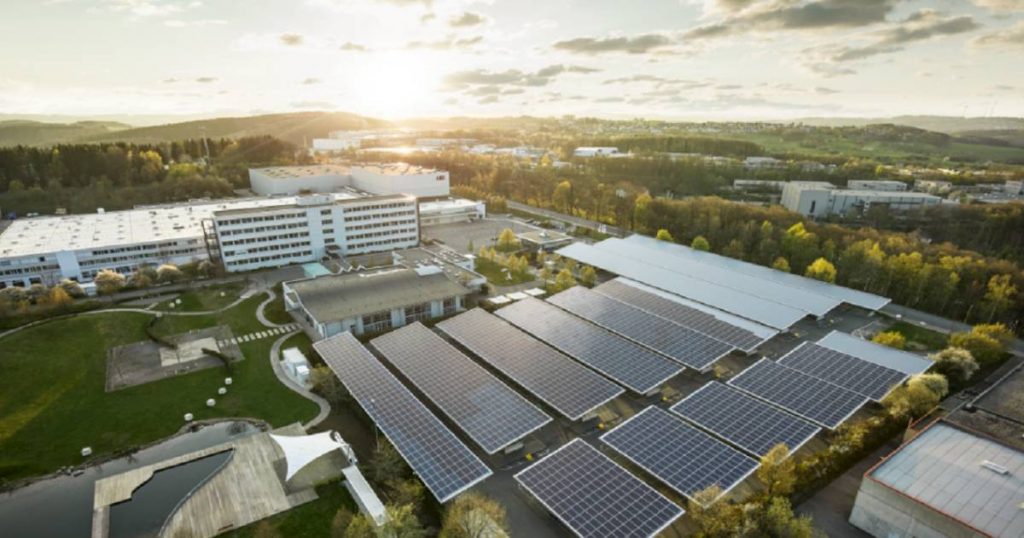 Solar inverter manufacturer ABB (and producer of many other things) has officially unveiled a new factory in Lüdenscheid, Germany featuring solar power and battery storage.
ABB says the 3,500 square-metre solar power system situated over the car park will generate around 1,100MWh of electricity a year. The capacity isn't noted, but based on that output a (very) rough guess is between 750kW – 1MW. Energy storage of 275kWh capacity has also been integrated at the site.
"In combination with a cogeneration plant, which operates with double the energy efficiency of a coal-fired power plant, around 14 percent more energy can be generated than is needed at the site," states ABB.
There were no details regarding the cogeneration plant, but for ABB to claim the site is "CO2 neutral", the fuel source may be biomass – and that's a controversial topic when discussing carbon neutrality.
The company says the integrated energy solution makes it possible to generate enough electricity to cover 100% of its requirements on sunny days; however, it also states additional green energy to meet peak demand is being sourced from MVV Energie AG.
Mission To Zero
The new factory is part of ABB's "Mission To Zero", a CO2- neutral and energy self-sufficient ecosystem for industry, homes and cities.
"With this state-of-the-art site, we demonstrate the advantages of creating a system in which all components are digitally networked and controllable," says ABB. "This intelligent ecosystem enhances energy efficiency, sustainability and resource conservation, enabling a genuine zero emission future for industry and beyond."
The company is probably best recognised in Australia for ABB solar inverters (which are included on the SQ trusted inverter brands chart); but it manufacturers wide range of products relating to areas of robotics, power, heavy electrical equipment and automation technology.
ABB's inverter range comprises string inverters (the type used with commercial and home solar power installations) from 1.2kW through to central inverters (used on solar farms) of up to 2.3MW capacity and turnkey stations of 6.66MW.
There's no prizes for guessing what brand of inverter was used at the Lüdenscheid factory.
Trivia – ABB stands for ASEA Brown Boveri and ASEA stands for Allmänna Svenska Elektriska Aktiebolaget. So, the full name could be Allmänna Svenska Elektriska Aktiebolaget Brown Boveri, but we're good with ABB. ABB came into being after a merger between ASEA AB of Sweden and BBC Brown Boveri Ltd. Switzerland back in 1988.