I just got back from the 2019 All Energy Conference and Exhibition in Melbourne.1  While there I also snuck across to the the Energy Efficiency Expo next door.  Over the next couple of weeks I'll write a few articles on what I learned, but for now I'll just go over some highlights and show some pictures…
…such as this one of the big flat roof of the Melbourne Convention and Exhibition Centre2 without a single solar panel on it:
Voltage Rise
Yesterday I attended a presentation on grid voltage rise.  It's a big problem and getting worse.  If grid voltage gets too high it can shut down solar systems.  This costs money and lives because cutting solar energy generation boosts fossil fuel pollution.  It's criminal to waste clean energy if the results are blackened lungs and a burnt planet.  (No, seriously, killing people for fun and/or profit is illegal.  Hard to believe, but true.)
I'll write a whole post on voltage rise and the main points discussed.  It's a problem that is causing big headaches already. For example, at 1pm last Sunday rooftop solar energy supplied 64.7% of South Australia's electricity. This wouldn't have been possible if SA Power Networks hadn't made efforts to keep the grid voltage within required limits.
As a result of this stellar performance, grid electricity consumption hit a record low of 475 megawatts.  Before this spring, it had never dropped below 584 megawatts in this century.
You might think South Australia and Queensland, the states with the most rooftop solar power and ancient, decrepit grids would be the worst places for over voltage. But anecdotally at least, it's Victoria that is having ridiculous issues at the moment despite only half the number of solar installations per household.3
Batteries — Awesome Warranties And Empty Boxes
Solar panels are continuing to improve in quality and fall in price. But as far as solar panels go, I saw nothing new and shiny for sales people to exaggerate about.4
Solar batteries however are still new enough for manufacturers and salespeople to breathlessly promote.  Big name companies keep pretending an empty box is a new battery system while no-name Chinese manufacturers keep trying to break into the market with systems that — for all I know — could be fine, but have slim chances of ever making it.  (Maybe they keep trying because they hope a big name manufacturer will put their no-name battery inside inside a famous empty box?)
The tied winners of this year's empty battery box award are QCELLS and Duracell for having the most impressive stage props.
20 Year Battery Warranty!
This weird and funky looking battery is a design from an Australian company that uses Philippine lithium-titanate cells.
Update 29th Oct 2019:  Zenaji has told me they are actually China made cells assembled into the battery in the Philippines.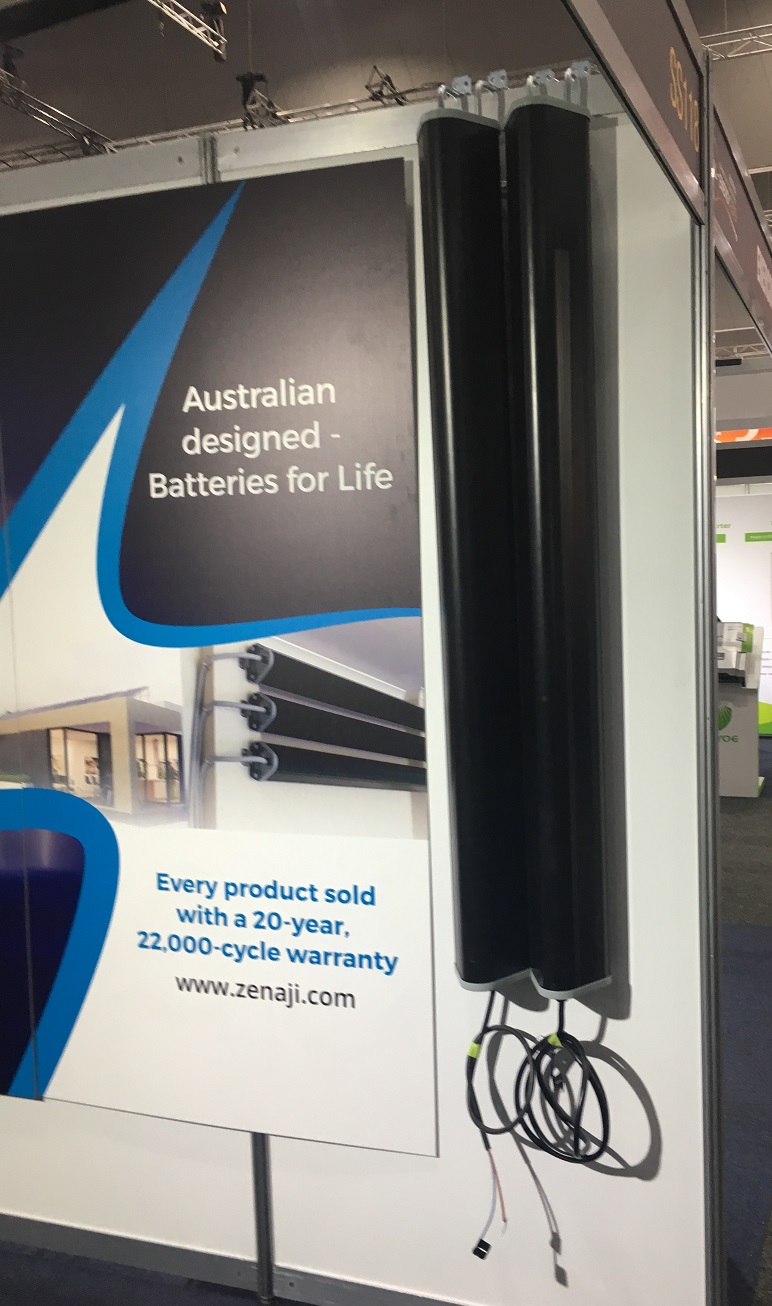 Uniquely these batteries come with a standard 20 year warranty.  If they really can go the distance that's impressive.  I will mention the company hasn't been around for anything like 20 years yet, but maybe they can also go the distance.  We'll just have to wait and see.
DNVGL — Over 50% Of Energy To Come From Fossil Fuels In 2050
At a breakfast presentation the CEO of the huge Norwegian standards company, DNVGL, told us their economic forecast showed the world will still be getting over 50% of its total energy from fossil fuels in 2050.  Normally I'd say "bloody hell" in response to news like this. But in the hell Australia is heading for, blood will rapidly dry to powder then catch on fire.
It looks like we're heading for over 2 degrees of global heating: much more than twice as bad as the 1 degree we've suffered so far.
I'll write about their report soon and explain why DVNGL also says total world energy use will decline from 2033.  Don't worry!  It's not because we'll be dying in droves by then.  Well, we won't be at least.  If you live in one of the world's poorest countries the odds aren't so good.
But, apart from the implicit tragic deaths of who knows how many people in developing countries from global cooking, what really concerned me about this breakfast meeting was the quality of the breakfast.  Unlike 2 years ago there was no juice.  Is this because DVNGL are desperately trying to cut costs? Like when Tesla's conference stands went from a quarter of an acre to the size of a floor tile?  Or maybe they decided they don't like juice anymore and killed the golden juice?  Or did they just leave it in the car?
Electric Cars
While the conferences weren't focused on electric cars, they did have a Tesla Model 3 on display:
There was also this solar car roof made by LG Solar for the Hyundai Sonata hybrid: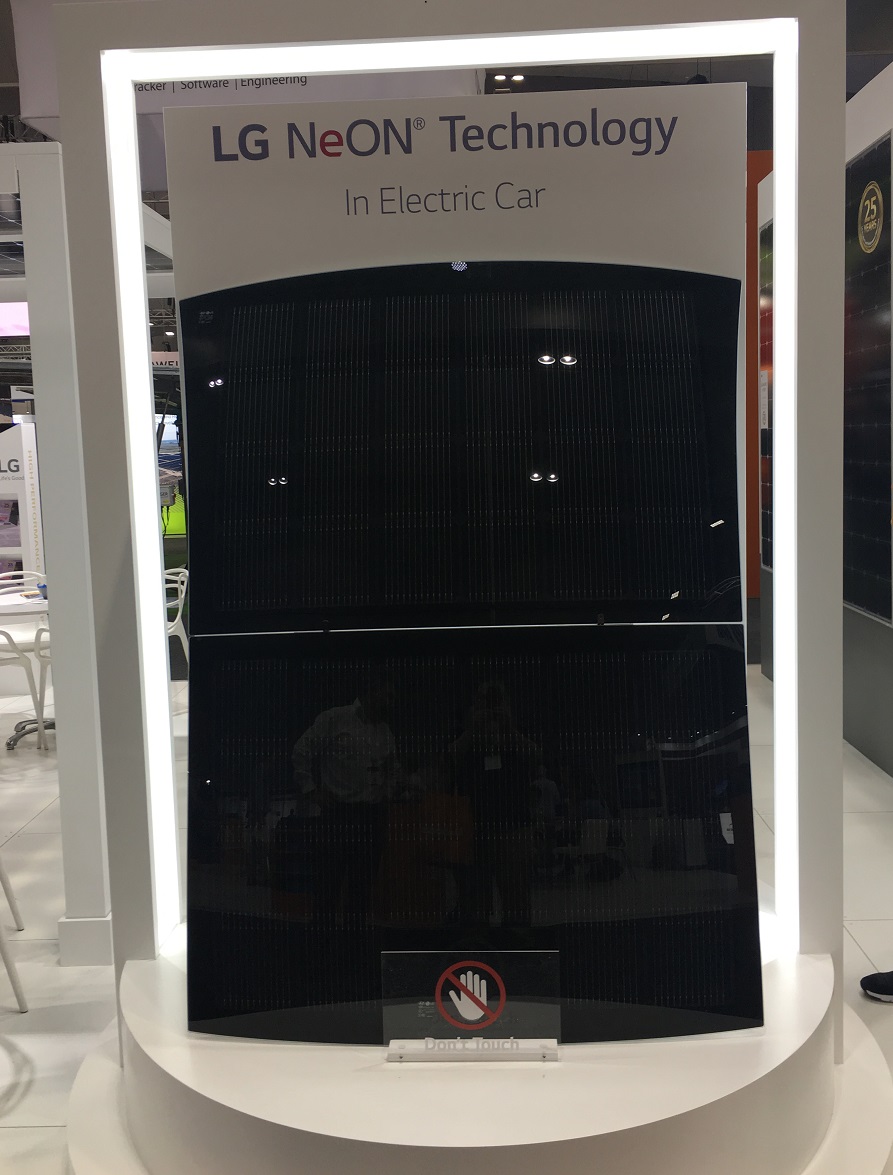 While many are rightfully dubious about the current value of putting solar cells on electric car roofs, given how cheap it will be when mass produced, I see it soon making economic sense and becoming a common feature.
Other Random Stuff
There was far more at the conference/expo than I could possibly cover in detail, including scores of small booths where companies, mostly from China, were promoting everything from combined wind and solar powered street lights to itty bitty houses:
While there was a lot of impressive stuff, the darling of the show was, of course, this dancing solar panel cleaner.5