Persistence has paid off for Tesla, which surprised finance markets with a US$143 million GAAP profit for Q3 2019, on the back of its long-promised and finally-delivered production ramp-up. The company's electric vehicle deliveries are edging towards 100,000 in a quarter. It will surely surpass that soon, since its Shanghai Gigafactory started trial production of "full vehicles, from body to paint to general assembly" (as Elon Musk put it) ahead of schedule.
And then, on Saturday Australian time, the long-awaited third version of Tesla's Solarglass solar roof tiles were announced in a US press conference.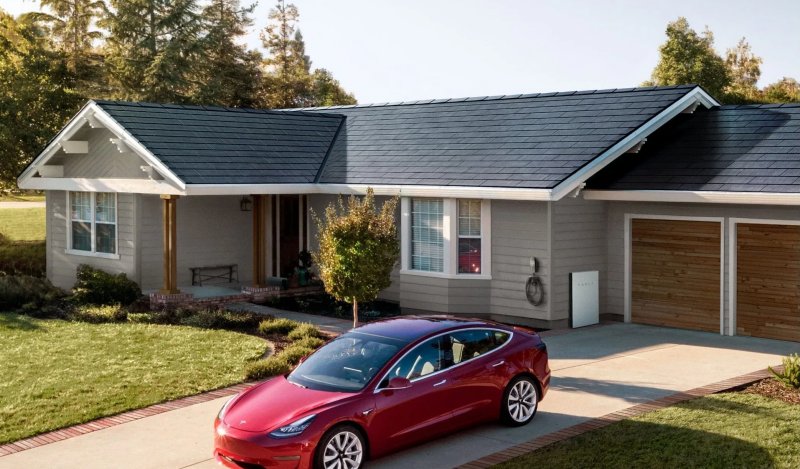 The press conference was pretty light on detail. In summary, what we know is Tesla spent the last two years concentrating its resources and efforts towards overcoming production problems with its Model 3, which is why other projects such as the Tesla solar roof tiles progressed at a snail's pace.
The tiles have been redesigned with an eye to manufacturability and fast installation, and Elon reckons the Tesla home power business could one day be bigger than its electric vehicle business.
"It could be bigger … but certainly of a similar magnitude", he said on the Tesla earnings call.
Even without Version 3 of the solar roof, Tesla's solar power business is gathering pace: installs were up 48% compared to Q2 2019, and sales for the quarter were US$402 million.
Musk's bullishness stems from his belief that in the USA alone, the addressable market is upwards of 5 million homes a year – even though he was clear that the Tesla solar roof still can't compete with solar panels on price. The tiles, he said, only make economic sense to someone building a new home, or someone who needs to replace their roof.
"We have the cost of roofing a house, in addition to the cost of solar cells. However with version 3 we have been able to achieve a price point that is less than what the average roof costs, plus solar panels", Musk told the press conference.
He then hedged just a little, saying the tile would have that price advantage:
"maybe 80 percent of the time, maybe more, it should make economic sense".
Another consideration mentioned at the press conference is while the tiles are, on a like-for-like basis, about 10 percent less efficient than a conventional solar panel, a Solarglass installation harvests solar energy from a much larger proportion of the available space.
Lessons From Solar Tile Version 2
Musk told the press conference the company reached the conclusion there was no point to trying to scale up Version 2 of the Tesla solar tiles: they were too expensive to manufacture, and installation was too "artisanal"; especially at the edges where different planes met.
The company found flashing and trimming the roof in early versions of Solarglass turned out to be a custom craft. To get the cost down, the solar tiles were redesigned for better manufacturability – for example, the number of sub-assemblies in Version 3 has been halved.
That effort seems to have paid off, according to Elektrek, which over the weekend claimed Version 3 is 40% cheaper than Version 2. That was based on tiles covering an 1,800 square foot-plus roof, generating 9.45 kW – with the solar tiles dropping from over $64,000 to just over $38,000.
Elektrek said a US customer with a 2,000 square foot roof can expect to pay US$33,950 after incentives for a 10 kW roof.
The saving also reflects the work Tesla has put into making the product easier to install. Installation is going to be important to Tesla's ability to grow the Solarglass business, because for the first time the company is also going to have to recruit roofing contractors as third-party installers. Tesla's aim is that a Solarglass roof can be installed in eight hours.
Some time in the next year, he said, customers can expect variants that aren't textured glass; with clay-look and slate-look versions in the works.
Solarglass will carry a 25 year warranty, and Musk told the press conference the tiles are rated for 130 mph (nearly 210 Km/h) winds.
Production, Channel Management Will Be Tough
Probably the biggest things standing between Tesla and Elon's bullish expectations are the ability to ramp up production, for now at its Buffalo, New York, plant; and the ability to build and manage third-party channels both in the US and internationally.
Musk told the press conference he believes the Buffalo plant will be able to ship 1,000 roofs a week within the next few months, but that is far short of the millions a year he hopes to sell in the USA alone.
And even a simplified Solarglass is still different to what a roofing contractor is accustomed to: what is today a passive product will tomorrow be a technical product, with plenty of scope for error and support requests.
I probably wouldn't expect action in Australia any time soon, since in the home market alone, Musk reckons demand is going to run well ahead of supply for some time.
And how the company handles international markets will also be something to watch: we'd hope Solarglass won't attract the kind of premiums usually applied to technology products when they land in places like Australia or the UK, but in reality that's what usually happens.
Comparison – Australian 10 kW Solar Panel System + New Roof.
Some very rough numbers from Finn: Electrek claim a US$38,000 cost for a 185 square-metre roof with 9.45 kW of solar tiles. Directly converting that gives around AUD$56,000, then add GST and it comes to $61,600. If sold in Australia, STCs (aka the solar rebate) could reduce that to about AUD $56,000.
In Australia, an absolute top-end 10kW solar system costs about AUD$15,000 after the solar rebate. A 185 square-metre roof should cost no more than AUD$20,000. So an 'Australian-style' solar roof on a new house would cost about AUD$35,000.
Will Australians be prepared to pay a $21,000 premium1 for the Tesla brand and the sleek aesthetics? I guess we'll find out!
Footnotes
probably more because I haven't included shipping! ↩