I am writing this article to apologize to Australian Premium Solar, also known as APS.
On the 20th of January this year I wrote an article entitled, "Australian Premium Solar Turn A 30 Year Warranty Into A One Year Warranty."
In the article I did the following:
I described the APS warranty as "horrible".
I said that unnecessary and expensive inspections are required to maintain the APS warranty.
I advised people not to use APS panels.
I of course apologize for none of that, as I still believe it all to be true.
The APS warranty is horrible, it would cost a small fortune in unnecessary inspections to maintain, and I sure as hell advise people not to buy them.  If you read my article and have enough brain cells to rub against each other you'll see why it's a bad idea.
But, what I did do in my article, and which I fully and unreservedly apologize for, is for saying that APS is the worst solar panel warranty in Australia that I've ever seen.
I obviously did not look hard enough, because a reader has since tipped me off about an even worse warranty.1
The 'worst warranty' gong should actually go to the very closely related company, Universal Solar Group or USG.
Yes folks, the people at USG have really gone the extra distance and managed to make their warranty even worse than that of Australian Premium Solar.  While APS can declare their warranty void if their panels don't receive maintenance every year, USG can declare their 30 year performance warranty and potentially their 12 year product warranty void if their panels aren't serviced every 3 months.
USG Does Not Seem Confident About Their Product
USG's warranty makes it look as though they have no faith in their product at all.  They appear to believe their panels are so fragile there is no point in covering them with a warranty unless they receive quarterly servicing.
I find the very idea they need to be serviced every three months bizarre.  After all, they have no moving parts.  I can't think of anything that can go wrong with them in that period of time which maintenance will prevent.
After all, my car is powered by a series of controlled explosions, has thousands of moving parts, and my life depends on it working properly, but even it only needs to be serviced around once a year.
But maybe USG is fully aware that quarterly servicing makes no sense and they just don't want to pay for panels that stop working.  That hypothesis also fits the facts.
The USG Maintenance Schedule
Here is the start of the USG maintenance schedule:

As you can see, they start off by saying:
"Regular maintenance of your installed solar panels is an essential term of you product warranties."
And it goes on to say:
"…maintenance of solar panels must be done by a Clean Energy Council Accredited Installer."
How often does this maintenance need to be done?  Well, according to the rest of the maintenance schedule it needs to be done every three months with extra maintenance annually and every 5 years: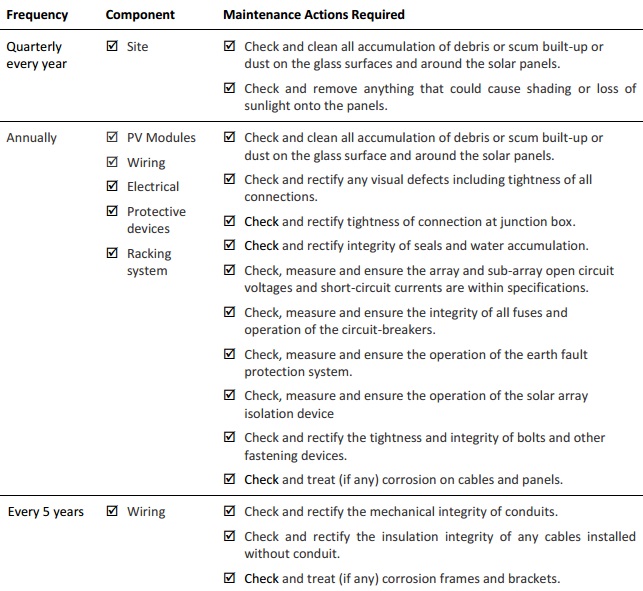 The Quarterly Maintenance Is Bullshit
According to the schedule, the quarterly maintenance that is, "…an essential term of you product warranties," consists of cleaning the panels because apparently not being cleaned for more than three months damages USG panels.  It is also necessary to remove anything shading the panels because it seems that shade can also harm them2.
I also have to wonder what is meant by, "…remove anything that could cause shading or loss of sunlight falling onto the panels."  Is the, "Clean Energy Council Accredited Installer" who is required to do the work expected to cut down trees or possibly demolish your neighbor's house?
But what I find most interesting about the quarterly maintenance is that it requires paying an accredited solar installer to clean your panels.  Panels are not normally cleaned by accredited solar installers.  They usually have better things to do with their time.  So according to the maintenance schedule, you will have to pay a person with qualifications that a professional solar panel cleaner does not require to clean your panels.
The Cost Of Unnecessary Maintenance
Solar panels do not need yearly maintenance.  Maintenance every 5 years can be a good idea just to make sure everything is working fine and the system hasn't developed a hazardous fault.  So if we allow for one inspection every five years, then if you want to keep your USG performance warranty for its full 30 years you will have to pay for 114 superfluous acts of maintenance.
The going rate to have an accredited installer inspect your system, without cleaning, is around $200 to $300.  If you can find an accredited installer who is happy to inspect and clean your panels for $250 a visit, then after just 5 years you will have wasted $4,750 which is probably a lot more than the panels are worth.  By the end of their 30 year performance warranty you will have wasted a total of $28,500 in today's money on unnecessary maintenance.
With that money you could afford to buy multiple new rooftop solar systems.
Or alternatively, you could get just one rooftop solar system with a warranty that isn't shit.
Which Warranties Are Quarterly Maintenance Required For?
At the top the USG maintenance schedule it clearly says:
"Regular maintenance of your installed solar panels is an essential term of you product warranties."
This clearly makes it sound as though four times a year maintenance is required for both the product and the performance warranties.  And the first thing the warranty states under "Exclusions and Limitations" is:
" The warranties provided herein shall apply strictly to the normal use and servicing of the Panel. It does not apply to Panels that have been tampered with, maintained or worked on by an unaccredited installer or outside the guidelines of the USP User Manual."
But the USG warranty states:
"The warranties in PART B are subject to proof of regular or periodic maintenance being carried out to achieve the optimum performance of the Panels. The minimum recommended maintenance requirements for USP Panels are detailed in the USP Maintenance Schedule. Failure to conduct regular or periodic maintenance may void the warranties in PART B."
And "PART B" refers specifically to the 30 year performance warranty.  But, the warranty also states:
"The warranties provided herein ceases to apply or become void if a Panel is damaged or found to be defective as a consequence of inter alia3, any of the following events."
The "following events" include:
"Failure or a lack of proper maintenance as provided for in the User Manual or the USP Maintenance Schedule."
So it looks like they can also attempt to void the 12 year product warranty for failing to do quarterly maintenance.  I imagine you could fight them on this, because I can't think of anything that would realistically result in a panel failing under normal use within 12 years due to a lack of maintenance.  But the best solution is just to avoid using these panels in the first place.
If USG panels are already on your roof then you have my condolences.
"Tested For Hash Conditions" And Apparently Failed
I downloaded all the datasheets for all five USG panels off their website:
USG Poly P6-60 Series
USP Mono M6-60 Series
USP Mono M6-72 Series
USP Poly P6-60 Series
USP Poly P6-72 Series
Or at least I tried to.  Only three of the links actually worked, so there are two panels for which there are either no links, no datasheets, or no actual panels.  And I really don't know which of those options is more likely to be correct.
But every one of the three datasheets I was able to download, states:
"Tested for harsh conditions"
Well that makes them sound tough, doesn't it?  Unfortunately none of them appear to have actually passed this test.  This is because the warranty states that it becomes void if the panels are:
"Installed in a marine environment or in a harsh environment containing high levels of acid, salt or pollutants."
Just to be clear, "a marine environment" doesn't mean under the sea, it means near the sea.  In other words you shouldn't be installing these within a couple hundred meters of the beach or anywhere they might regularly be exposed to salt mist.  But just what USG considers to be a marine environment is not known as they don't provide a definition.
Avoid Exposing USG Panels to Heat Or Weather
Another thing that will void their warranties is if they are:
"Damaged by heat, fire, explosion, lighting, weather, natural or other disaster or extreme conditions."
That sentence might seem okay at first, but when you break it down, they are saying the warranty is void if the panels are damaged by heat.  This is a worry because when exposed to the summer sun, solar panels have a definite tendency to become ever so slightly frickin hot.  It's a rather unavoidable fact of life for solar panels in Australia and if heat alone can void their warranty they are not suitable for use in this country.
But it's not just heat you have to worry about voiding their warranties.  If you look at the exclusion above you'll see they consider weather alone to be enough.  This makes me wonder if USG has developed the world's first indoor solar panel or if they don't understand that in order to function their panels will have to withstand this phenomena known as "weather" for decades without breaking.  This is because they normally go on roofs and not under beds or in cupboards.  A solar panel warranty that excludes damage caused by weather is pretty goddamn useless.
USG Panels Are Used By Euro Solar
Euro Solar is an installer that uses USG panels.  I don't recommend getting a Euro Solar installed system for a number of reasons, but for now I'll just mention two:
I guess the most positive thing I can say about Euro Solar is it's a "fine" company.

USG, APS, And Euro Solar Are All Related
It is no real secret that Universal Solar Group (USG), Australian Premium Solar (APS), and Euro Solar are all basically the same mob.  The similarity in their grammatical errors alone is a give away.
I haven't bothered to go into the details of who owns what and just who is directing which parts of the operation because it is not necessary.  If you don't use them you won't have a problem with them.
You Have Protection Under Australian Consumer Law
The good news is, under Australian Consumer Law you have far more protection than what is offered in the USG written warranty.  Because they offer a 30 year warranty I am confident that if their panels fail in that time and USG is taken to a consumer tribunal or small claims court they will be required to provide a repair, replacement, or refund4.  But I am also sure they know very few people will bother to do that.
Some Deficiencies In The USG Website
I've told you what's important – it can cost over $28,000 in unnecessary inspections and cleaning to maintain the warranty on your USG panels for their full 30 years.  My job here is done.  So for the rest of this article I'm just going to be pointing out certain entertaining features of the USG website.
There Is No Link To The Maintenance Schedule
The USG warranty states:
"The minimum recommended maintenance requirements for USP Panels are detailed in the USP Maintenance Schedule."
So clearly this Maintenance Schedule is an important document.  But despite it being so important, they don't actually provide any link I can find on their website.  I had to go and poke around on the internet to get one.  You know, it's almost as if they don't want people to know they'll have to spend tens of thousands of dollars on unnecessary inspections and cleaning to keep their warranty in spec.
"International Recognised" Company Appears To Have No Address
The USG website says:
"Universal Solar Group is an international recognised PV manufacturing company with headquarters located in Australia."
But if you check on the internet you'll see that basically no one outside of Australia knows of them and not many people in Australia do either, so I don't see how they can be, "international recognised".
As for their "headquarters located in Australia" they don't actually give the address of their headquarters anywhere on their website.  That seems a bit remiss of them, as Google Maps doesn't know where it is either.  But I'm sure Euro Solar could tell you that information if you asked them.
Vision Failure Suggests Blindness
But USG do tell you about their commitment and vision.  They state:
"Our commitment is responsible manufacturing & Our vision is to become the leading solar components supplier in the Oceania and Asia-Pacific by the year 2016."
Well, it's now 2017, so epic fail there guys.  I have to say your vision doesn't seem very clear.  Have you considered getting your eyes tested every three months?
My Recommendation
Surely if Universal Solar Group thought their panels were likely to last the full 30 years of their warranty without a problem, they would not require them to receive tens of thousands of dollars worth of unneeded maintenance in order for them to keep their warranty?  So I do not think they are likely to be reliable panels.
My advice is simple and is the same as for Australian Premium Solar panels.  Don't use them.  And if an installer attempts a bait and switch by saying the panels you wanted aren't available so they will install USG or APS panels instead, tell them to go to hell.