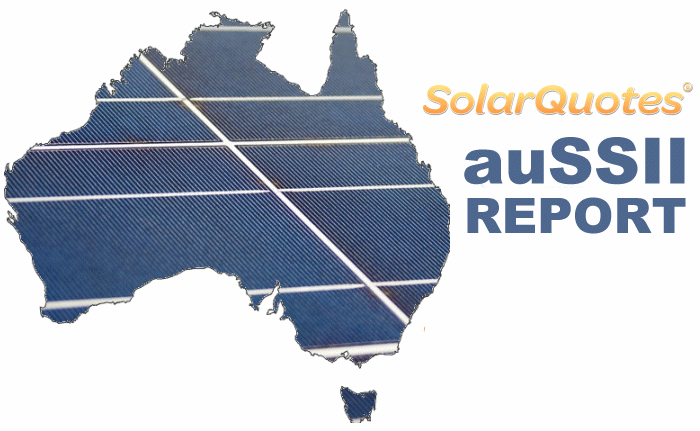 February was another busy month here on SolarQuotes, with thousands of Australians requesting pricing and details on home systems – here's what they were interested in last month. 
Solar Power System Size Preferences
In February, Australians requesting solar quotes were again generally wanting big systems (5kW/6kW) – these made up 43% of all requests (similar to January), while 39% weren't sure on the best size solar package for their circumstances (up from 38%). Again, a 1.5kW system selection choice was registered in less than 1% of quote requests.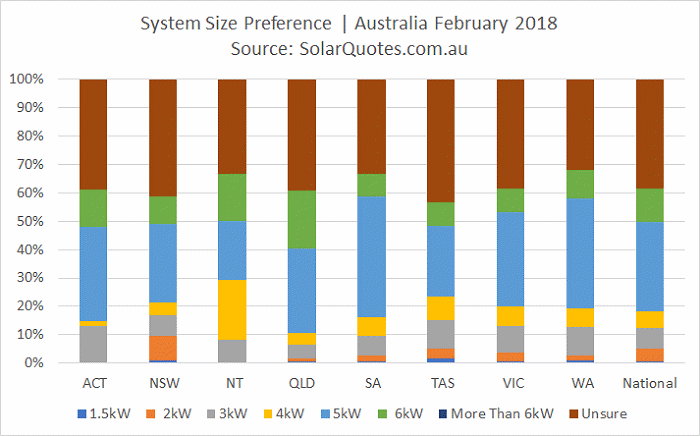 Purchase Intent – Plenty Still Keen To Go Solar Soon
15% of Australians using our service were ready to buy solar panels immediately (down from 16% in January) and 28% in the next 4 weeks (down from 29%). All up, 76% were considering a purchase within three months, down from 80% in January. Close to 24% were thinking within 6 months, compared to just over 20% in January.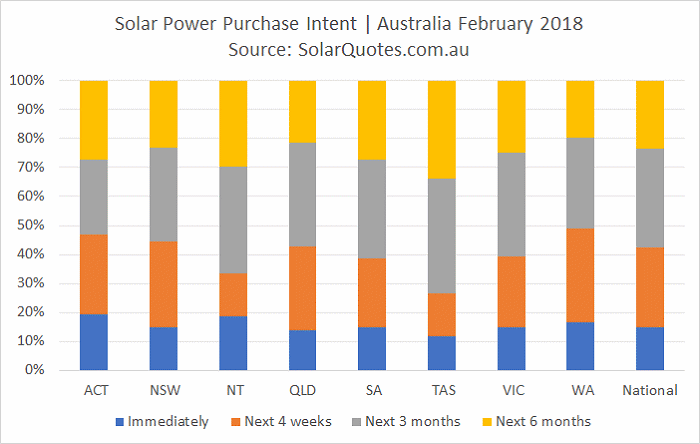 More Interest In Top Shelf Systems
A surprise this month was the proportion of Australians wanting a solar power system that was "a good mix of quality and price". Over the months since we started the auSSII, this has generally been around the 81% mark – in February, it was 79%. It wasn't the "good budget system" option that saw more favour – that remained at 7%. It was the "top quality (most expensive)" choice that received more attention, at just over 14% – nearly 2 percentage points higher than in January.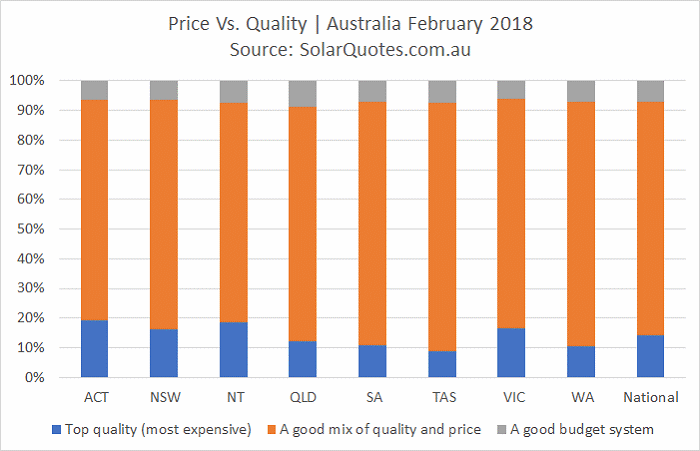 Battery Ready – Or Not?
The majority of submitters weren't specifically after a battery-ready system, with 12% registering this option. That was up on January (11%), but down on what we saw in November and December 2017 (13%).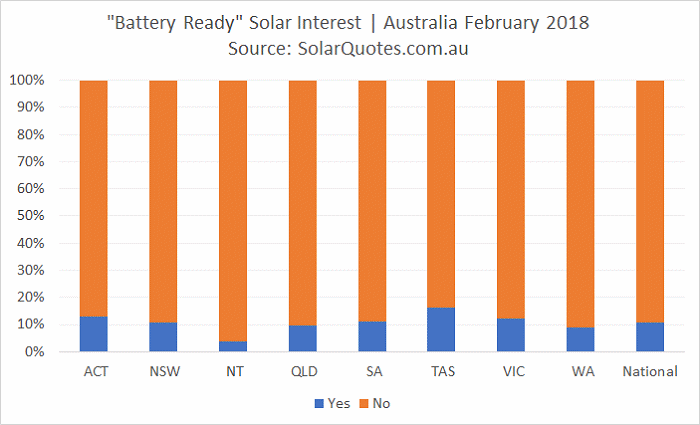 Solar + Battery Storage From The Outset
Batteries may generate a lot of interest, but that's still not translating to quotes for new concurrent solar and battery storage installation – yet. However, February's figure of 4.2% of quotes requesting  solar energy storage pricing was  up on January (3.4%) and more in line with December. When selecting solar + storage, a flag is displayed on the screen as part of the quoting process detailing indicative costs and an option for "battery-ready" provided as an alternative.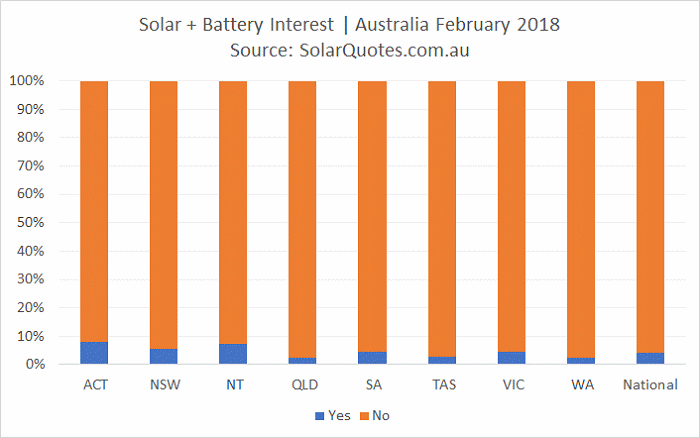 Battery Storage System Capacity
Where batteries were selected and a capacity specified, 39% of submitters were wanting a solar energy storage system of 10+ kWh capacity – down on January (42%). Interestingly, there was a significant increase in the number wanting 1-5kWh systems; from 6% in January to nearly 9% in February. Just over 47% of people wanting prices on batteries were unsure what capacity they required.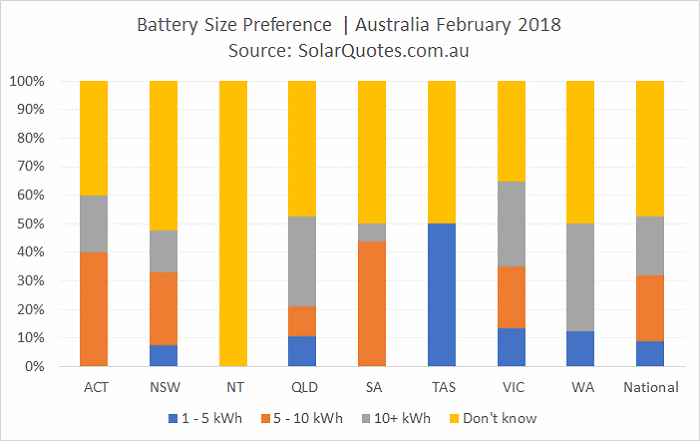 Primary Use For Batteries
On our quoting form is a question about intended battery system use. 5% (4% in Jan.) stated it was for backup, 46% (42% in Jan.) for minimising grid electricity use and 49% for both (54% in Jan.)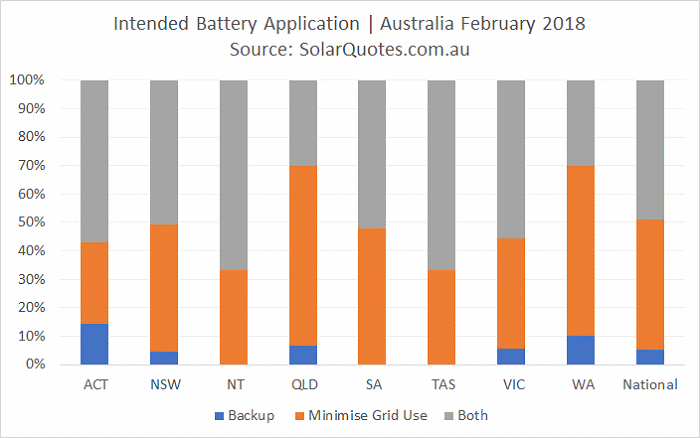 Average Australian Electricity Bills
The percentage of Australians reporting electricity bills of $2,000 or more a quarter dropped back from just over 5% to just under that figure. In December 2017, it was just under 4%. Close to 44% reported quarterly bills of $500 – $1,000 and 7% weren't sure what their bills were.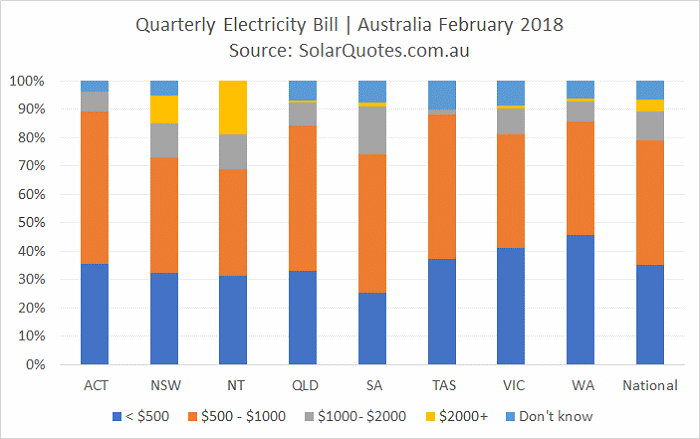 About The auSSII Report
The information in this report is based on the thousands of requests for solar quotes we receive each month.
Click here to receive up to three no-obligation quotes from pre-vetted Australian installers participating in Solar Quotes network, or peruse our database of solar installer reviews, which is the largest in Australia.
Lead Generation For Quality Solar Companies
If you're an installer or solar company that cares about providing quality and are looking for qualified leads, SolarQuotes has been providing superior solar sales lead generation services since 2009.
Reproducing This Report
Reproduction of graphs and other detail from any auSSII report is welcome, but the report page from which the information is taken needs to be acknowledged as the source.