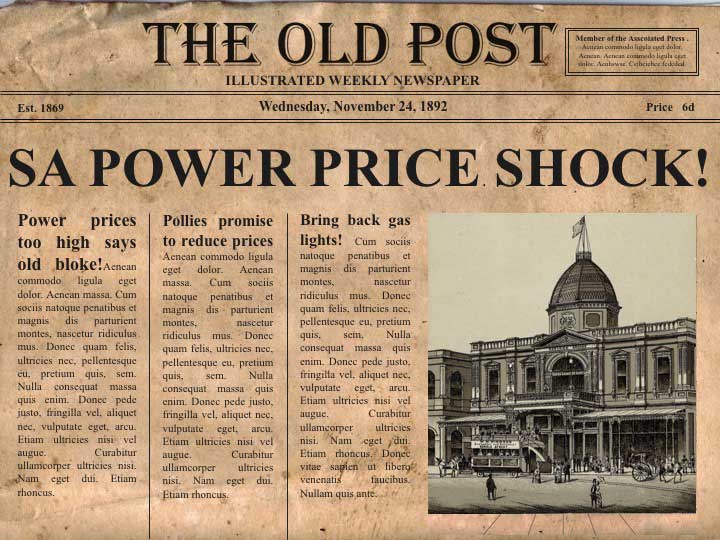 In South Australia we pay a lot for electricity.
If you feel the need to respond to that statement by saying, "Well, whoop-de-doo!  We pay a lot for electricity in Newcastle," I will understand.  All Australians pay too much for household electricity.  This is true whether you look at historical prices or at countries you'd expect us to be similar to such as the United States or Canada.
But South Australia's electricity prices are the highest in the nation, as I recently demonstrated, and, unlike just 10 months ago, the total cost of electricity for a typical household is now far more than for any other state or territory.  Price increases at the beginning of this financial year mean that no matter how you slice it, South Australians are the absolute champions at paying the most for grid electricity.
But when it comes to the charge per kilowatt-hour, South Australians have always paid more than people in other states.  At least we have in living memory.  If you have access to pre-World War 2 data and can prove me wrong, please go right ahead.
Coalition politicians and people on the internet who don't know what they're talking about — and there are at least two or three of them — confidently state that South Australia's high electricity prices are due to renewable energy as though it's a god revealed truth, while ignoring the fact that electricity prices have always been high here.  What never seems to get mentioned is that if half the electricity now generated in South Australia didn't come from rooftop solar power and wind power, then the electricity price we have suffered would have been even higher.
Why the cost of electricity has more than doubled in real terms throughout Australia over the last decade is a long and sordid tale I am not going into today.  Instead, I'll tell you the mildly less sordid tale of why South Australians have always paid more per kilowatt-hour than in the rest of the country.
There are a number of factors which have applied since well back in the 20th century:
No cheap and convenient coal deposits.
Little industry to moderate electricity demand
No hydroelectricity
Heavy reliance on gas generation
And there are factors that have mostly only applied this century:
Heavy air conditioner demand during heatwaves
Not enough competition in the state electricity market
Soaring Natural gas prices
SA Has Renewables Because It Has High Electricity Prices — Not Vice Versa!
I'm going to go into details of why South Australia's electricity prices have always been high, but first I want to make a very important point clear.  It's so important I am going to pay for additional black photons so I can print it in bold type on your screen:
South Australia doesn't have high electricity prices because it has renewable energy.  South Australia has renewable energy because it has high electricity prices.
If you were going to build a wind farm, where would you put it?  In the state where it would make you the most money or not in the state where it would make you the most money?
When you look at it that way it's pretty obvious why SA has the most wind power capacity.  Also, when you consider that roof top solar energy will pay for itself faster in SA than in any other state it's not surprising we have the most installations per capita.
So the people who say South Australia has high electricity prices because of renewables have causality the wrong way around.  (That's a polite way of saying they're fucked in the head.)
No Cheap And Nasty Coal For SA
For over 100 years Australia has produced cheap electricity from coal.  That is, cheap in terms of what people were charged for it and not cheap in terms of harm to their health or damage to climate stability.  But coal power has always been more expensive in South Australia because it doesn't have the conveniently located and low cost to extract deposits the eastern mainland states do.
There is plenty of coal in South Australia, but rather than being cheap and nasty, it's just nasty.  The best deposit that could be found was at Leigh Creek — a 250km rail trip from the coal power stations that used to be at Port Augusta.
The site contains low quality sub-bituminous black coal laid down over 200 million years ago in the late Triassic and it was during this period that 76% of all species went extinct.  If Tony Abbot reads this he will no doubt claim it was the formation of the coal that caused the extinctions and if we want to prevent future extinctions we should un-form the coal by digging it up and burning it.  But don't listen to Tony.  He's a few goat sacrifices short of a volcano god.
The Leigh Creek coal is lower quality than the black coal currently mined in NSW and Queensland but better than Victoria's brown coal.  However, it is found in seams only a few meters thick rather than the 100 meter seams that can be found in Victoria1.  Its low quality and high cost of mining and transportation meant South Australian coal power was always going to be more expensive than in the contiguous states to the east.
Before SA's Northern Power Station closed down for good in 2016 it was seeking a price of 5 cents a kilowatt-hour in order to remain open.  Back when Australia had a carbon price, brown coal power stations in Victoria remained in operation while receiving an average price of less than 2 cents per kilowatt-hour.  After adjusting for differences in coal royalties between the states, brown coal power station continued to operate while receiving less than half what Northern Power Station required to remain open.
South Australia's Grid Is Very Peaky
There's not a lot of industry in South Australia and never has been.  These days mining generally draws a steady 100 megawatts or so, but industry still makes up a smaller portion of total electricity consumption than in other mainland states.  As industrial electrical demand tends to be fairly constant, or even increases when demand and thus prices are low, it helps maintain demand.  As a result, late at night when almost everyone except bloggers are asleep, electricity consumption can fall to low levels.
While there's not much industry in South Australia, there can be plenty of bloody heat in the summer.  During a heatwave electricity demand soars as a vast number of air conditioners labour to keep us alive in temperatures that have reached as high as 45.7 degrees.
The extremes in demand resulting from a lack of industry and high temperatures means dispatchable generation, which is capacity that can be switched on and off as needed, spends a greater portion of its time sitting idle than in other states and this contributes to higher costs.
No Hydroelectricity
While Australia is the second driest continent after Antarctica, hydropower supplies a larger portion of our electricity than in most developed countries.  We easily beat Japan which has more mountains and rain than you can poke a trout at2.  The eastern states all have hydroelectric dams which are very useful for helping meet peak demand.  But South Australia, being very flat and very dry, has none3.
Not Enough Competition
At the end of the 20th century South Australia's electricity sector was privatized and an electricity market created.  This enabled a new problem to arise, which was inadequate competition in that market.  Usually the limited amount of competition compared to other states results in electricity prices being slightly higher than what they would be otherwise, but sometimes things get ridiculous.  In July 2016 a reduction in competition caused by the shutdown of the Heywood interconnector with Victoria allowed South Australian generators to force wholesale electricity market prices to over 5 times their average in July the previous year.
Reliance On Gas Generation
Other states generate an average of around 10% of their electricity from natural gas.  But back in the 20th century, before a single wind turbine was constructed or solar panel connected to the grid, SA's generation was 30% coal and 70% gas4.
The main reason why the state relied so heavily on natural gas was because back then Australian natural gas prices were, outside of some oil producing countries, the cheapest in the world.  At the time there were no facilities to export natural gas and so its price was able to remain far below international levels.  Because coal power was expensive by Australian standards and minimum demand low, this made it the lowest cost option for the bulk of South Australia's electricity generation.  But this reliance on gas left the state very exposed to increases in its price.  As eastern Australia's natural gas reserves were being gradually depleted future price rises seemed a certainty.
But instead of running short of gas, reserves and production massively increased due to the development of coal seam gas and fracking technologies.  While it would be reasonable to expect this to lower prices, the increased supply actually led to gas becoming far more expensive as an export facility was built in Gladstone and gas prices rose towards international levels.
When WA started exporting natural gas on a large scale it reserved a portion for domestic use to keep its price for Western Australians low.  This was not done in eastern Australia, which would have been fine if the Federal Government had acted to rapidly expand renewable generation to limit the effect of gas on electricity prices, but they didn't budge from their usual position, which is bent over backwards and doing everything they can to slow the uptake of renewables.
This graph from the Australian Energy Regulator shows how Adelaide gas prices have risen by over 75% in the past 2 years: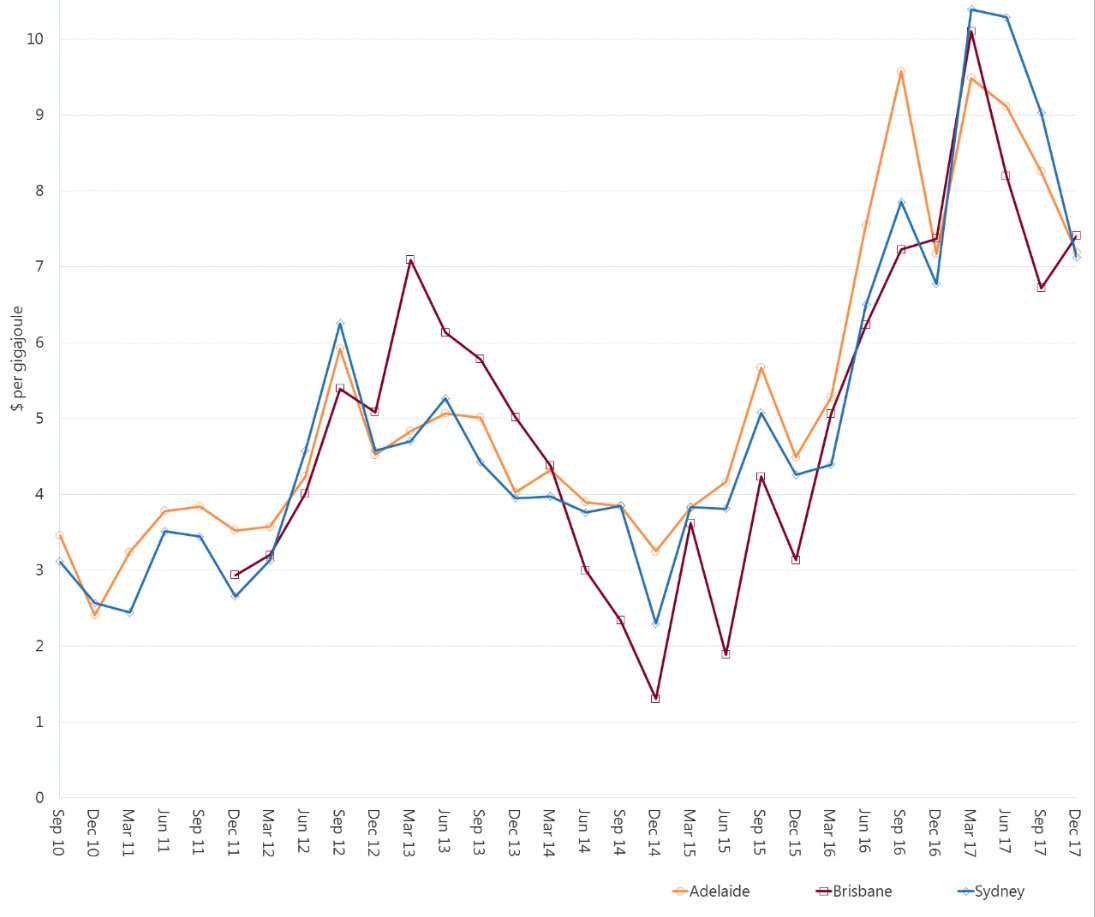 Prime Minister Turnbull has interfered in gas markets and this is supposed to lower prices, but currently they are still way too high.
Renewables Have Limited Electricity Price Hikes
Last century around 70% of South Australia's electricity was generated from natural gas.  Things have changed a lot since then, with this graph of growth in wind generation being one example:
Rooftop solar energy and wind power have eliminated highly polluting coal power stations from the state and have also reduced natural gas generation.  Last financial year electricity generation in South Australia was:
39.2% wind
9.2% rooftop solar power
1.1% diesel
50.5% natural gas
Wind and solar power have continued to expand since then so natural gas generation will now be under 50%.  This means that, in addition to allowing the closure of the state's two coal power stations, renewable energy has reduced the portion of electricity generated from gas by over a quarter, down from 70% to less than half and limited the electricity price increase that has occurred due to rising natural gas prices.5
But despite renewable energy limiting electricity price increases, the Australian Federal Government, the people who lead this country, have blamed it for the increase caused by soaring natural gas prices.  This behavior makes me wonder if some Coalition politicians have a habit of naming their dog Renewable Energy so when they get home they can kick it there as well.