Grid electricity is not cheap in South Australia.  Here in Adelaide it's never a happy time when I get an electricity bill.  My last quarterly bill was $203 for 389 kilowatt-hours of use.  All up, that means I paid over 52 cents for each kilowatt-hour of grid electricity.
But my usage isn't typical.  Most South Australians pay much less per kilowatt-hour.  I decided to investigate how much typical households pay in each state and territory and gathered information on electricity consumption, fixed costs, charges per kilowatt-hour, electricity bill discounts, and controlled tariffs1.
After crunching the numbers I found typical households in Victoria now pay the most for grid electricity, while those in Canberra pay the least.  I also found that of all the states, South Australia had the second lowest cost of grid electricity, which is definitely not what politicians and pundits on TV, in newspapers, and on the internet tell us.
We have heard over and over that South Australia has the most expensive electricity in the nation and how that's supposed to be the fault of renewable energy.  But it is simply not true.  It is coal powered Victoria which has the most expensive residential grid electricity while South Australia is the second cheapest state after mostly coal powered NSW.
The average price paid by typical households in Australia, after adjusting for population, comes to 29.4 cents a kilowatt-hour.  This is not the highest cost of grid electricity in the world, but it is among the most expensive and the bad news is electricity retailers are about to push prices higher.
Before long I'll write an article detailing how much extra you'll soon have to pay for grid electricity so you'll know how much nose widening surgery you'll have to schedule to make it easier to pay through it, but the rest of this article is about how I worked out how much representative households in each state and territory pay per kilowatt-hour.
A Typical Household Is Not An Average Household
Finding out how much the typical household pays for grid electricity seems like it should be easy.  I could just use the SolarQuotes Electricity Plan Comparison page to find out what people are charged per kilowatt-hour and their daily supply charges.  But to do that I'll also need to know how much grid electricity typical Australian households use.
A typical household is not the same as an average household.  By typical, I mean the most common type.  For example, the average household has 2.6 people, but the most common household size is 2 on account of how the police frown upon cutting people into portions.
Just what is typical will vary from state to state.  While 2 is the most common household size throughout Australia other considerations vary.  For example:
Typical Household has gas — Victoria, NSW, Western Australia, ACT.
Typical Household is without gas — Queensland, South Australia, Tasmania, Northern Territory.
Typical household has off-peak hot water — Queensland, NSW, South Australia.
Typical Household has a pool — Nowhere – not even Queensland.
Fortunately, the Australian Energy Regulator (AER) provides figures for annual residential consumption in each state and territory for a typical household or what they call the representative consumer2.  And where these aren't available the Australian Energy Market Commission (AEMC) has taken figures from state governments3.  The annual electricity consumption of representative consumers by state and territory are: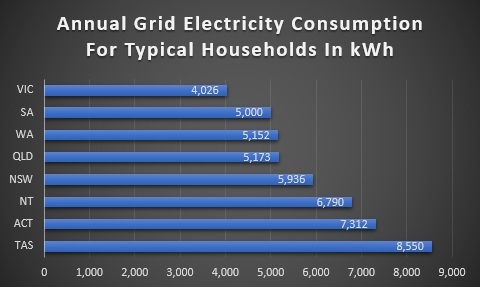 What Typical Households Pay Per Kilowatt-hour
Using the yearly electricity use of representative consumers it is possible to determine how much a typical annual electricity bill is.  In Western Australia, Tasmania, and the Northern Territory electricity prices are regulated, which means my calculations will be spot on, while other states have competing electricity retailers.
Origin Energy is Australia's largest electricity retailer, so I have assumed they are the most typically used retailer in NSW, Victoria, Queensland, South Australia, and the ACT.  I have used their Maximiser plan, partly because it appears to be their cheapest and partly because Origin has tried to convince me it is "popular" and so it may be a commonly used plan.  I have also assumed people will typically want to save as much money as possible and so any conditional discounts, such as for direct debit or paying on time, will always apply.
I only looked at standard plans and not time-of-use.  I have assumed 25% of electricity use is on a controlled tariff (also known as an off-peak hot water tariff) in NSW and South Australia, and 20% in Queensland4.  Where there is a choice I have assumed the controlled tariff will be the cheapest available.
This gives the following as the typical annual electricity bill in each state and territory: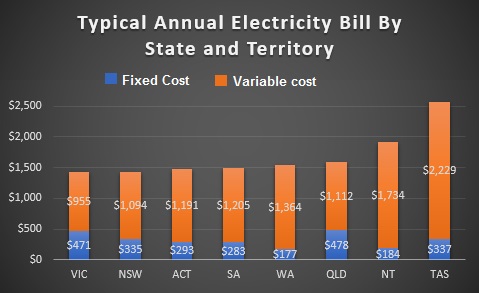 Fixed Costs As A Percentage By State And Territory
Looking at the above graph, one thing that leaps out like a cat in a horror movie is how much of the typical household electricity bill consists of fixed costs.  The percentage by state and territory is: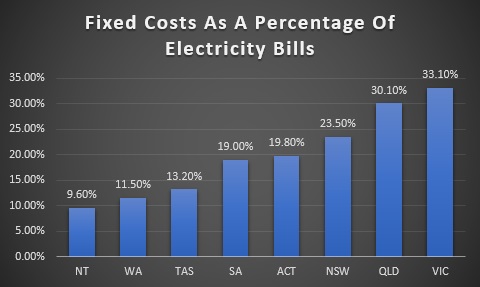 Cost Of Electricity Per Kilowatt-Hour For Typical Households
By taking the total cost of the typical annual electricity bill and dividing by the kilowatt-hours used, the cost of grid electricity per kilowatt-hour can be determined: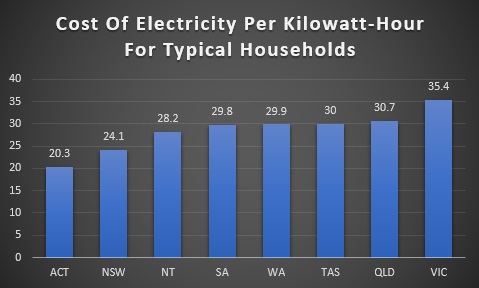 As you can see, rather than having the highest electricity prices in the country as is commonly believed, typical households in South Australia pay the second lowest cost per kilowatt-hour out of all the states.
What is a surprise is that Victoria, which is generally regarded as having low electricity prices, now has the highest cost per kilowatt-hour for typical households in the nation.
For Large Users Of Grid Electricity SA Is Still Not Most Expensive
Not every household will use a typical amount of electricity and if we look at households that use double the typical amount of electricity and keep all else equal, Victoria remains the most expensive state, while South Australia will still be cheaper than Western Australia and Tasmania, but will become more expensive than Queensland while tying with the Northern Territory.
Small users of electricity will get screwed over the most in Queensland and Victoria because of high fixed costs in those states.
Controlled Tariffs Are Important
Controlled tariffs are generally used to power hot water systems and are common in Queensland, NSW, and South Australia.  Because they are common it is perfectly reasonable to include them in calculating the cost per kilowatt-hour paid by typical households.
If it is instead assumed that households don't use controlled loads, or off-peak hot water as it is often called, then South Australia does become the most expensive state for grid electricity, followed by Victoria and then Queensland.
Australia's Average Typical Electricity Price
It is possible to take the average price per kilowatt-hour for grid electricity in each state and territory, adjust it for population, and determine the average typical electricity price Australians pay.  It comes to 29.4 cents per kilowatt-hour.  Because this is an average of typical prices it will be slightly higher than the straight average paid by Australian households, but not by much.  We don't have the highest electricity prices in the world, but they're definitely not cheap.
The United States has similar levels of grid reliability as Australia and their average cost of residential electricity is 17.1 Australian cents per kilowatt-hour, while in Canada it's around 13 Australian cents5.
South Australia Beats All States Except NSW
Despite the fact we hear it over and over in anti-renewable arguments, the belief that South Australia has the highest household electricity costs in the country is simply not true.  The state with the highest residential cost of electricity is Victoria, which has the most carbon intensive grid in the country, and until just recently, possibly the world.
Some of the confusion is understandable.  South Australia's electricity prices have been high in the past and the variable cost of electricity on a standard tariff is the highest in the country.  But a combination of three factors:
Low fixed costs in comparison to all other states except Western Australia.
A large part of household electricity use is on a lower cost controlled tariff.
Greater electricity increases in other states.
Have combined to make South Australia's residential electricity the second cheapest of all the states.
Now that I've written this article I'm sure no one will make the mistake of saying South Australia has the most expensive electricity ever again.