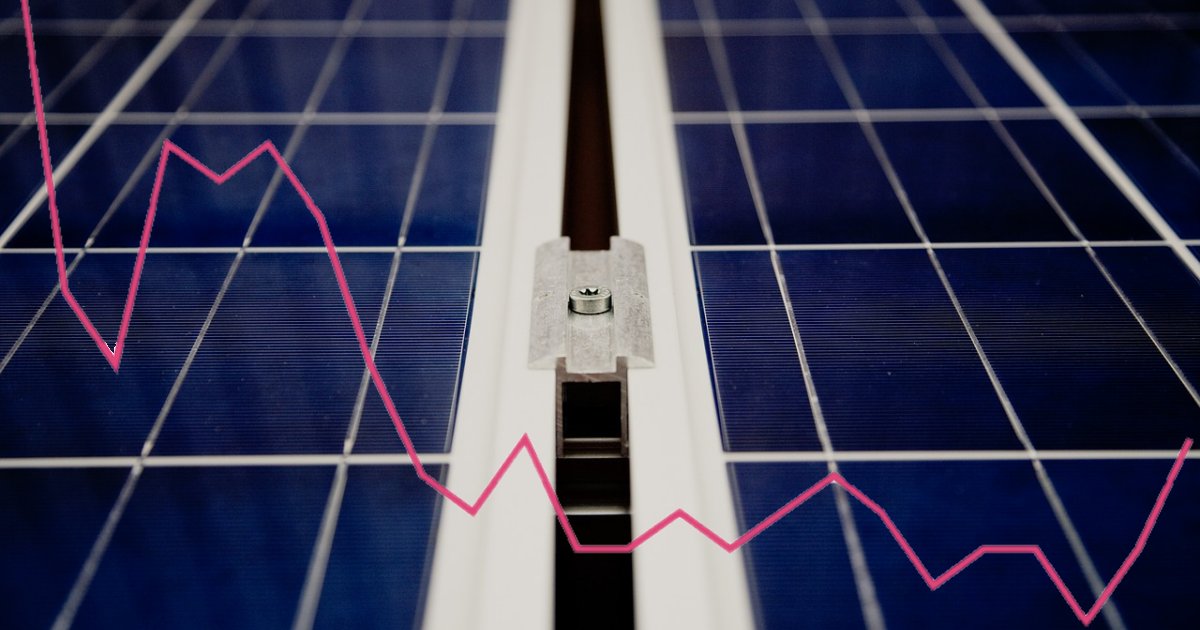 Choice of good quality solar panels in Australia may soon become more limited and costly due to issues occurring beyond our shores.
Late last week, PV-Tech reported leading manufacturers Longi, JinkoSolar, Trina Solar, JA Solar and Risen Energy were warning rising costs for materials and shipping were threatening the industry. For example, the price of polysilicon remains high and the cost of solar glass and adhesive films have also jumped.
These warnings aren't new – JinkoSolar has been talking about the issues for quite a while. But with China now also in the midst of what's been called an energy crisis further complicating the situation, the five big players are asking the firms they supply to delay projects if possible; assumed to mean solar farm projects.
The situation is now also impacting small-scale and commercial solar here in Australia. We became aware yesterday of a major Australian solar wholesaler being advised over the previous couple of days that many of its scheduled shipments had either been delayed or cancelled. This wasn't just happening with one or two of its principal solar panel suppliers, but all of them.
When supply doesn't match demand, prices go up.
Solar Prices In Australia – Interim Update
So, what's been happening in Australia with the price of solar systems recently?
As mentioned in our Australian Solar Prices report in September, while system costs have generally held up well over the last 12 months given the circumstances, this wasn't necessarily going to remain the case.
That report was based on the SolarQuotes' Australian Solar Price Index. As the month ticked over into October and the Index updated to include September, the following is what we're seeing at this point in time. This is the average installed cost per watt for all solar power system sizes in all states, after any rebates and subsidies: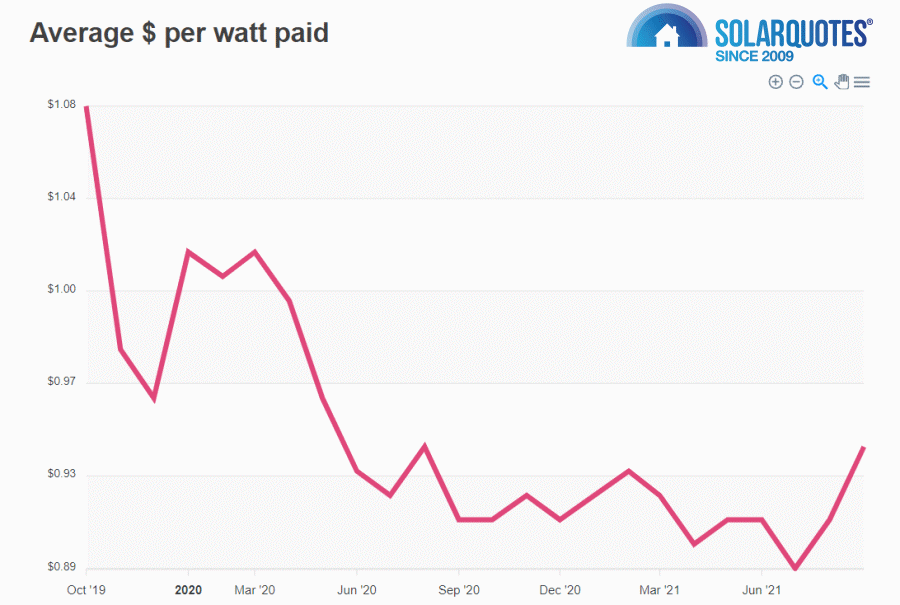 The cost per watt went up a little in August and has continued with a steeper rise for systems purchased in September; back to levels seen in August 2020. However, the Index is updated in real time and it's still early in the month, so as more information is received about purchases in September, the situation could change.
It will also vary state-to-state – for example, NSW figures are showing a slight decrease on cost per watt currently. But at this stage, what the Index's national figure is indicating combined with what is being reported elsewhere means it's a situation worth keeping close tabs on. SolarQuotes will publish an updated report on how September tracked on system costs towards the end of this month as we'll have a lot more data to work with by then.
Even if the cost of solar panels rises further, they will remain a very good investment. But for Australians currently considering solar power, it might be a good time to pursue the idea and take advantage of stock installers may have left at cheaper prices.
Pay special attention to the solar panels noted in a system quote and do your research as some installers may resort to lower-quality panels due to cost and supply issues. Also worth checking is SQ's recommended panel brands chart.
Additionally, it's worth bearing in mind that the national subsidy (aka the "solar rebate") will see another reduction at the beginning of next year.
It's an ill wind that blows nobody any good as they say and if the situation in China continues for some time, it could provide a great opportunity for Tindo Solar – the only Australian manufacturer of solar panels currently recommended by SolarQuotes.
Around this time last month, Tindo said decommissioning of its current manufacturing plant in Adelaide had begun and the company was awaiting arrival of equipment for the new facility, situated adjacent to the old plant. How this is progressing wasn't clear at the time of publishing. No doubt the company is keen to get that cranking as soon as possible if not already up and running.