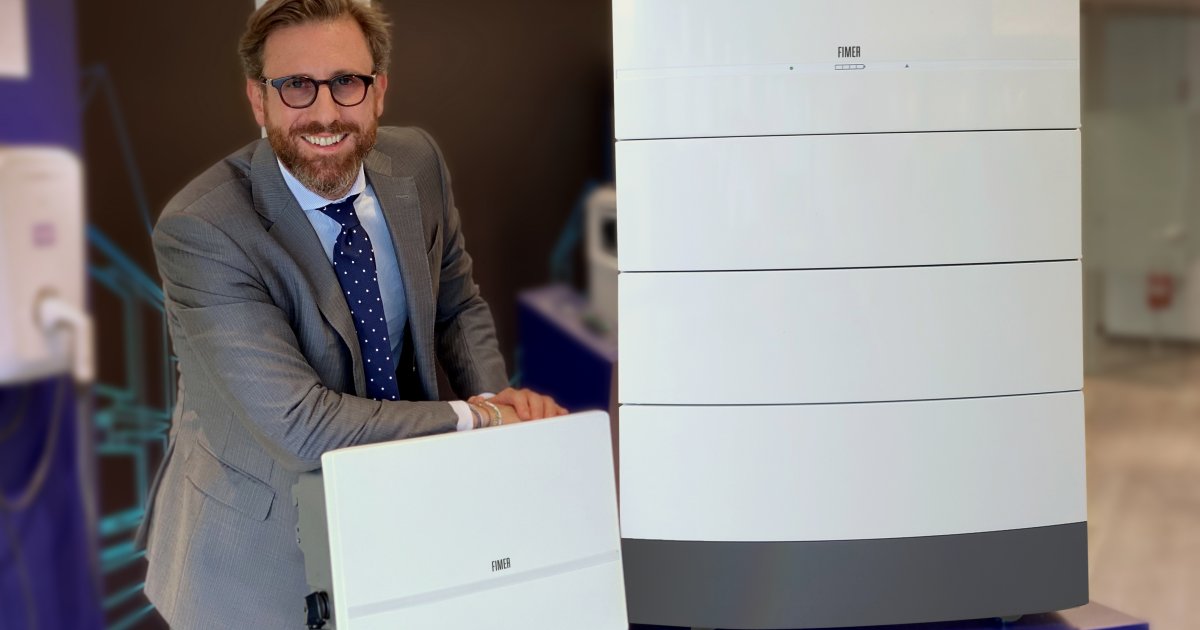 Inverter and energy storage manufacturer FIMER has provided a glimpse of new solar products heading to Australia next year.
If you haven't heard of FIMER, the company has been around for a long time and has produced inverters for large commercial and utility scale applications for decades. More recently, FIMER entered the residential and small commercial market through acquisition of ABB's solar inverter business.
While the acquisition of ABB was completed in March last year, the ABB branding was kept during a transition period – and that's probably why there are still quite a few fresh ABB inverter reviews here on SolarQuotes and no FIMER inverter reviews from customers yet. However, with the switching of branding that commenced fairly recently, no doubt reviews under the FIMER brand will start appearing in the not-too-distant future.
Among the products displaying the FIMER branding are a couple of new additions to the company's lineup being showcased at Intersolar Europe this week.
FIMER PowerUNO and PowerTRIO
The new PowerUNO (single-phase) and PowerTRIO (three-phase) residential solar inverters maintain some of the familiarity of their ABB pedigree in their names – just with "Power" added. But there are other changes as well.
Calling it the "better 1phase", the PowerUNO will be available in 2 – 6kW capacities and is battery-ready. It's also "blockchain ready", whatever the heck that means.
All of the range includes dual Maximum Power Point Tracking (MPPT) except for the 2kW product, which is single MPPT. The PowerUNO offers a maximum 98.2 % efficiency and weighs in at 12 kilograms according to the datasheet. That is significantly lighter than the 6kW UNO-DM, which is 20 kg, and the efficiency in the new inverter has been has been boosted as well. You can download the PowerUNO datasheet here.
The PowerTRIO will be available in 4 – 8.6kW capacities and also boasts 98.2% efficiency. The range is heftier than its single-phase counterpart at 18kg. Download the PowerTRIO datasheet here for further details.
FIMER is currently listed on SolarQuotes' recommended inverter brands chart (under the ABB logo).
FIMER PowerX Solar Battery
A modular battery system, the FIMER PowerX consists of the "Genius" box that contains the charger and battery management system (BMS), battery modules and the base.
Each battery module is 3.2kWh and a basic system consists of 3 modules for a total 9.6kWh capacity. A maximum of 5 modules can be used for 16kWh capacity, but it should be noted that these are total capacities and depth of discharge (DoD) is 90%.
Each module weighs 33kg, so the 9.6kWh system with the Genius box weighs in at 122kg, the 12.8kWh configuration at 155kg and the 16kWh unit at 188kg. Nominal discharge power for the 9.6kWh system is 3.8kW, for the 12.8kWh it's 5.1kW and for the 16kWh, 6.4kW.
Up to three 16kWh systems can be connected together for a total capacity of 48kWh (but bear in mind the 90% DoD – so, around 43.2 kWh usable capacity).
The PowerX system has a magnetic front cover that is available in 5 "cool colors" with some curious names such as "beastie black" and "gorgeous green". The PowerX is based on LFP (Lithium Ferro-Phosphate) chemistry, also known as Lithium iron phosphate (LiFePO4). This is widely regarded as the safest of commonly available lithium ion battery technologies.
The PowerX battery datasheet can be downloaded here.
FIMER anticipates the PowerUNO, PowerTRIO and PowerX will arrive in Australia and New Zealand from July next year, so if you're keen on getting a closer look you could be in for a bit of a wait. The company is also kicking off a certified installer program here in Australia and New Zealand – further details are available here.
Related: Choosing The Best Solar Inverter For You | Everything You Need To Know About Battery Storage.