Mount Alexander Shire Council will request the involvement of Victoria's Minister for Planning in determining a planning permit application for the proposed Baringhup Solar Farm.
The Renewable Energy Systems (RES) Australia Pty Ltd project, which will be up to 75MW capacity, is to be constructed on land approximately 2 kilometres west of Baringhup (population: 205 – Census 2016). The plans also include a zone set aside for battery storage.
Here's the layout of the proposed facility: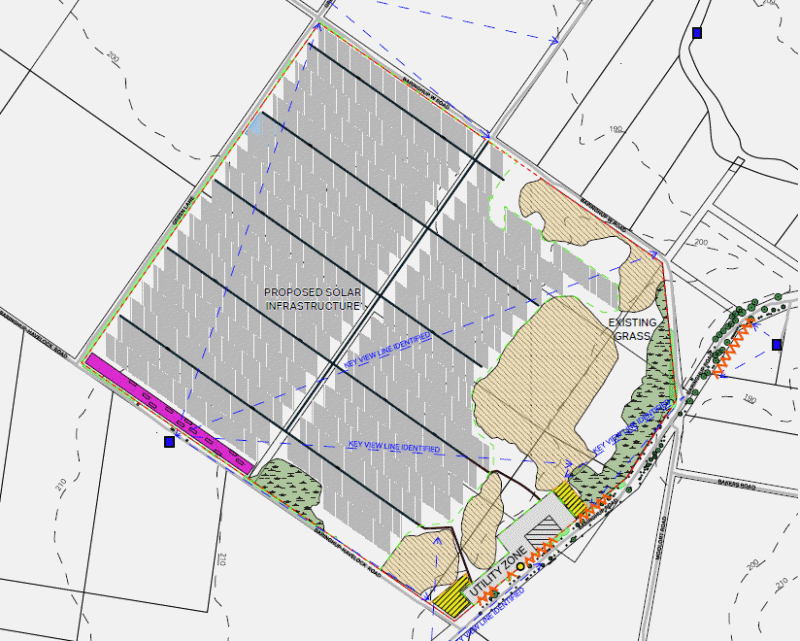 The striped areas indicate existing farmland noted as being potential legless lizard habitat and will not host solar panels. The green areas are low level rainfall plains grassland.
There has been some resistance to the project from local landholders and other parties. 16 objections have been lodged, plus one pro forma objection with 250 signatures. One submission was lodged in support of Baringhup Solar Farm going ahead.
The objections relate to issues such as glare, aesthetics, traffic, noise, potential loss of agricultural productivity and impacts on native vegetation and biodiversity. Council's main concern is the loss of agricultural land. Further complicating things is while Mount Alexander Shire's local planning scheme aims to facilitate development of energy supply infrastructure, it doesn't specify policy relating to the development of solar farms.
"The conflict in planning policy, scale of the proposal, significance of issues raised, and links to state-wide energy and economic targets sets this application apart," said Cr Bronwen Machin, Mayor of Mount Alexander Shire. "We must make decisions with strong consideration to the net community benefit and sustainable development."
It's not that Mount Alexander Shire Council and its residents aren't fans of solar energy. A solar bulk buy program promoted by Council was popular and a small commercial solar power system was installed on the Market Building in Castlemaine last year. The Australian Photovoltaic Institute (APVI) estimates approximately 29.6% of dwellings in the Shire have solar panels installed.
Solar Farm Approvals Creating Headaches For Councils
This won't be the first large-scale solar project where Victoria's Minister for Planning has been called on for assistance. Last year, the solar farm aspect of Inverleigh Wind Farm was called in by the Minister after a request from Surf Coast Shire Council.
Back in 2017, Greater Shepparton City Council found itself in a tough position with four solar projects – at Tatura East, Tallygaroopna, Lemnos and Congupna. The Congupna facility was given the green light by Minister for Planning Richard Wynne in October last year, with the other decisions deferred.
Help for Victorian councils in navigating solar farm development issues is in sight. In October 2018 the Victorian Government released its draft Solar Energy Facilities – Design and Development Guidelines, created to assist local councils, developers and communities in the assessment and development process for large-scale solar energy facilities in the state.
The consultation period for the draft closed at the beginning of this month and revised guidelines are expected in June, with view to final approval late this year.