The Desert Knowledge Australia Solar Centre isn't just a mouthful, it's also where they test a range of solar panels and display their performance on the internet for everyone to see.
The Desert Knowledge Australia Solar Centre…  Tell you what, I'm just going to call it DKASC from now on, as in Dee-Kasc, because the only mouthful I want at the moment is a fried egg sandwich.
DKASC has been in operation for over 10 years, gathering useful information on the performance of panels in the hot desert environment of Alice Springs.  They are funded by the Australian Government — but whatever you do, don't tell the current Australian government they are doing something useful.  They may feel the need to compensate.
Currently 42 systems are being tested using solar panels from 22 different manufacturers.  Out of these 22 there are only 7 manufacturers that still have significant numbers of their panels installed in Australia.  This is because there has been a hell of a lot of attrition among solar panel manufacturers over the past 10 years.  I am going to look at the performance of these survivors:
While they are no longer sold in Australia, I have also included Hanwha as there are quite a few of these panels around and I'm sure there are people interested in how they perform.
While the results need to be taken with a grain of salt (or possibly zinc oxide) because the solar panels being installed today won't be identical to the ones installed years ago, I found the best performers out of these 8 panels were:
Tindo
SunPower
Winaico, and…
Q-CELLS
The worst performers were CSUN and Trina, but I will mention the Trina panels are older than the others – so their results aren't directly comparable.  While they didn't do well I don't think you need to be concerned if you have Trina solar panels on your roof.
Alice Springs Climate
Alice Springs is a hot desert environment.  The average rainfall of 283 mm a year would result in a semi-arid classification, but the high rate of evapotranspiration means it's officially classed as desert.  This is something you probably won't have any trouble believing if you head out there.
The extremes of temperature between night and day make Alice Springs a harsh place for solar panels, so those installed in the more populated areas of Australia may survive better and suffer less deterioration.  But Alice has extremely low humidity, so if you live in a humid tropical or sub-tropical area the results may be less applicable as high humidity could cause problems that aren't seen in central Australia.
A sunny climate means a solar power system in Alice Springs will produce around 27% more kilowatt-hours than an identical system in Sydney, but on a clear days the output of both systems will be roughly the same.  This means performance on a clear day at DKASC is comparable to clear days in other locations in mainland Australia.
Orientation And Tilt
Regardless of your personal orientation or tilt you can still enjoy the benefits of rooftop solar.  But when it comes solar panels themselves, some orientations and tilts are better than others.  To generate the maximum possible output, fixed panels that aren't on a tracker that follows the sun should:
Face directly north.
Be at a tilt that is roughly equal to the latitude of the location.1
All the solar panels that aren't on trackers at DKASC face directly north and are at a tilt of 20 degrees.  This is handy because it's a nice round number between the two most common roof slopes in Australia, which are 15 degrees and 22.5 degrees.  The difference in output between these two angles and 20 degrees is not worth worrying about.
Weather Conditions On Tuesday The 19th Of March
I will look at how well the solar systems performed two days ago, on the Tuesday the 19th of March 2019.  Here is a graph showing what the the temperature and insolation in Alice Springs were like on that day:

The yellow line is insolation, which is a fancy word for sunlight energy.  It is mostly smooth with only a few wriggles that indicate clouds, so it was an almost clear day.  The red line is temperature.  It got pretty hot in Alice, hitting a maximum of 36 degrees.
Temperatures during the main hours of solar output in Alice Springs average around 6.5 degrees hotter than in Sydney.  This extra heat is enough to make typical solar panels provide around 2.6% less energy.  However, SunPower panels are less affected by heat and this will only reduce their output by around 1.9%.
Comparison Groups
I want to compare panels from 8 different manufacturers, but it's complicated by the fact they were installed at different times.  It's not fair to compare the output of a panel installed in 2009 with one installed last month, as the old one will have suffered 10 years of degradation while the other is almost new and will — hopefully — have taken advantage of 10 years of advances in solar panel design.
To work around this problem I will compare panels in two separate groups that were installed at around the same time.  The first set of 5 was installed from 2011 to 2013 while the second set of 4 were all installed in 2016.  Finally, I will show the results of Trina panels separately as they are the oldest solar panels at DKASC.
Inverters
The first group of systems were all installed with SMA inverters.  The inverters were not all the same capacity and those installed later may have been improved models with higher efficiency, but the fact they were all SMA makes comparisons between the panels in the 1st group reasonable.
Unfortunately, in the second group, the Tindo panels used Enphase microinverters while the others used SMA inverters.  Because the panels at DKASC don't suffer from any significant shading, the difference in performance between these two inverters should be small, but solar panels with microinverters can still be expected to produce around 3% or so more energy.  This means the Tindo panel's good result may be due to having a different inverter.
1st Group: 5 Brands Installed From 2011-2013
The 5 panels in the first group are shown below.  The brand names are first followed by the panel designation — except for REC because that information wasn't provided, so I put the solar panel's wattage instead.  This is followed by their year of installation:
SunPower  SPR-238-WHT-D  2011
Winaico  WSP-240P6  2012
QCELLS  Q.PRO-G3  2013
REC  250 watts  2012
CSUN  CSUN 250-60P  2013
Of these, the first four would generally be considered to be premium panels, while CSUN would not be considered that way.
When I asked the DKASC site to give me a graph of the SunPower system's output on Tuesday it gave me this: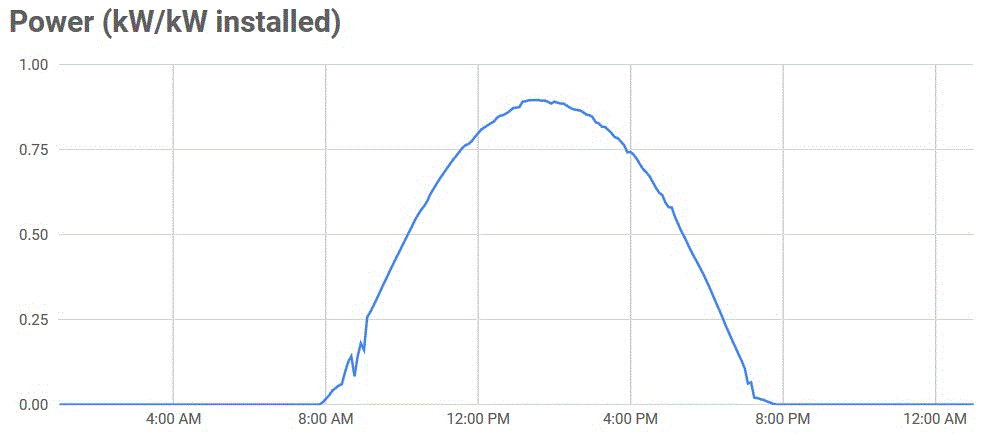 Holding my mouse cursor2 over the highest point on the graph gives me the maximum amount of power provided per kilowatt of panel capacity that day:

If I add the information for Winaico and QCELLS panels to the graph they do very well and appear just below SunPower's blue line.  These two are almost identical, with Winaco's red line just above QCELLS yellow line:

If I add REC in green and CSUN in purple they appear below the first three and their performance is similar with REC doing slightly better:

Putting the maximum power output per kilowatt of solar panel capacity for all 5 panels into a graph gives: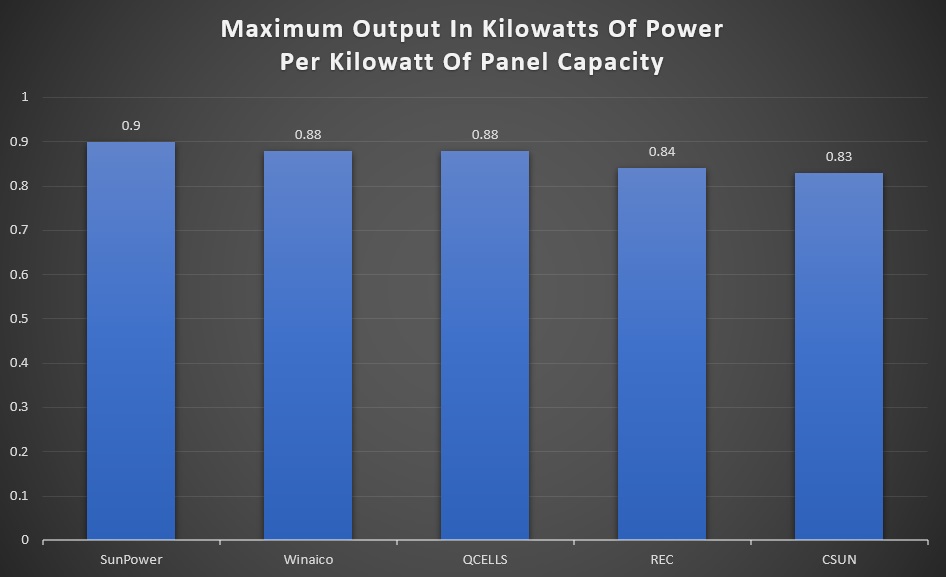 The best result, SunPower, has a maximum output that is 8.4% higher than the worse result, CSUN.  This doesn't mean SunPower panels produce 8.4% more energy per watt as the greatest difference occurs in the middle of the day.  At 10:00am when solar panel output was just over half its maximum, the SunPower panels only produced 6.8% more.  But because most output occurs in the middle of the day the SunPower panels still produce roughly 8% more kilowatt-hours on a clear day.
I was not surprised SunPower had the best result.  It's a premium panel and sold at a premium price.  Their output is especially impressive given they were installed in 2011 and are the oldest solar panels of the group.
Winaico and QCELLS are the next best performers.  While their output is almost identical, as the Winaico panels are a year older I have no problem giving them second place and QCELLS third.
The performance of REC and CSUN are a little disappointing.  Their results are close, but although the CSUN panels were installed a year later they are clearly in last place.  These days REC positions itself towards the premium end of the market while CSUN is considered a budget choice, but at the time these solar panels were installed the difference in perception between them may not have been so large.
2nd Group: 4 Brands Installed In 2016
Here are the brands, panel designations, and inverters of the second group.  These were all installed in 2016:
Tindo  Karra 250   Enphase microinverter
QCELLS  Q.PLUS BFR-G4.1 275  SMA
Hanwha  HSL 60S  SMA
Canadian  CS6K-265  SMA
I've put the Tuesday performance of all 4 panels on one graph and I've added labels so you can see which is which: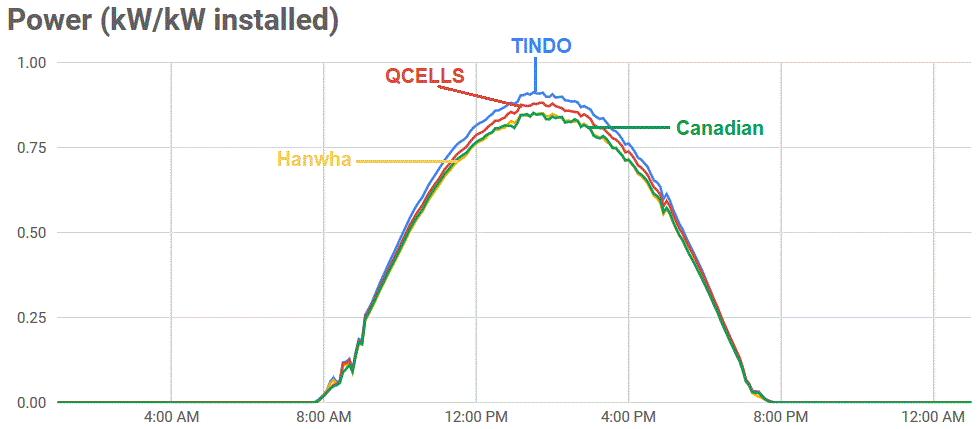 Here are their maximum outputs in a graph: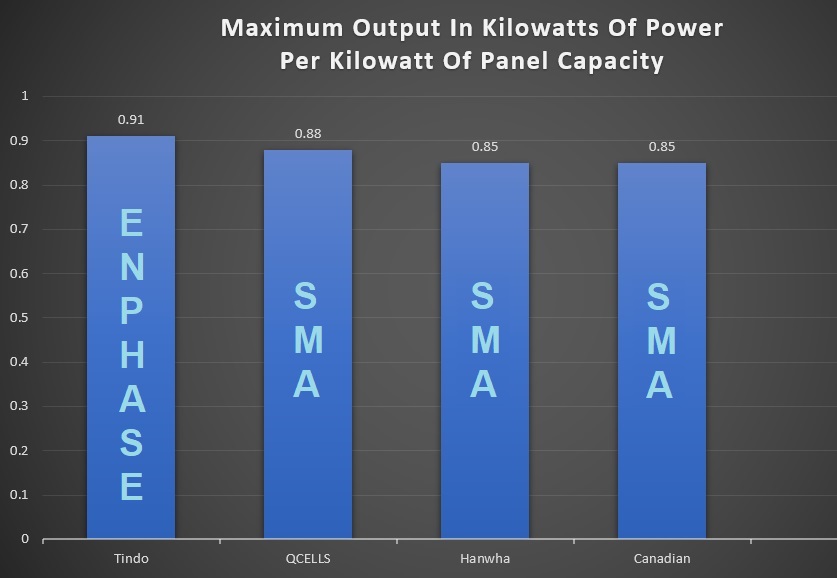 The made-in-Adelaide Tindo solar panels performed best,  but we can't be certain this wasn't due to having Enphase microinverters.  While Tindo are high quality panels, without microinverters I suspect their performance would have been around the same as the second place QCELLS.  The two worst performers were Hanwha and Canadian Solar, which tied for third place.
Trina Panel Results
DKASC has three Trina installations.  One is fixed, one has dual axis tracking, while the third has dual axis tracking that looks broken to me.  Maybe a kangaroo hit it or is using it as a hammock.  Because of this I will only look at the first two, both of which use Trina TSM-175DC01 solar panels and SMA inverters: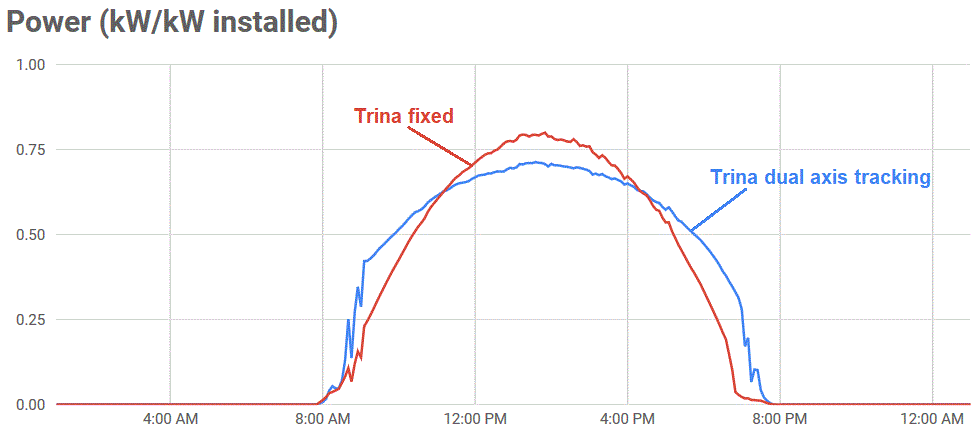 The maximum power output of the fixed Trina panels is only 0.8 kilowatts:

These solar panels were installed in 2009, which averages around 3 years earlier than the panels in the 1st group, so they've had extra time to degrade.  Also, as their inverter is also older it could be less efficient.3  So while this is not a great result for Trina, I don't expect Trina panels to perform any worse than similar priced tier one solar panels.
The maximum output for the identical panels and the dual axis tracker was only 0.71 kilowatts of power per kilowatt of panel capacity.  This could mean the tracker isn't working properly or it may indicate being installed in a tracker results in greater deterioration.  Looking at the output of systems with trackers I see there is considerable variation in their maximum output, so I don't think anything can be concluded from this.
SunPower On Top
SunPower was clearly the best performer in its group and as the Tindo panels had microinverters I think it's likely they outperformed them, despite being 5 years older.  Winaico and QCELLS did very well and I would guess the Tindo panels would have performed around the same if they had also used an SMA inverter.
Canadian and CSUN didn't perform as well, but they are lower cost panels and with solar panels price usually indicates quality.4
To me it's clear if you want the best results possible you need to pay for a premium panel.  In a typical location you can probably expect the best solar panels to provide at least 6% more energy overall than the lowest cost tier one5 panels, so it's definitely worth paying a premium for them.  It's just a matter of if the premium they are asking for is actually worth it to you.
For those on a budget or simply interested in cost effectiveness, the performance of the Trina, Canadian, and CSUN solar panels indicate you can buy cheaper but still reliable panels and expect to get decent performance from them after many years.