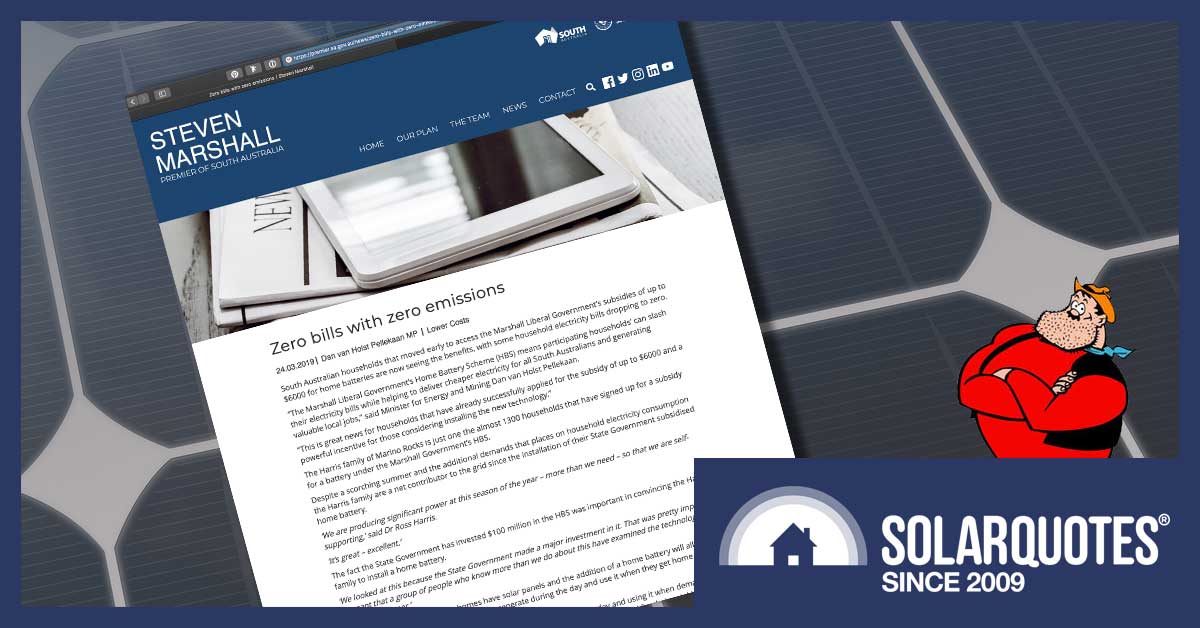 Last Sunday the South Australian State Government issued a press release spruiking its Home Battery Scheme.
It is clearly aimed at getting more South Australians to fork over thousands of dollars for a home battery, no doubt triggered by the fact that – at the current run rate – it will take 15 years for them to flog all 40,000 subsidies, despite throwing about $100,000 per month at advertising the Home Battery Scheme.
This will be a very simple blog post. I will simply rate each paragraph of the press release on my humble opinion of its truthfulness.
---
Let's start with the title:
Zero bills with zero emissions
False:  At the moment, adding a home battery does not decrease your home's carbon footprint. It increases it. Peer reviewed academics agree. Here's why.
---
Next we have the date:
24.03.2019
True: I can confirm that last Sunday was indeed the 24th of March 2019
---
What about the name of the person issuing it?
Dan van Holst Pellekaan MP
True: I can confirm this our Energy Minister's name. Although I prefer to call him 'Dan van the battery salesman'. It has a nice ring to it.
---
The subheading?
Lower Costs
Misleading: Even with the hefty subsidy, at current tariffs, you need to make incredibly optimistic assumptions to save money with a subsidised battery. Further, the early participants in this scheme would have bought the most expensive batteries such as a Sonnen, as they had an exclusivity period. It is not possible to save money with a Sonnen in South Australia because they are so expensive. Even with the subsidy.
---
South Australian households that moved early to access the Marshall Liberal Government's subsidies of up to $6000 for home batteries are now seeing the benefits, with some household electricity bills dropping to zero.
Misleading: It is easy for many people to get a zero or negative bill with solar power alone.
---
"The Marshall Liberal Government's Home Battery Scheme (HBS) means participating households' can slash their electricity bills while helping to deliver cheaper electricity for all South Australians and generating valuable local jobs," said Minister for Energy and Mining Dan van Holst Pellekaan.
Misleading: As this graph shows for a typical solar and battery system – it is the solar aspect that is slashing the bills. The batteries are making a very modest incremental reduction
---
"This is great news for households that have already successfully applied for the subsidy of up to $6000 and a powerful incentive for those considering installing the new technology."
Misleading: Households will get a 2-4 year return with solar power only, compared to a 15-30 year return on batteries. A 15-30 year return is not a powerful incentive.
---
The Harris family of Marino Rocks is just one the almost 1300 households that have signed up for a subsidy for a battery under the Marshall Government's HBS.
Misleading: Locking in the home battery subsidy comes with no obligation to buy. At least one retailer was telling its sales staff to lock in the subsidy and worry about selling the battery later. Many people will secure the subsidy and then never use it. Current conversion rate from subsidy 'lock-in' to making the sale appears to be about 30% based on the government's own numbers.
---
Despite a scorching summer and the additional demands that places on household electricity consumption the Harris family are a net contributor to the grid since the installation of their State Government subsidised home battery.
Misleading:  When you add a battery to a solar power system, although you reduce your grid imports substantially, you reduce your exports even more – due to the losses in the battery charge/discharge cycle (AKA round trip efficiency). Batteries actually reduce your 'net contributions' to the grid. That's one of the reasons they are an environmental negative right now.
---
'We are producing significant power at this season of the year – more than we need – so that we are self-supporting,' said Dr Ross Harris.

'It's great – excellent.'
Misleading: You are only fully self supporting if you are disconnected from the grid. To do this you would typically need a system that cost at least 3x the price of a grid connected system with batteries.
---
The fact the State Government has invested $100 million in the HBS was important in convincing the Harris family to install a home battery.

'We looked at this because the State Government made a major investment in it. That was pretty impressive. It meant that a group of people who know more than we do about this have examined the technology and decided it's a goer.'
False: The group of people that decided the subsidy was a 'goer' were politicians who understand good politics and appear to know rock-all about batteries. I don't know of any scientists, sparkies or engineers that had a say in this pre-election cash splash.
---
"One in three South Australian homes have solar panels and the addition of a home battery will allow householders to store the electricity they generate during the day and use it when they get home in the late afternoon," said Minister van Holst Pellekaan.
True: That is how a home battery works.
---
"Harnessing the energy that is generated by solar panels during the day and using it when demand peaks in the late afternoon is good for the individual householder's electricity bills, good for their neighbour's electricity bills and good for the environment.
False: If you include the cost of the battery – it is almost certainly bad for the household's budget. And as already explained, adding a solar battery to your home is currently an environmental negative. I wish it wasn't, but physics is physics.
---
"More and more people are realising that the Marshall Government's Home Battery Scheme is a great way to cut their electricity bills."
False: Buying a battery is one of the most expensive ways there is to reduce your electricity bills. For example, I own a Tesla Powerwall 2. With the subsidy this battery will cost you $11,000 today. My battery saves me about a dollar a day.  That's a 30 year payback1.
---
In Summary
If you want to buy a solar battery because you want to support the home battery industry, you want backup, you love the technology, or you want the lowest bills possible at any cost – then go for it. The SA government is providing a generous subsidy – up to $6,000, so it is a good deal for battery fans.
But it is misleading for the South Australian government to convince people into thinking their scheme will definitely save them money. Most people are likely to lose money overall – especially if they buy one of the more expensive batteries.
Unfortunately our politics have sunk so low nobody seems to bat an eyelid at a press release that only contains 3 out of 13 statements that are 100% true and not misleading. And two of those were the date and the minister's name.
Footnotes
Although I only paid $3,800 under AGL's smart VPP scheme – which was open to anybody in SA ↩