Almost a year ago I wrote an article about how on-grid home battery storage does not help the environment but instead harms it by increasing greenhouse gas emissions and other types of pollution. I am raising this topic again, hoisting it above my head, and waving it around, because a scientific paper published in the journal Nature vindicates my position.
On-Grid Home Batteries Don't Reduce Emissions Or Save Money
Right now I want to be like the glass they put in fiber optic cables — perfectly clear.
Under the right circumstances batteries can reduce emissions. For example:
Batteries used with export limited solar systems.
Batteries in electric vehicles if the power they're charged with isn't too filthy.
Batteries used off-grid.
Batteries that store a sufficient amount of renewable energy that otherwise would go to waste.
But at this current time, on-grid home batteries only increase and do not decrease greenhouse gas emissions. This could definitely change in the future. But we're definitely not in that future yet.
On-grid home batteries don't save money. There is no battery system available that is a worthwhile investment for any home with remotely normal electricity use. I have gone into the economics of why this is the case in the past and I will no doubt go into it again soon enough.
This is not me saying don't buy home battery storage if that's what you want. This is me saying go into it with your eyes open.
Let me be clear that I am not "anti-battery" as many people are accusing me. I am simply "pro truth".
Now watch me pull a couple of scientists out of my butt to back me up on this.
The Scientific Paper
The paper published in Nature is called "The impacts of storing solar energy in the home to reduce the reliance on the utility" and, for the moment at least, you can read it here for free. But before long you may have to pay $65 . This is because while the internet can give us infinite free pornography, doing the same for useful scientific knowledge is apparently beyond its ability.
Fortunately, scientist dude prime, the one whose name appears first on the paper, Robert L. Fares, has written an article in Scientific American summarizing its conclusions. This is handy for those who don't want to wade through all the details in the paper.
Why Home Battery Storage Increases Emissions
In his article, Bob Fares explains why home battery storage is currently bad for the environment and I am going to quote a whole paragraph because it's easier than writing myself:
"Our study found that storage provides a benefit in the form of reduced power flows in the distribution grid, which can lead to utility infrastructure cost savings. However, because some energy is lost every time a battery system charges and discharges, storing solar energy for later use in the home actually increases energy consumption versus just sending it directly to the grid. And with todays fossil-fuel powered electric grid, the increase in energy consumption also leads to an increase in overall emissions."
So if your rooftop solar system sends surplus electricity directly into the grid it will cut fossil fuel emissions, but because there are always energy losses when using batteries, total grid electricity generation will be higher if a home uses batteries and so emissions will also be higher.
Far out Fares goes on to say:
"In other words, if a household with solar panels wants to reduce its emissions footprint, adding energy storage is a bad idea."
What The Study Looked At
The two authors of the paper, Bobby Fares and Michael E. Webber, looked at the 2014 energy consumption and production of 99 homes with rooftop solar in Austin, Texas. (Austin is the capital of Texas and presumably named after the Six Million Dollar Man in honor of him defeating bigfoot.)
They then modeled1 what would happen if the solar households installed a 7 kilowatt-hour battery that provided 3.3 kilowatts of power and had 85% round trip efficiency. In other words, something like the original Tesla Powerwall, but with greater storage capacity.
They considered two different ways the batteries could be used:
To lower household grid electricity use.
To lower the peak power the household draws from the grid at any one time.
In the first situation batteries were used at around 88% capacity. This meant they averaged 0.88 cycles a day. In the second condition they were used at approximately 150% of capacity and so were cycled an average of 1.5 times a day.
Australian households normally only use their batteries to lower grid electricity use, which is the first condition. While it is definitely possible to average 0.88 cycles a day with a 7 kilowatt-hour battery, most households will average less. The larger the battery, the lower the likely daily cycle average.
Australian homes don't normally use batteries to reduce the maximum amount of power drawn from the grid, as residential demand tariffs that encourage this are rare2, but it is something businesses can be interested in.
Under both conditions batteries were found to increase emissions, with the second condition increasing emissions more because they were used at a higher capacity.
In The Texas Grid Batteries Increase Emissions
Because energy is always lost when charging and discharging batteries, homes with them use more energy than those without. The difference is made up by increased grid generation, and at the moment, this will result in increased emissions pretty much everywhere in the world.
They looked at the effect of batteries in the Texas grid which looks like this: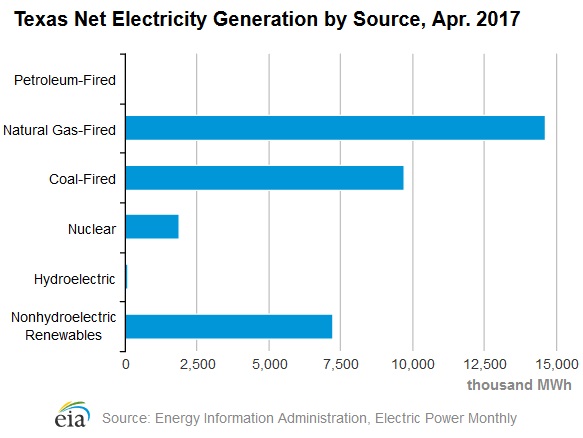 That is 44% natural gas, 29% coal, 6% nuclear, and 21% renewables — which is largely wind.
The authors looked at 2014 generation, which was similar, but back then renewables only provided about 15% of electricity3.
Unfortunately, Australia's grid is much more coal dependent and so much more emission intensive. This means battery storage will result in more greenhouse gas emissions and other forms of pollution here. This is the case even in South Australia with its high penetration of wind power and rooftop solar, as almost all surplus renewable energy is exported to coal heavy Victoria.
Round Trip Efficiency
The study assumed the batteries had a round trip efficiency of 85%. This means if 1 kilowatt-hour was put into the battery, only 0.85 kilowatt-hours could be got out. It is definitely possible to have a higher round trip efficiency than this. For example, Tesla claims the round trip efficiency of their Powerwall 2 is 89%, but I suspect under real world conditions it will be slightly less. With an efficient battery and inverter it should be possible for batteries to have a round trip efficiency of over 93%, but as long as it is less than 100% batteries are likely to increase emissions and 100% efficiency is impossible. The study found that, in Texas, round trip efficiency had to be almost 100% before CO2 emissions were reduced.
So while it is possible to reduce the emissions resulting from using home battery storage use with higher efficiency, in practice it would be difficult to reduce emissions by more than half the amount that would result from the 85% efficiency assumed by the study.
Battery Harm Is Small Compared To Solar Benefit
The good news is the harm caused by batteries is only small compared to the benefit provided by rooftop solar. So if you have installed rooftop solar and batteries you are not a total monster and overall the planet is coming out ahead. Rather than kicking the environment in the nuts, you're more giving it a nice hug followed by a slap.
In his Scientific American article, Robbo Fares compares the benefit of solar with the harm caused by batteries in the following graph: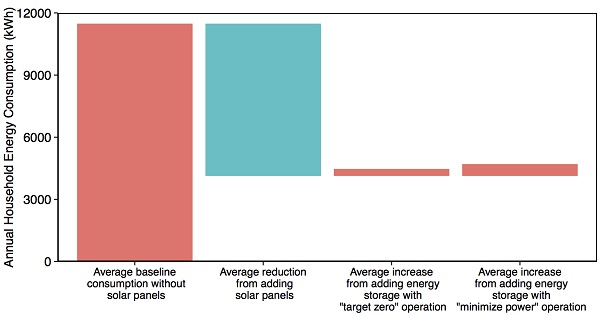 As you can see, the third column, which is the "target zero" condition where home batteries were used as they normally are in Australia, resulted in a very small increase in electricity consumption compared to the blue-green rectangle, which is was the average decrease in grid electricity generation resulting from rooftop solar. (Judging by the amount of electricity produced, the average solar system size in the study was roughly 6 kilowatts.)
So if you have batteries you don't need to feel terribly guilty about the harm they are causing the environment, provided you didn't forget to install a solar system. But if you installed batteries to help the environment and reduce emissions, then you should feel a bit dopey, because you have managed to do the exact opposite.
Expanding Rooftop Solar And Energy Efficiency Are Better Options
As the graph above shows, rooftop solar provides a major benefit while batteries cause relatively minor, but real, harm. So if your goal is to be green you are far better off expanding your rooftop solar capacity than getting batteries. Improving your home's energy efficiency is another worthwhile option.
Another possibility is putting the money you would have spent on batteries towards getting an electric car. An electric vehicle will reduce emissions now, provided it isn't charged with electricity that is too filthy, while also being able to support greater renewable generation in the future by charging with clean renewable electricity that would otherwise go to waste4.
Batteries Don't Save Americans Money
The study mentions that batteries don't save American households money. Because electricity prices and feed-in tariffs can be dramatically different in Americaland, this isn't very relevant for us. But I'll say it once more, without feeling — since I've said it so many times I now just repeat it robotically — batteries don't save money. Yet.
Emissions From Manufacture
When I wrote about the environmental effects of batteries last year I mentioned emissions from their manufacture. Bobbo and Mike don't go into this in their paper. I think there are two reasons why they didn't, and they are:
Emissions from battery manufacture are only a small portion of total emissions from their use.
There is no good information available on how much emissions result from manufacturing modern batteries.
In my article I had to use outdated information from a 2013 study because that was all there was available. But I did make a point of stating that it was outdated and I was certain emissions from manufacture were actually less.
A few months ago you may have heard of a Swedish study that said emissions from battery manufacture were very high. But it definitely did not give any useful new information5. I know this because I am very familiar with the figures used. They are exactly the same ones from the outdated 2013 study. No new research was done. It simply recycled old information. I hope the Swedish Transport Administration and Energy Agency didn't pay much for it, because I could have pointed them towards the original study for free.
While I don't know how much emissions result from battery manufacture, we can be certain they are less than what they were because:
Energy density has increased, reducing the amount of material required per kilowatt-hour of storage.
The renewable portion of energy used to make batteries has increased.
They are a hell of a lot cheaper, which is a good indicator that both material and energy costs of production have decreased.
So if you are looking for home batteries that cause the least environmental harm, don't worry about emissions from manufacture, instead get a system with highest possible overall round trip efficiency.
Batteries Can Reduce Transmission Infrastructure Costs
The paper makes it clear home batteries can reduce the need to build new transmission infrastructure and so reduce grid transmission costs. But until Australians are offered worthwhile ways to save money on their electricity bills by reducing power use when the grid is under stress, this won't enable batteries to save money.
There are people working on this problem in various ways, but so far no one has provided me with evidence they can make battery systems pay for themselves at the moment.
Batteries May Provide Environmental Benefit In The Future
Robert L. Fares and Michael E. Webber's paper makes the point that:
"…home energy storage would not automatically reduce emissions or energy consumption unless it directly enables renewable energy."
The words "directly enables" means the battery storage either prevents renewable energy going to waste or that renewable generating capacity wouldn't be built without it.
The study also mentions how little it costs to add new renewable capacity to the grid and I am going to quote their paper quoting another paper6 on the topic:
"A study on the impacts of rooftop photovoltaic panels in California found that even at 100% penetration (measured as the ratio between nameplate capacity and peak system demand), the utility Pacific Gas and Electric (PG&E) could maintain adequate voltage levels in its system by increasing the number of transformer tap changing operations at a cost of US$442,000 annually–or 0.007% of its US$6 billion annual operation and maintenance budget."7
This is an important point because the Australian Energy Market Operator (AEMO) says South Australia could, at times, meet all electricity demand with power generated by rooftop solar alone by 2023.
If renewable generating capacity continues to rapidly expand in South Australia it may not be long before home battery storage will benefit the environment. But if new transmission capacity is built to coal heavy Victoria or NSW, that day may be delayed.
Also, if enough new storage capacity ends up in other places other than stationary storage in homes, such as electric vehicles, utility scale battery storage, or new pumped hydroelectric schemes, it is possible home batteries may never end up providing an environmental benefit — although they would stop being an environmental minus. But we'll have to wait to see what happens.
Currently in Australia, rooftop solar electricity sent into the grid directly reduces fossil fuel generation, while almost no renewable energy goes to waste due to a lack of storage. This is true even in South Australia with its high penetration of wind power and rooftop solar. While I am optimistic about the speed Australia's coal capacity will be shut down, we are definitely not at the point where home batteries will help the environment. So if your goal in getting batteries is to be green, hold off for now. Not only will you prevent yourself from doing the opposite and increasing emissions, you'll also save yourself money.
Robert L. Fares and Michael E. Webber in the US agree with me and when have Americans ever been wrong about anything?
—
A note from Finn Peacock, founder of SolarQuotes® :
This blog post was written by our illustrious blogger, Ronald. I have added this note because I know the subject matter will upset some readers.
Over the years, there have been a number of people who have contacted us and accused us of being anti-batteries. A large battery sales company has even threatened to 'destroy' us.
I want to make it very clear that at SolarQuotes® we are not anti-battery. The suggestion is ridiculous. What we are is pro-truth.
A peer-reviewed study in a respected scientific journal is about as objective as it gets and we decided to report on it.
A year or so ago, Ronald sat down and thought about the environmental effects of home battery storage and came to the same conclusion using common sense and some basic arithmetic.
So, were not saying 'don't buy batteries'. We just want people to go into it with their eyes open. The objective facts are, for most people, buying batteries will not save money, and will slightly harm the environment.The amount of environmental harm caused by batteries is only minor compared to buying a petrol guzzling car. But if your goal is to protect the planet, then buying batteries is the opposite of that.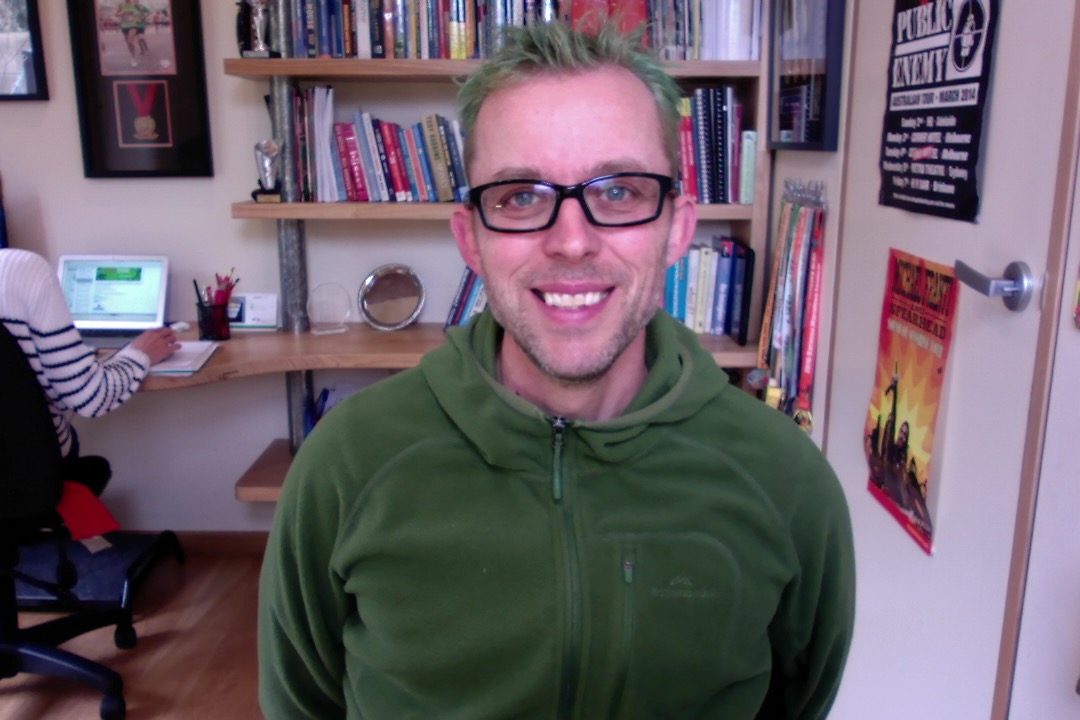 This could change in the future. When Australia produces enough renewable energy, batteries can help the environment. I hope this day comes soon, because, as you can see, I am very green.
But we are not there yet. Until we are, what you can do to protect the environment is expand your rooftop solar capacity, invest in home energy efficiency or get an electric car. Or even better an electric bike.
SolarQuotes is not anti-battery. We have no financial interest in dissuading people from buying batteries. The opposite is true. The more people there are buying batteries the more people will be seeking quotes for them. Because we offer quotes for batteries this means more people will come to SolarQuotes and make SolarQuotes more successful.
It is absolutely in SolarQuotes' interest to encourage people to buy batteries. But were not going to lie and claim they provide an environmental benefit when they don't or ignore the environmental harm their use causes.
What this blog is about is attempting to give consumers impartial, objective analysis about solar, batteries, and related topics.
This post is an example of that. I think its very objective. And quite funny. It is, as I said, based on a peer-reviewed study. We trust the scientific process. By all means, engage with us, leave comments, email. But do read the whole blog post first and look at the caveats Ronald's put in there before replying.
If you disagree with the conclusions, feel free to attempt to convince us that we are wrong, but you will need to make a good argument.