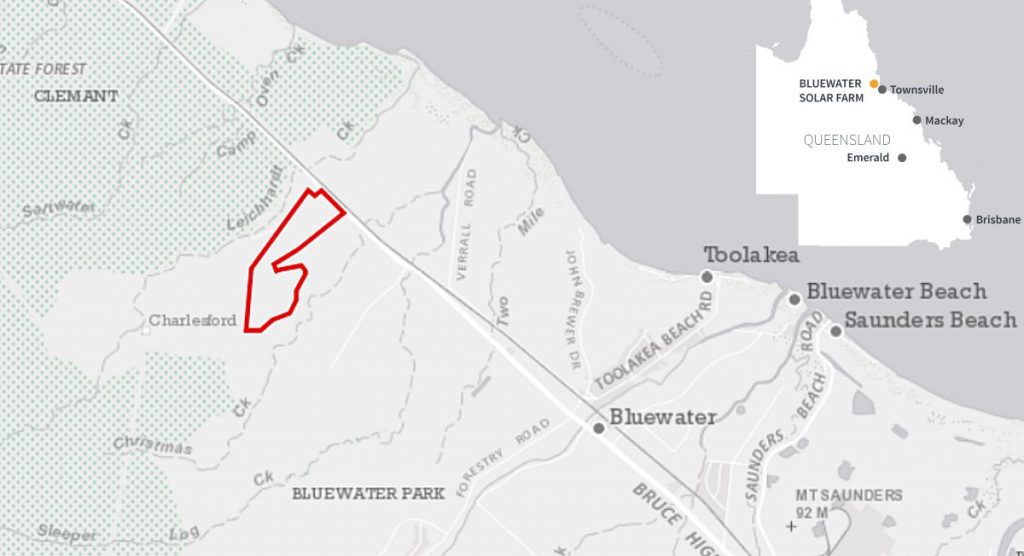 Things are looking good for FRV's Bluewater Solar Farm project near Townsville in Queensland, but there are still some hurdles it will need to clear.
The proposed 100MWdc/80MWac  facility will be located 7 kilometres north of Bluewater and approximately 38 kilometres north-west of Townsville. It will feature approximately 300,000 solar panels installed on single axis trackers across 273 hectares that will generate enough electricity to power the equivalent of 35,200 households. Developer Fotowatio Renewable Ventures (FRV) puts estimated electricity generation at 226,150 MWh a year.
The site has been previously cleared and used for grazing, with few residential premises close by.  Aside from its significant solar resources, the site was attractive due to it being generally flat and as high voltage powerlines run along its western boundary. The land will be rehabilitated to its rural state at the end of the clean power station's life, which is expected to be around 40 years.
While a Material Change of Use (MCU) for the land was approved by Townsville City Council on Tuesday, it says other approvals will be required before the development can proceed. Still, Council seems quite optimistic about the project.
"Council is dedicated to boosting the Townsville economy and supporting jobs for locals," said Councillor Margie Ryder. "This development is expected to create 200 jobs during the construction stage and support 3 ongoing jobs when it is operational."1
At this stage, FRV is looking at operations of the facility commencing in late 2021.
Aside from Bluewater, FRV has five other solar energy projects in Australia – Clare (125MW) and Lilyvale (125MW) in Queensland, Moree (70MW) in New South Wales, Royalla (24MW) in the ACT and Winton (106MW – under construction) in Victoria.
Other large scale solar energy projects in the Townsville region include Ross River Solar Farm, a 148MW project. While the facility was expected to be completed in 2018, developer Esco Pacific still notes it as being under construction.
Also in the general area are Sun Metals' 124MWac plant, officially opened last year and Haughton Solar Farm, which was to be up to 500MW, with a first stage of 100MWac. The future of Haughton is uncertain at the moment due to the collapse of its EPC and O&M contractor RCR Tomlinson.  Pacific Hydro notes on the Haughton Solar Farm project web site it has secured the construction site as it works to respond to the situation and will take all steps necessary for construction to continue.
Footnotes
FRV says "around five" permanent personnel will be employed to run the solar farm. ↩