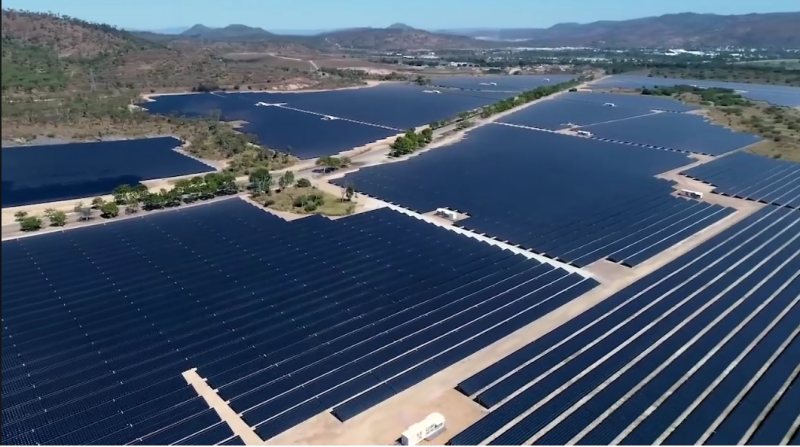 Queensland Premier Annastacia Palaszczuk officially opened the Sun Metals Solar Farm on Tuesday, a huge facility incorporating more than 1.3 million solar panels.
The 124MWac solar power station will supply equivalent to around one-third of the electricity needed by the Sun Metals zinc refinery, which is located approximately 15 kilometres south of Townsville.  Sun Metals is the Australian subsidiary of Korea Zinc Company Limited, which produces 10 per cent of the world's zinc from plants in Korea, the USA and here at home.
"What you see here is a sign of things to come in the future," said the Premier at the solar farm's launch event. "Queensland is perfectly positioned to capitalise on one of our greatest strengths, which is our sun".
RCR Tomlinson was the EPC (engineering, procurement, construction) contractor for the project and responsible for commissioning of the plant. It began exporting electricity to the grid in late May via a 33kV overhead transmission line from the site to the existing Townsville South substation.
"Industry is getting right behind the solar industry, combining the two to help with their power generation," stated Premier Palaszczuk.
Another recent example of this type of cooperation is across the border in New South Wales, where BlueScope announced last month it had signed a 7-year power purchase agreement covering most of the output of Finley Solar Farm, which will be comprised of approximately 500,000 solar panels.
QLD Large Scale Solar – From Full Stop To Flat Out
Green Energy Markets' most recent Renewable Energy Index stated between 2010 and 2015 there was almost no expansion in large-scale renewables in the state. The situation has changed rapidly since that time and by 2020 renewables will meet 25% of electricity consumption.
"More impressive is that the projects being pursued by companies for development could generate power equal to over 90% of consumption in 2030," commented Green Energy Markets.
In May, Clean Energy Council Chief Executive Kane Thornton said 20 large-scale solar energy projects were either under construction (Sun Metals among them), would soon commence or had already been completed in the state this year. Large-scale solar activity in the state at that point had added close to 2,670 direct jobs and represented 1,400 MW of new renewable energy capacity.
Other large-scale solar power projects in Queensland approaching prime time include the 100MW Clare Solar Farm and the 100MW Lilyvale Solar Farm. The 42.5MW Collinsville Solar Photovoltaic Project, constructed on land surrounding the decommissioned Collinsville coal-fired power station, started powering up in the last week.