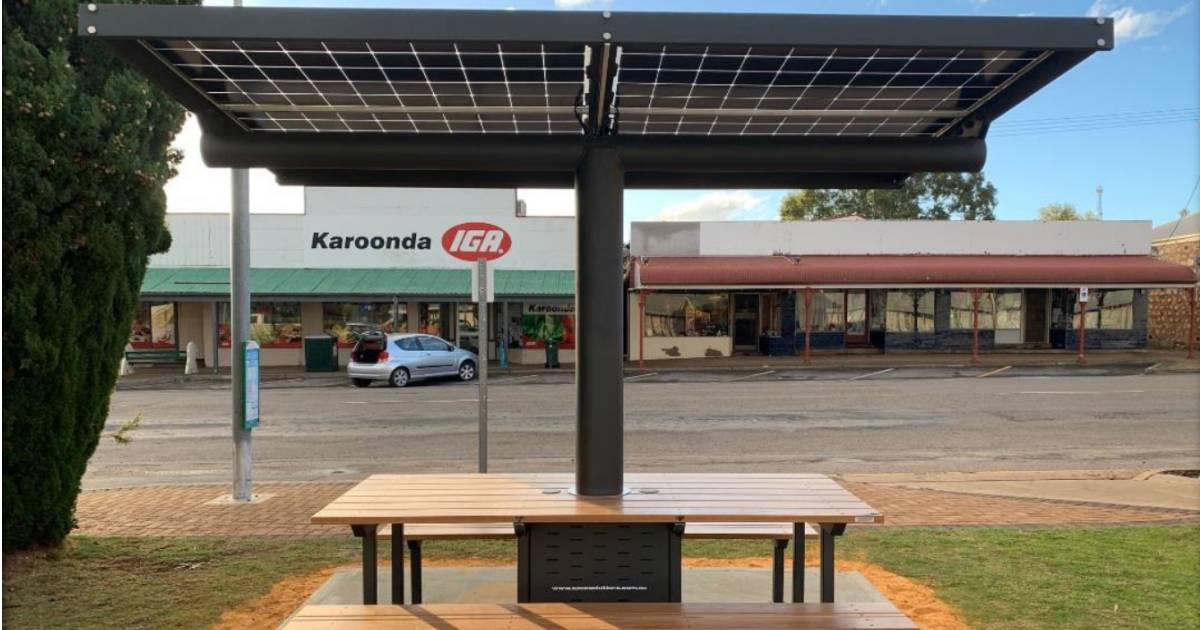 Adelaide's Campbelltown City Council looks set to trial a locally-manufactured "smart" solar picnic table that will enable charging of hand-held devices.
The City of Campbelltown is a local government area in the north eastern suburbs of Adelaide, around 6 kilometres from the CBD. Home to around 52,000, among its suburbs aside from Campbelltown are Paradise and Rostrevor.
An element of Council's strategic plan is to develop partnerships with local businesses. As part of this, Council staff were tasked with preparing a report on trialling a solar bench to be placed in a suitable public space.
The winner turned out to be the "Smart Solar Picnic" unit, pictured above. The standard features of the table are:
1.2kW of solar panels
200 amp-hour battery storage
4 USB chargers
2 Qi wireless chargers
LED lighting
Optional features include wifi, cameras, a display screen and speaker.
1.2kW of solar panels is a significant amount of grunt given the application, so there shouldn't be any problems with keeping the battery topped up. As these tables aren't grid-connected, they can also be easily relocated.
The "Smart Solar Picnic" is manufactured by local company Specialised Solar Solutions1, which has a production facility in the Tonsley Technology Hub. Among its other PV based projects have been a solar powered EV charging station and a "solar parklet".
A Pretty Pricey Picnic Spot
While a conventional picnic table setting costs somewhere between $1,500 to $2,000 (excluding installation), the Smart Solar Picnic unit's pricing starts at $8,000. There's an option for Council to lease at $500 a month for 6 months, after which it could be purchased minus the leasing fees already paid if the trial proves successful.
Aside from the local partnerships aspect, Council sees other benefits:
"Using solar power generation and battery storage provides environmental leadership highlighting the types of options available."
At Council's meeting on Tuesday evening, it was resolved for staff to negotiate a suitable agreement to lease a table to trial at Thorndon Park for a six month period commencing in November this year. Assuming the trial works out, other tables may pop up around the local government area.
Other Councils that have had the Smart Solar Picnic installed include Alexandrina Council (at Goolwa and Port Elliot) and the District Council of Karoonda East Murray (at Karoonda – pictured above).