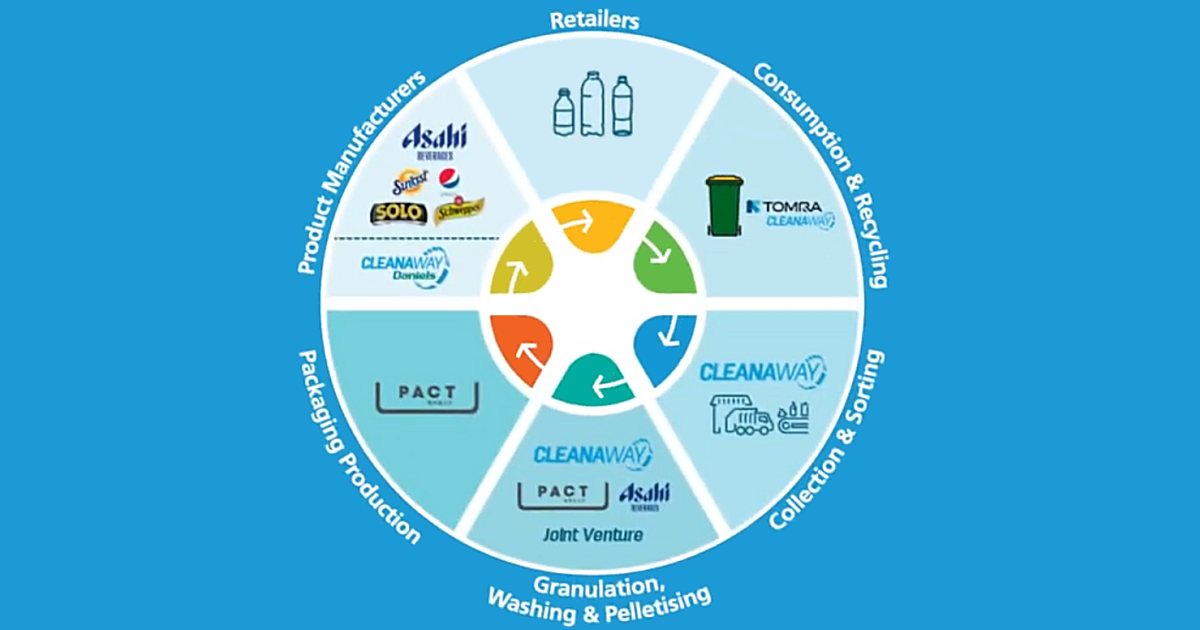 A facility under construction in Albury-Wodonga that will recycle the equivalent of an estimated one billion plastic bottles a year has gained support from the Clean Energy Finance Corporation.
Construction of the Circular Plastics Australia (CPA) plant at the Nexus Precinct, around 10km north of Albury/Wodonga's CBD, commenced in August last year and is a joint venture between:
Cleanaway – will provide the plastic waste for recycling, collected from 100+ councils and 140,000 commercial customers
Pact Group – technical and packaging expertise and recycled plastic buyer
Asahi Beverages – will buy the recycled plastic
The recycled polyethylene terephthalate (PET) plastic will be in pellet form and used to manufacture new bottles and food and beverage packaging. The facility is expected to boost locally sourced and recycled PET produced in Australia from around 30,000 tonnes to over 50,000 tonnes annually. Additionally, more than 300 direct and indirect jobs are expected to be created at the plant.
CEFC Backing A Circular Economy
The CEFC announced yesterday it was committing up to $16.5 million in debt finance to the project –  its first investment under the $100 million Australian Recycling Investment Fund.
"The CEFC investment supports Australia's recycling industry at a time of significant change in the sector," said CEFC CEO Ian Learmonth. "We are particularly proud that the Australian Recycling Investment Fund's first investment builds Australia's capacity to generate high value recycled commodities that create an important revenue stream while also reducing carbon emissions."
The change Mr. Learmonth is referring to is a ban on sending mixed plastics overseas for recycling, which came into effect at the beginning of this month under the Recycling and Waste Reduction Act.
From July 1, only waste plastics that have been either been sorted into single resin or polymer type, or processed with other materials into processed engineered fuel can be exported. Then from 1 July 2022, only plastics that have been either sorted into single resin or polymer type and processed for further use (e.g. flakes or pellets), or processed with other materials into processed engineered fuel can be exported.
This came about after China and Indonesia blocked imports of waste from Australia and other nations back in 2019. This meant around 174,000 tonnes of waste plastic could no longer be exported – annually.
Australian Recycling Investment Fund And Clean Energy
Boosting plastics recycling is a very good thing –  84 per cent of plastic is sent to landfill and only 13 per cent of plastics used in Australia are recycled – but what does that have to do with the Clean Energy Finance Corporation?
The focus of the CEFC's Australian Recycling Investment Fund is on large-scale projects using clean energy technologies to support the recycling of waste plastics, paper, glass and tyres.
According to the CEFC, the CPA plant is to be partly powered by renewable electricity through the installation of solar panels. Given clean energy was essential criteria for gaining support for the fund, it would have been nice to have seen more information released on the solar energy aspect – but that was it. The CEFC has been contacted for more information on the solar power system and this article will be updated if/when we hear back.