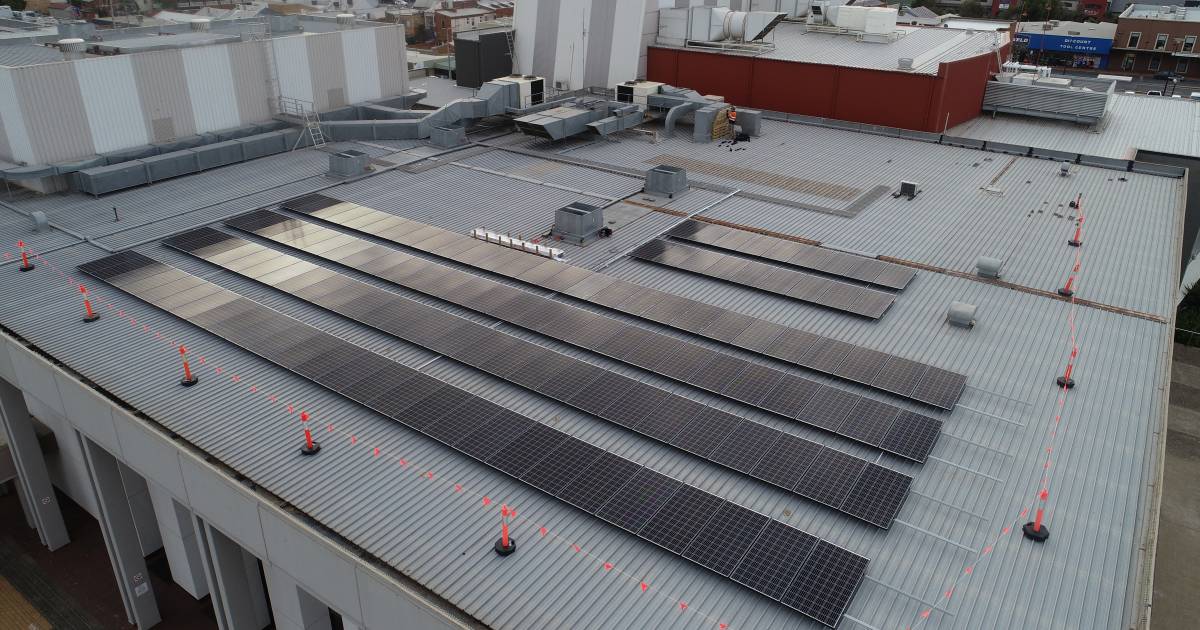 Seven of Dubbo Regional Council's facilities are currently having solar power systems installed, using solar panels manufactured in Australia.
The rollout is another step towards Council achieving a goal of sourcing 50% of its predicted electricity consumption from renewables by 2025. It's expected these new solar systems, funded by $270,000 from the Federal Government's Local Roads and Community Infrastructure Program (LRCI), will save up to $70,000 a year on electricity costs and avoid 300 tonnes of CO2 emissions annually.
The installations are occurring at:
Wellington Aquatic Leisure Centre
Dubbo Aquatic Leisure Centre
Dubbo Regional Theatre and Convention Centre
Dubbo Showground
Macquarie Regional Library
Dubbo Civic Administration Building
Wellington Civic Administration Building
The capacity of the systems wasn't mentioned in the announcement and digging around on Council's web site didn't reveal any further information in this regard, but perhaps I didn't dig enough.
Australian-Made Solar Panels
Tindo Solar was chosen by Dubbo Regional Council for the project and Tindo has engaged local sub-contractor Platinum Electricians Dubbo to perform the installations. Tindo Solar panels are manufactured in Australia using imported cells.
"Not only are we the only company to make solar panels here in Australia, we are committed to using qualified and experienced local sub-contractors wherever our panels are installed," said Tindo's CEO, Shayne Jaenisch.
On a related note, Tindo Solar recently scored a $1 million grant from the Federal Government's Manufacturing Modernisation Fund Round 2, and Tindo panels were chosen to replace modules in Remote Area Power Systems (RAPS) at five National Park Ranger Bases during 2020-21.
Solar Panel Rollout Fulfils Power Partner Pledge
Dubbo Council is a Cities Power Partnership member and this project observes one of the pledges it made as part of its membership, which is to install PV and battery storage on its buildings.
The new systems build on existing installations including a 70kW install at the Western Plains Cultural Centre, a 30kW system at the Hawthorn St Depot, and a 12kW system at Barden Park.
"This project is just one of the many ways in which Council is striving to reduce its emissions, while increasing the economic and environmental benefits to the community," said Dubbo Mayor, Stephen Lawrence.
Among Dubbo Council's other projects to slash energy-related emissions and costs, Mayor Lawrence said Council upgraded 88% of its street light network to LED technology last year, which saved a whopping $450,000 on electricity and maintenance costs in 2020 alone.
Dubbo LGA And Solar Energy
The Dubbo region is a hot spot for solar energy generation development, both large- and small-scale. In terms of small-scale systems under 100kW capacity, there had been more than 8,635 solar power systems installed in Dubbo itself as at the end of April this year.
Large scale PV facilities currently operating in the Dubbo LGA include the 18MW South Keswick Solar Farm. Also in the works are the 300MW(ac) Wellington North and 174MW(ac) Wellington solar farms, and the 170MW(ac) Suntop Solar Farm – among others.
Related: Solar installers servicing Dubbo