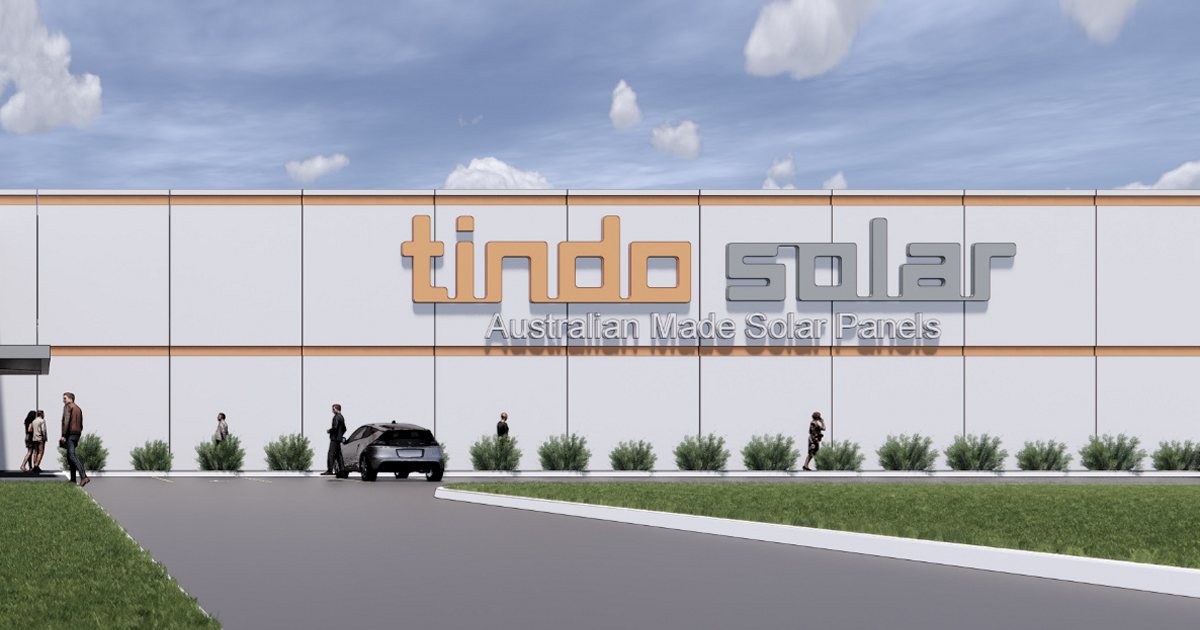 Australian solar panel manufacturer, Tindo Solar, was one of the Manufacturing Modernisation Fund Round 2 grant recipients announced yesterday.
Part of the Federal Government's $1.5 billion Modern Manufacturing Strategy, the Manufacturing Modernisation Fund (MMF) provides grants of $100,000 – $1 million for businesses to invest in new manufacturing technologies that increase productivity, create new jobs and drive economic growth.
86 projects scored a guernsey in MMF Round 2, with Adelaide's Tindo Solar receiving $1 million to support its $5.3 million investment in transitioning to M101 cell technology and boosting production capacity with a new factory. Tindo says the new facility is key to it competing "head on with some of the biggest manufacturers around the world".
"There's a lot of emotion. There's excitement, there's relief. We feel like it's the validation we've been looking for for a long, long time," said CEO Shayne Jaenisch.
Construction of the new factory has been completed, but production equipment is yet to arrive. It's anticipated commercial production for the retail market will kick off in the first quarter of  next year.
The new facility will boost Tindo's annual production capacity from 60MW to 150MW. It's quite a step up, but a long way off from the industry's goliaths such as JinkoSolar, which as we reported yesterday is aiming for 33GW capacity by the end of this year – 220 times that of Tindo. But it's an apples to oranges comparison and it's great to see Tindo (dare I say it) having a go and getting a go.
PV Magazine Australia reports a 144-cell 550 W module featuring M10 technology will be among the first modules to be produced at the new facility.
A Bit Of Background On Tindo Solar
Tindo Solar was founded in 2011 and is Australia's only manufacturer of solar panels, which are made with imported cells. In 2017, the company was acquired by the Cool or Cosy Group
The Tindo factory is located at Technology Park in Mawson Lakes, around 12 km north of Adelaide's CBD. Tindo's panel range is called "Karra" and in May this year, the company unveiled its new Karra 400P Mono PERC module, featuring 72 solar cells and a 20.1% module efficiency.  At 2000 x 1005 x 40mm and 22kg, it's a large and hefty panel, but Tindo also manufactures smaller panels such as the 60-cell and 66-cell Karra. You can view specifications of some of Tindo's range on SQ solar panel comparison table.
Tindo solar panel reviews here on SolarQuotes have generally been favourable, with an average star-rating score of 4.7 overall and 4.9 over the last 6 months. The company is currently listed on SolarQuotes recommended solar panels chart.
In case you're wondering about the company's name, the word "Tindo" is a Kaurna Warra Aboriginal word meaning 'the Sun'. The Kaurna people's traditional lands include the Adelaide Plains, on which Tindo's factory is located.
Footnotes
In June last year, seven major solar manufacturers including Longi, JA Solar, Canadian Solar and JinkoSolar jointly established the M10 silicon wafer standard size, which is 182mm x 182mm. ↩