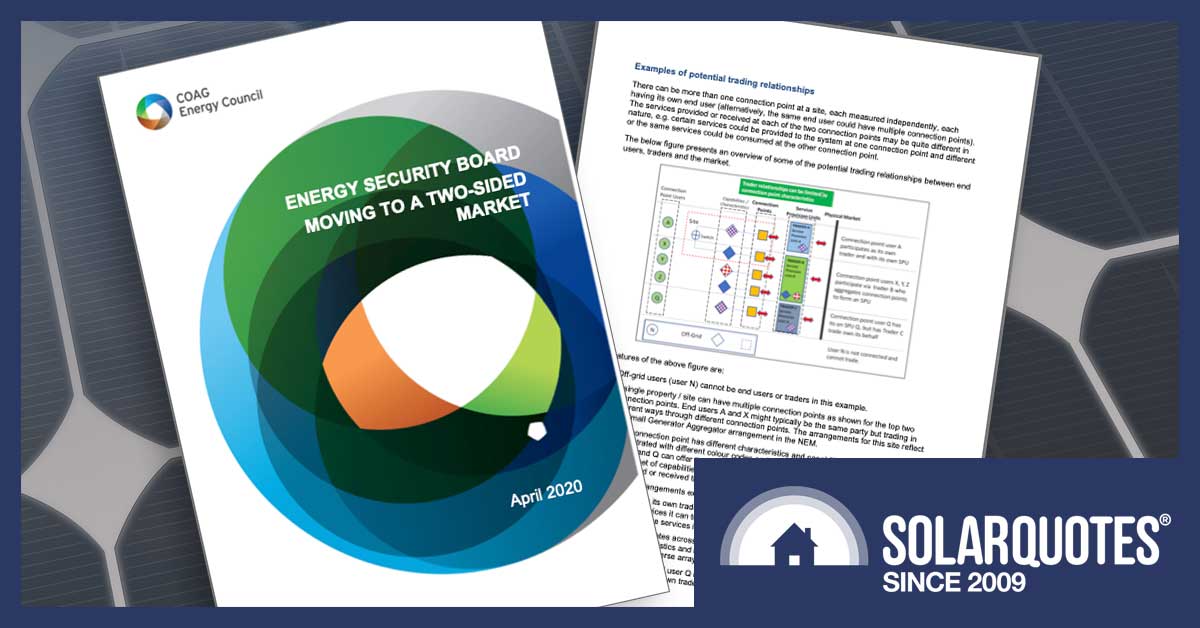 The Council of Australian Governments (COAG) Energy Council has issued a consultation paper designed to inform the NEM's transition to a two-sided market.
The consultation paper, here as a PDF, is designed to get input into the Energy Council's two-sided market design proposal, due by the end of this year. This will eventually become part of the Energy Security Board's (ESB's) transition to the 2025 NEM market design. In a two-sided market, energy consumers get full visibility of wholesale pricing, to help them decide whether they're buying from or selling to the grid.
A two-sided market design, the consultation paper notes, has to shield both consumers and the grid from risk.
"However, the transition also includes challenges for security and reliability as supply and demand becomes more variable and uncertain, and the industry transitions away from generation that traditionally delivered security services (such as inertia and voltage control). Any new market design needs to realise the benefits and mitigate the risks involved in the transition", the paper notes.
Data is Key
Data is key to all this: the Energy Council explained in its media release (PDF) that information about solar panels, batteries, electric vehicles and smart devices is hidden "behind the meter", and that makes it hard for AEMO to predict whether households can contribute enough kilowatt-hours so supply meets demand.
In the release, ESB chair Dr Kerry Schott says:
"A two-sided market will change all that because consumers and those who participate in the wholesale market on their behalf will be active in responding to price."
If the data is real-time and transparent,
"the information itself becomes a tool to keep the power system operating securely and reliably and can fill gaps when the sun isn't shining and the wind isn't blowing."
Making end-to-end data more available will also replace today's complex information about retailers, generators, aggregators and users with:
"two simple categories – those who use electricity and those who sell it on behalf of end users".
The discussion paper says a two-sided NEM would:
Maximise participation by requiring that all entities trading energy in the wholesale market submit bids and be scheduled [including participating consumers – editor].
Allow consumers to choose if and how they participate in the market or whether they operate through someone who does (for example through a retailer or aggregator). Technological advances and digitalisation mean that consumers will not need to monitor electricity prices, or actively participate if they choose not to.
Require that the party best placed to provide forecasts of quantity and price to do so.
Place obligations on functions and activities, rather than participant categories or technologies.
As noted earlier, the two-sided market would have just two kinds of entity – end users, and traders. The big changes to end users are that rather than being mere loads, as is traditional, end users are increasingly energy providers – and in today's environment, most end users are providing energy to the system unmanaged and don't have any response to market price signals.
The discussion paper says the interaction between end users and traders would happen at the connection point – where users are connected to the system, where metering occurs, and where the user-trader interaction is managed.
The paper describes three user-trader interactions at the connection point:
The user can act as a trader – as well as describing a traditional generator bidding into the market, this could be a commercial user trading a service into the market, while also managing its trading arrangements with AEMO.
The user buys services through a trader – akin to a standard retail arrangement in today's market.
Provide services through a trader – a solar power equipped homeowner selling energy into the wholesale market, with the trader managing their interface with the wholesale market. Traders might manage users on an individual or an aggregated basis.
New Services Would Support Innovation
The discussion paper also envisages a much broader range of services that can be traded on energy markets. Today, the two tradeable services are bulk energy (the wholesale spot market), and Frequency Control Ancillary Services.
The AEMO currently buys "public good" services (Network Support Control Ancillary Services, System Restart Ancillary Services, and emergency reserve services, such as the Reliability and Emergency Reserve Trader, RERT) on behalf of the market.
Inertial response and system strength should be tradeable 
Yet other services – inertial response and system strength – don't currently exist as tradeable services, because they're considered as an inherent aspect of the supply fleet.
The discussion paper envisages a much more flexible energy market – one with room for innovation so that these and other services could become tradeable. The EC wants stakeholder input into how this might happen, what consumer protections would be needed in a more flexible market, and whether some services should not be tradeable.
To provide feedback and contribute to the discussion, simply email [email protected]
Tell them I sent you!