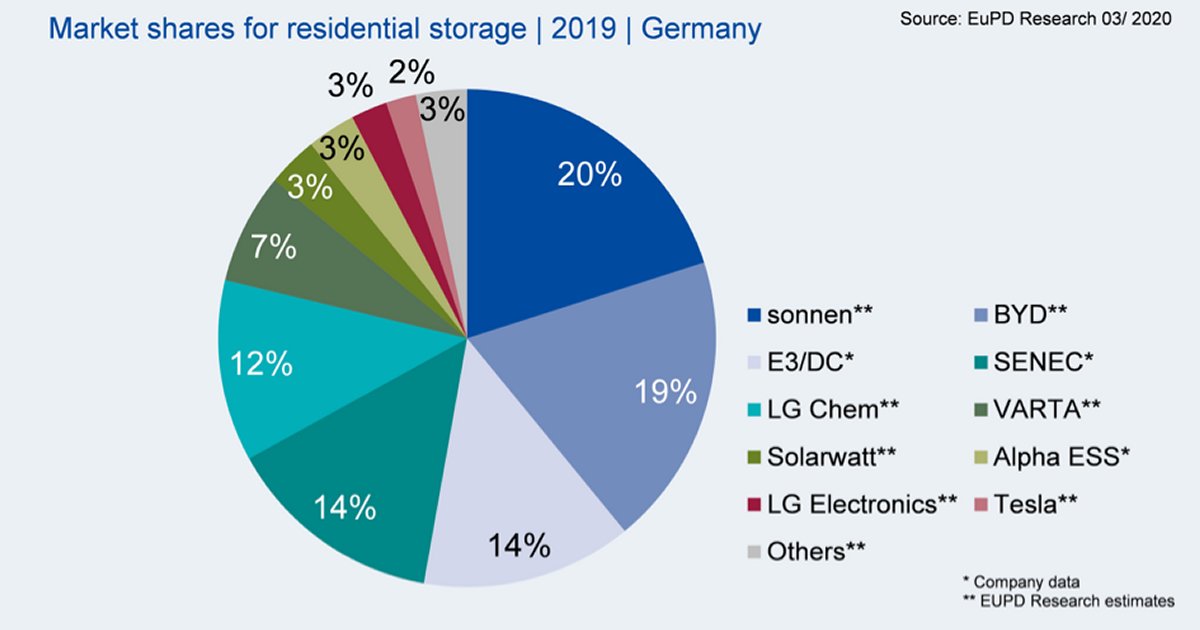 65,000 home battery systems were installed in Germany last year says EuPD Research – and Tesla wasn't among the leading energy storage choices.
According to EuPD, concurrent solar power + battery storage installations currently make up almost 90% of all installations in Germany – quite an incredible figure if correct.
EUPD estimates the market shares for the leading manufacturers as being:
As for Tesla, its market share was pegged at just 2%.
The estimated 65,000 systems added in 2019 include new installations as well as retrofitting solar PV systems with energy storage.
"In comparison to 2018, the German residential battery storage grew by 44%," says the firm. "The study at hand moreover shows that the cumulated market volume doubled within the last two years with currently about 206,000 residential storage systems installed in Germany."
Battery Storage Uptake In Australia
One Step Off The Grid's Sophie Vorrath recently reported 22,661 battery system were installed in Australia during 2019, slightly down on 2018 numbers. As for a cumulative tally, the SunWiz report the figures were drawn from puts it at 73,000 battery storage systems since 2015 – but that includes residential and non-residential systems. The report states around 8% of the new PV systems installed in 2019 included a battery, down from 12% in 2017.
Here on SolarQuotes, our auSSII reports have generally put the interest in a concurrent battery installation at around the 6% mark, although last month was significantly higher at 8%.
South Australia's Battery Subsidy Rush
While on the topic of energy storage in Australia, the South Australian Government said last week that thousands of households rushed to sign up for the State Government's Home Battery Scheme (HBS) in the leadup to the maximum subsidy being reduced from $6000 to $4000. It says the five weeks between the subsidy reduction being announced and coming into effect saw 5,000 subsidies approved, taking the total number of subsidies to 12,334.
It was a big jump given the Home Battery Scheme was launched in October 2018. The initiative aims to support the installation of 40,000 solar battery systems across the state.
If you're considering home energy storage, it's well worth putting the SQ solar and battery calculator through its paces to help determine if storage is a good financial decision for you at this point in time. A very handy feature of the calculator is it will show how savings are affected by a battery and solar panels separately.