Last month the entire country sweltered under an oppressive heatwave — except the half known as Western Australia.  As air conditioner power consumption soared on the 25th, 40% of Victoria's coal generators failed followed by rolling blackouts. When faced with this incontrovertible evidence of coal's unreliability, the government dedicated itself to the rapid phaseout of coal under its "affordable, reliable 24/7 power" program.
Sorry, only kidding.  What they actually did was offer to pay the debts of new coal power stations that go bust.
While the Coalition is content to fiddle while the world burns, the good news is the days of coal generation are numbered.  Despite what many politicians seem to believe1, the work of countless dedicated people around the world shows the cost of new renewable energy generation is less than the cost of new coal generation.  This includes enough storage or dispatchable2 generation to meet demand more reliably than coal.  When an old coal power station is shut down it won't be replaced with new coal generation simply because the alternatives are cheaper.
This is wonderful because it means most of the world's remaining coal deposits will be left in the ground. But existing coal power stations will live on, spewing greenhouse gases and damaging health, for as long as it's profitable.  To drive them out of business, electricity from new renewables will have to be cheaper than electricity from old coal.   
Thankfully this has already happened.  Rooftop solar, by directly reducing consumers' reliance on grid electricity, out-competes coal power.  It was a contributing factor in Alinta Energy making the business decision to shut down South Australia's last coal-guzzler, the Northern Power Station. 
To rapidly push the nation's remaining coal stations out of the market, large scale solar and wind farms must produce electricity at a lower cost than coal.  When this might happen? Well, according to my estimates large scale renewables are on the cusp of being cheaper than black coal generators right now. 
This won't make Australia's coal generators disappear overnight. It will take time to build the required renewable capacity and ensure there's enough available dispatchable power to meet demand.  But it does look like coal power will be driven out of Australia far sooner than most expect.  
Coal Is A Free Rider
The only reason new renewables aren't already cheaper than coal power is because coal free rides by not paying for its health or environmental costs.  I hope that soon, Australia's leaders — or some new leaders who aren't quite as thick — will make coal pay for at least some of the harm it causes.  
New Coal Power Is Not Competitive
Coal power stations are expensive to build.  They are huge piles of steel and concrete.  And not just random piles but very carefully arranged piles.  Sure, there's more room for error than when building nuclear piles, but they're still not something that can be slapped together by amateurs.  Only the decision on whether they should pay for the harm they cause is left up to amateurs.
Australia's last coal power station came online 11 years ago.  Since then the cost of building new coal power stations has only increased.  Part of this is because expertise in building modern supercritical3 coal plants comes from overseas, with China having the most skill in this area.  But mostly it's because financiers no longer see coal power as a reliable investment.  Instead they see it as a venture with a high risk of forced closure before it's even paid off thanks to:
health concerns
environmental concerns
the rapidly falling cost of renewable energy. 
Because of the risk they demand a high interest rate, which means it is now cheaper to finance solar power and wind projects than coal.
Wholesale Electricity Prices Are Up
Generators get paid the wholesale cost of electricity.  This doesn't include the costs of long distance transmission, local distribution, or retailing and so is a lot less than what you're charged on electricity bills.  It has trended upwards over the past few years as the cluttered looking graph below shows: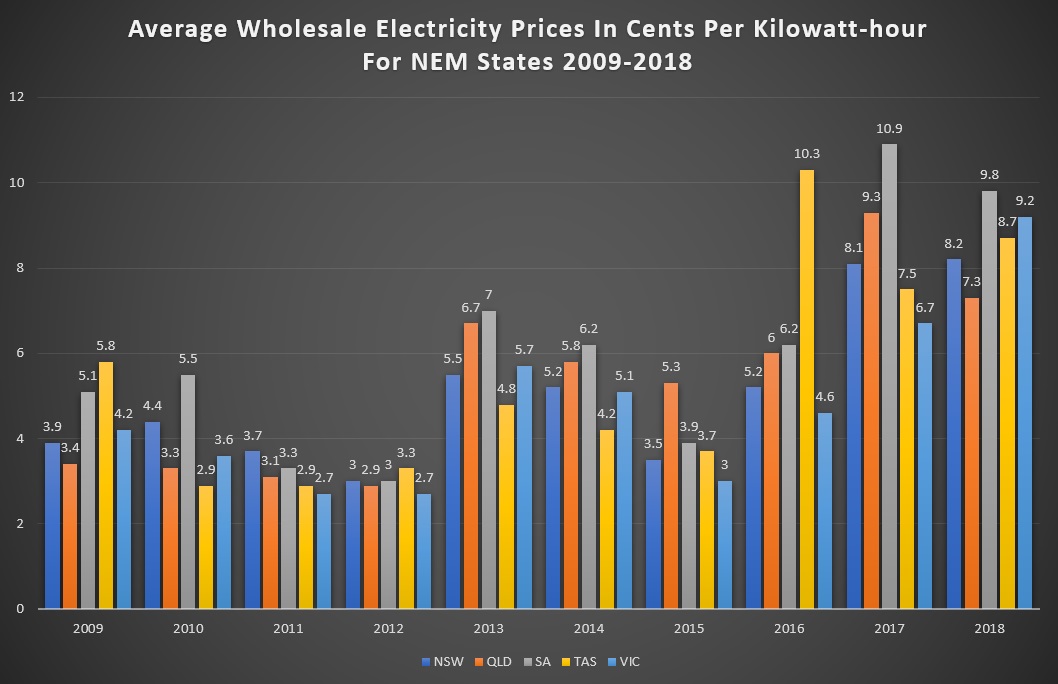 The graph shows the average wholesale electricity price for National Electricity Market (NEM) states. I'm afraid Western Australia and the Northern Territory apparently aren't part of the nation.
There are two big reasons why wholesale electricity prices are up:
The price of natural gas in the Eastern states has almost tripled over the past few years thanks to natural gas exports pushing its price towards international levels.  While gas only provides 6.5% of our electricity use,4 because it often sets wholesale prices it has an out sized effect on them.
Australia's oversupply of generating capacity has ended thanks to the closure of 13 coal power stations since 2012, which has removed 6,501 megawatts of capacity.
Of the 13 coal power station closures 11 were in the NEM and totaled 6,021 megawatts.  The table below, kindly provided by Simon Holmes a (hovering dash) Court, shows the closures, including two in Western Australia: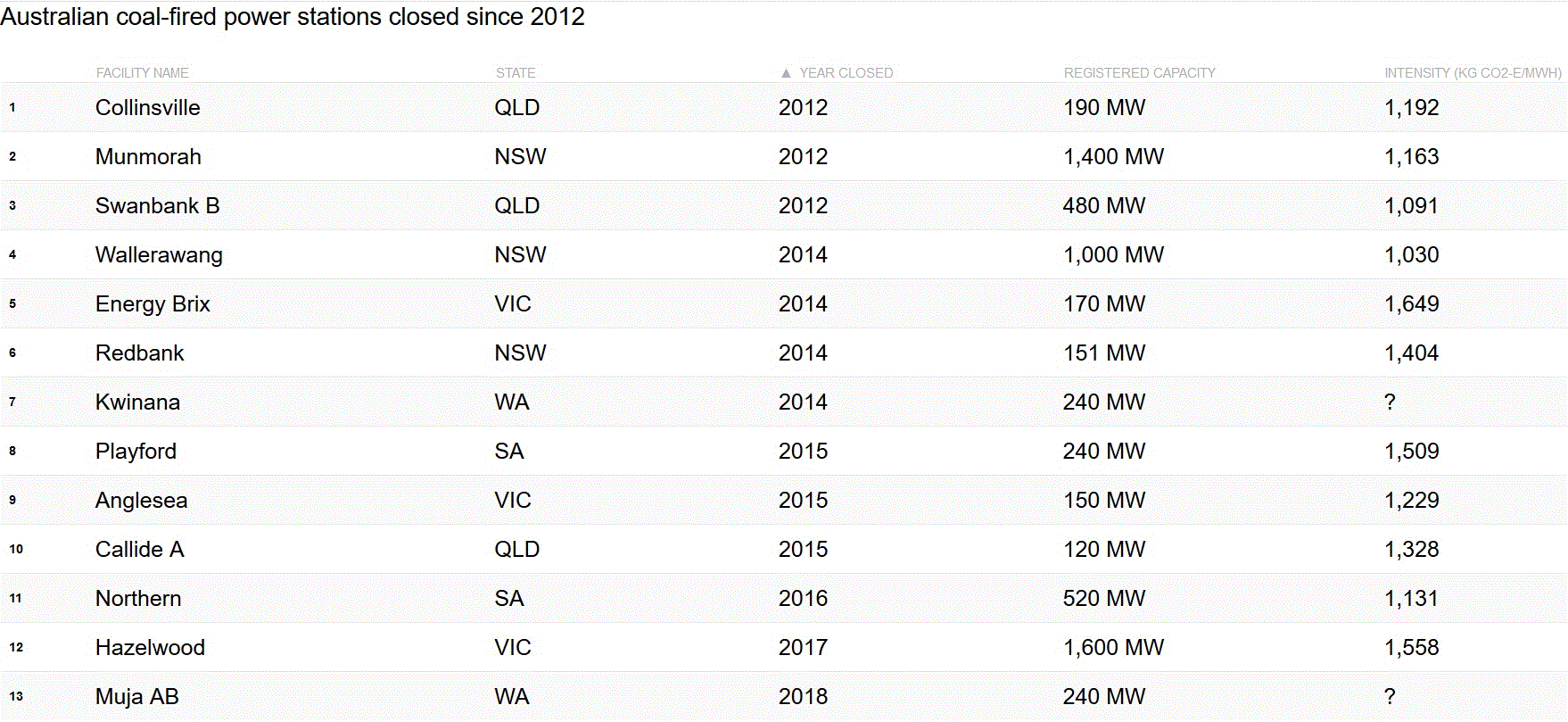 The shutdowns have cut coal generating capacity in the NEM by 21%.5  For Australia as a whole it has declined by 22%.  At this rate in 27 years there will be no coal capacity left.  Fortunately, as the cost of renewable electricity falls, the rate of coal closures will increase.
The Cost Of Coal Power Is Increasing
While coal power station closures and the high price of natural gas has increased the average wholesale price of electricity, I have noticed that even when demand is low and coal power is setting the price, it has been higher that I'd expect. This makes me think the cost of generating electricity from coal has increased. 
An obvious explanation for this would be that as Australian coal power stations age it costs more to maintain them and keep them operating.  It's also possible that as long term, low-price contracts came to an end some coal power stations have been forced to pay more for coal, making them less willing to underbid the competition.
One thing that did increase the cost of coal generation in Victoria was the state government raising mining royalties to levels similar to other states.  This increased the cost of their brown coal generation by around 0.2 cents per kilowatt-hour. 
Estimating The Per Kilowatt-Hour Cost Of Coal Generation
Fortunately, it's not too difficult to roughly estimate the cost of generating electricity from coal.  I'm only going to consider the cost for power stations using black coal for two reasons:
 Black coal power stations are 79% of the NEM's coal capacity and provide 76% of electricity generated from coal in the NEM.
Victoria's brown coal power stations have a low cost of generation because brown coal is dirt cheap and that's just depressing.
Rather than start with one of Australia's old, clapped out6 black coal power stations, I will begin with the newest and most advanced coal generator in the NEM — the 750 megawatt Kogan Creek Power Station in Queensland.
Kogan Creek Power Station
The newest coal generator in Australia is the 416 megawatt Bluewaters Power Station in Western Australia, which came online in 2009.  But the Kogan Creek Power Station built two years earlier is a more advanced and efficient design.  It has the following characteristics:
It began operation in 2007
Its original cost was $1.2 billion, which comes to $1.58 billion in today's money.
In today's money its cost per kilowatt of capacity was $2,110
Its efficiency at turning thermal energy from burning coal into electrical energy is 40%.
In the 2016-17 financial year its capacity factor — the percentage of time it operated — was 82.33%.
In 2016-2017 it produced 54,000 gigawatt-hours of electricity.
It has a workforce of 75.
Despite being the newest coal power station in eastern Australia and having a high capacity factor, it has broken down a lot.
Kogan Creek Labour Costs: 0.12 cents per kWh
Kogan Creek has a workforce of 75, which is one person per 10 megawatts of capacity.  This is almost half the workers per megawatt of the 43 year old Gladstone Power Station, which has one for every 5.25 megawatts.
If the workers receive the average Australian pay of $83,000 a year7 then the total payroll for a year will come to $6,225,000.  If we divide this by the number of kilowatt-hours produced in the 2016-2017 financial year the labour cost per kilowatt-hour will come to 0.12 cents.
Upper Management Costs: 0.02 cents per kWh
In addition to workers there are also the costs of upper management.  CS Energy, the owner of Kogan Creek, spent a total of $3,420,746 paying the CEO and six other senior executives in 2015-2016 financial year:
However, CS Energy owns 4 power stations and I'm not sure how I should divide this amount between them.  Because Kogan creek provides around one-third of their generating assets total output I'll assume Kogan Creek's share is one-third of the cost of upper management, or $1,140,000.  This will add 0.02 cents to the cost per kilowatt-hour.
Fuel Cost: 3.45 cents per kWh
The cost of Australian black coal loaded onto a ship at a coal export terminal is $143 a tonne at the moment:
Because Kogan Creek is 40% efficient and the energy content of Australian black coal is given as 6,667 kilocalories per kilogram — or 27.9 megajoules per kilogram in units that aren't stupid — it's easy to work out that 326 grams of coal are required to generate one kilowatt-hour of electricity.  At a cost of $143 a tonne that's 4.66 cents worth of coal.
But it's not quite that simple.  This graph from the AEMO suggests there is a relationship between the export price of coal and the prices bid by coal generators, but it's definitely not clear cut: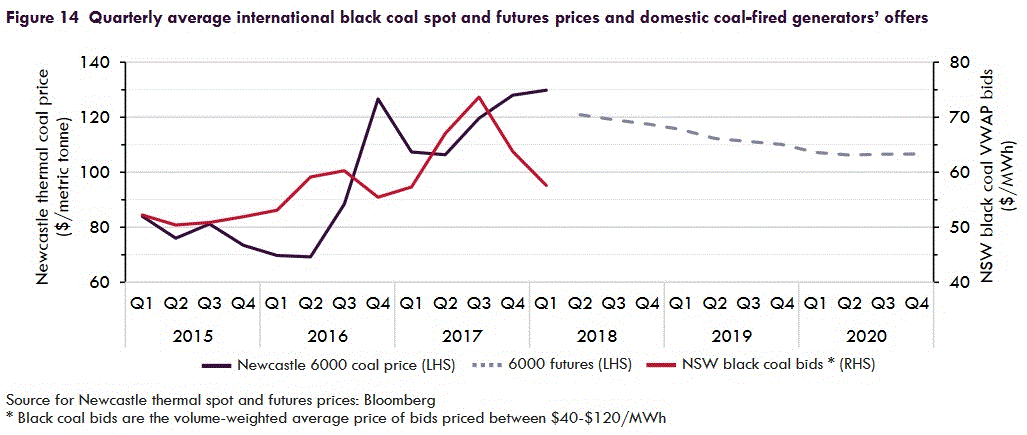 What power stations pay for coal is often determined by long term contracts.  However, the actual cost to burn it should reflect its export price.  If a power station is only paying $40 per tonne for coal thanks to a long term contract with a coal mine, but an exporter is willing to pay them $90 a tonne to send it to South Korea, then that $90 is what they are giving up by deciding to burn it and so that's what it's effectively costing them.8
Transport Costs
For coal to be exported it has to be taken to a coal export terminal and this is only practical if there is a rail line within a reasonable distance.  While some mines, such as the Meandu Mine that supplies Tarong Power Station, are a fair distance from tracks with steel backs making their coal difficult to transport, the Kogan Creek mine is close to a rail line.
The nearest coal export terminal is roughly 300 kilometers away in Brisbane.  The cost of transporting one tonne of coal in Queensland is likely to be under 3 cents per kilometer.  Assuming it cost 3 cents gives a transport cost of $9 per tonne of coal taken to Brisbane for export.
The Average Cost Of Coal
The export price for coal is high at the moment and so it's probably not reasonable to base my estimate of the fuel cost on it because it could be considerably lower in a month's time.  Instead I'll use the average export price over the past 10 years.  After adjusting for inflation it comes to around $116 per tonne.  After subtracting the estimated $9 cost of rail transport the effective cost of coal for the Kogan Creek Power Station would be around $107 a tonne.  This would make the fuel cost to generate one kilowatt-hour 3.45 cents.
Kogan Creek Capital Expenditures: 0.48 cents per kWh
Capital expenditure is money spent maintaining land, buildings, and equipment.  It includes replacing items when needed.  According to the owners of Kogan Creek Power Station, CS Energy, they spent $13 million on capital expenditures in the 2016-2017 financial year.  They also spent $700,000 on overhauls:
Looking at the three coal power stations owned by CS Energy — Callide B, Callide C, and Kogan Creek — a total of $24.5 million went towards capital expenditures but $37.3 million, over 52% more, was spent on overhauls.  This suggests on average the yearly cost of overhauls may be considerably greater than capital expenditures.  I don't have good information on this, so I'll simply assume the average yearly cost of overhauls is the same as the capital expenditure of $13 million for a total of $26 million.  This adds 0.48 cents per kilowatt-hour to the cost of generating electricity.
Total Cost Per Kilowatt-Hour For Kogan Creek Power Station: 4.1 cents per kWh
My estimates for the four components of Kogan Creek's cost per kilowatt-hour are:
Labour 0.12 cents
Upper management 0.02 cents
Fuel 3.45 cents
Capital expenditures 0.48 cents
They come to a total of 4.07 cents.  Since this is just a rough estimate without the accuracy that two decimal places suggests, I'll round it off to 4.1 cents per kilowatt-hour.  This means in order to be worthwhile to keep operating the power station will have to earn an average of at least 4.1 cents per kilowatt-hour generated.
Gladstone Power Station
Kogan Creek is the lowest cost black coal generator in the NEM, so the average black coal power station will be more expensive to run.  The largest generator in Queensland is the 43 year old black coal Gladstone Power Station.  Some details are:
It requires 17% more coal per kilowatt-hour generated than Kogan Creek.
It has 90% more workers per kilowatt of capacity.
It appears to be supplied by Callide mine, which is only 120 km from the Gladstone coal export terminal.
While its design is simpler than Kogan Creek, its age is likely to contribute to high capital expenditure.
Because it is owned by so many companies I am simply going to assume its cost of upper management is the same as for Kogan Creek per kilowatt-hour.  Also, despite its advanced age, I will assume its capital expenditure is almost identical to Kogan Creek and estimate it at 0.5 cents per kilowatt-hour.  I've set its capital expenditure at a low level because when it becomes clear to management it will be unprofitable in the not too distant future  they will skimp on maintenance.
After crunching the numbers, my estimates for the various components of the per kilowatt-hour cost for Gladstone Power Station are:
Labour 0.23 cents
Upper management 0.02 cents
Fuel 4.24 cents
Capital expenditures 0.5 cents
Adding these together gives 4.99 cents, which I'll round to 5 cents per kilowatt-hour.
Coal Power Is Doomed – It's Too Expensive
If older coal power stations have to make an average of at least 5 cents per kilowatt-hour to remain profitable they are in trouble. A Bloomberg report gives the cost of electricity from new solar farms in Australia as starting from 5.2 cents per kilowatt-hour and 5.6 cents for new wind power.
Of course, a cheerful report doesn't do any bloody good if it doesn't reflect reality.  Fortunately, we know it's pretty accurate because the Stockyard Hill wind farm is under construction and will provide electricity for under 5.5 cents per kilowatt-hour.  New solar farms should be providing electricity at a similar price before long.  Even Origin Energy, which owns over 5.7 gigawatts of fossil fuel generating capacity including 2.88 gigawatts of coal power, says new renewables are cheaper than existing coal capacity. 
If solar and wind farms can make a profit at a point where older, less efficient, black coal power stations become unprofitable then these old power stations will shut down permanently rather than operate at a loss.  Each time an old coal power plant closes it will boost the wholesale price of electricity, but this will only encourage the construction of more renewable capacity that will lower prices again. 
A high penetration of renewable energy is particularly dangerous for the economics of existing coal because they are inflexible and can't easily shut down when prices are too low.  For example, thanks to high wind output, the wholesale price of electricity in South Australia dropped to 1.255 cents per kilowatt-hour early Tuesday morning:
And later in the day, thanks to a combination of good wind and solar output and the inability to export more clean energy to Victoria, South Australia's wholesale electricity prices went negative around lunch time: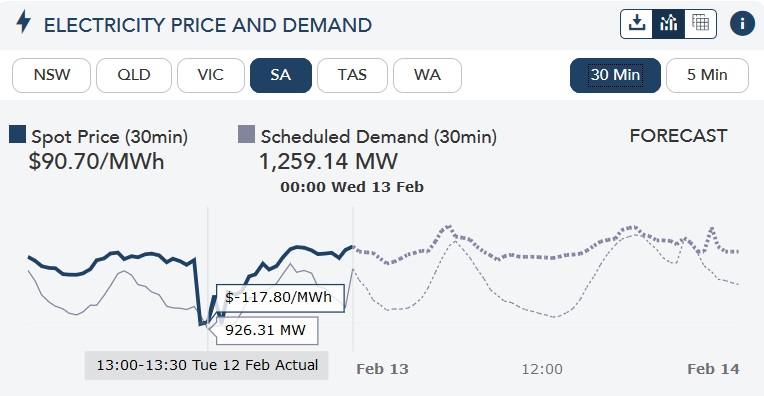 Victoria's brown coal generators are very cheap to run because brown coal has no export value, but regular periods of low electricity prices, caused by renewables, will make them unprofitable.  They are also very old so we can hope they fall apart soon.  But in a way that doesn't hurt anyone.  Exploding pipes, ruptured boilers, and fatal fires aren't much fun.
The Cost Of Reliably Meeting Demand
Because the output of solar and wind generation is variable it requires sources of dispatchable power to reliably meet demand. 
Australia has an electricity market, so if you believe in market forces strongly enough then these sources of dispatchable power should just magically appear by themselves.  Or, if you want to be a little less abstract, people will build them because they will be profitable. 
But if you think the required dispatchable power should be included in the cost of renewable energy that's fine.  Just remember these costs also need to be applied to unreliable coal power.  Dispatchable sources of power other than coal were required long before there were any solar panels or wind turbines in Australia. 
But the good news is renewables plus dispatchable power are still cheaper than fossil fuels.
More Coal Closures Are Coming
The next large power station scheduled to close is the 2,051 megawatt black coal Liddell Power Station in 2022.  By that time rooftop solar power capacity should have increased by over 50% and new solar and wind farms should be able to supply electricity below 5 cents per kilowatt-hour.
Shutting down a large power station like Liddell should bump up wholesale electricity prices giving other coal generators a temporary respite, but it won't last long.  Lower wholesale electricity prices resulting from more low cost renewables will force coal power to operate at a loss resulting in coal power closures snowballing. 
At the moment with wholesale electricity prices averaging around 9 cents, coal generators are making large profits. But soon their average return will fall below their cost of generation. Then coal power stations will fall one after the other. And as renewable capacity continues to grow, each closure will be less effective at temporarily improving the profitability of the surviving dirty generators.
While I expect the cost of coal to fall as demand reduces, the cost of renewable energy will also fall. Once the penetration of solar and wind is high enough, coal power will become unprofitable even if the export value of coal is zero.
Coal power stations will shut down and nothing can be done to prevent it.  While large power stations technically have to give three years notice before closing down it won't do any good if they can make the power station fall apart just by not doing adequate maintenance.  You may as well pass a law requiring ocean liners that smash against icebergs refrain from sinking for three days.
Hopefully, we won't have to wait years for the oncoming obsolescence of coal power to become apparent.  If the government priced in even a fraction of the harm coal causes we could start planning a rapid phaseout immediately.  In a country that cares about the health of its citizens and the future of the planet, coal power is an anachronism.