As I'm sure you're aware, South Australia and the eastern states were hit by a short but intense heatwave last week.  In Adelaide temperatures hit 46.6 degrees on Thursday.  A sweaty record.  It was almost unbearable.  Or at least I think it was unbearable.  I'm not sure because I passed out at about 10 in the morning and didn't regain consciousness until after nightfall. 
But on the electricity supply side of things, despite the following facts:
It has never been hotter1
There have never been more South Australians
There have never been more air conditioners, and…
…the state did not suffer from blackouts due to a lack of power.  Instead, around 60,000 South Australians suffered blackouts late at night due to blown fuses in an electrical substation.  This is not a good thing, but it's a separate problem from there not being enough power to meet demand.
It was Victoria that was unable to squeeze enough crackling sizzle juice through its electropipes to keep everyone's air conditioners going.  This was because around 40% of that state's coal generating capacity was out of action when it was needed most.  As a result, around 200,000 people suffered rolling blackouts on Friday because of their dependence on unreliable, aging, coal power stations.
Around 3% of the state's population were affected, which isn't too bad historically speaking.  It's not good, but there have been far worse outages in the past.  But given the Coalition's love affair with coal I think it is important to be very clear it was the unreliability of coal power that resulted in the blackouts, while throughout the heatwave solar supplied power in a reliable and predictable way from just before sun up to just after sun down.  This included when demand for electricity was at it's highest.
Coal Power — And Gas — Failed The Nation
During the heatwave gigawatts of coal capacity were out of action when the grid was desperate for power.  A unit at Victoria's brown coal Loy Yang A Power Station went out of action last Tuesday afternoon due to a tube leak.  (My father had one of those — very nasty.)  Capacity was also down for maintenance at Victoria's brown coal Yallourn Power Station.3
Rather than take the effort to actually  look up how much coal capacity was missing in action myself I'm just going to post a copy of what energy expert Simon Holmes à Court posted on Twitter on Friday:
Simon is a pretty smart cookie but I've never mentioned him before because I could never work out how to put the little mark above the "a" in his name.  (Maybe I should feel embarrassed about admitting this, but I'm at peace with the fact my intellectual cookie crumbled long ago.)
The 1,850 megawatts of offline coal power in Victoria meant 40% of the state's total coal capacity of 4,660 megawatts was down and out during a record breaking heatwave.
Gas Didn't Do Well Either
In addition to coal generation sooting itself during the heatwave, a major gas generator in NSW also piked.  On the 17th, Wollongong's 435 megawatt Tallawara Power Station shut down for repairs.
Solar Reliably Provided Power During Peak Demand
Throughout the heatwave solar reliably provided power from sunrise to sunset.  While solar farms are a growing source of energy, the large bulk of Australia's solar power comes from panels on the roofs of homes and businesses.  This graph from the Australian PV institute shows how much of total electricity consumption rooftop solar provided in South Australia on Thursday:
Rooftop solar only provided a modest percentage of total electricity use. But when demand for electricity was at its highest at 4:45 in the afternoon, 10.1% of that total (334 MW) was being supplied by rooftop solar.
Earlier, at 2:15, total demand was 0.8% lower and 16.8% (550 MW) was rooftop solar.  This is more power than South Australia's Northern Power Station could produce before it closed in 2016.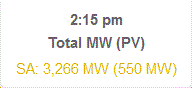 While Victoria has much less rooftop solar per person than South Australia, it still generated reliably during the period of peak demand.  This disgusting pinkish coloured graph from the Australian PV institute shows it meeting 3.5% of total consumption when peak demand occurred at 5:30 pm:
On Friday, when Victoria had its rolling blackouts, rooftop solar gave an even bigger contribution, supplying 8% of total demand at 11:30am.  Peak demand was higher than the day before.  It also occurred earlier.  This was mostly due to temperatures falling, but the rolling blackouts also contributed.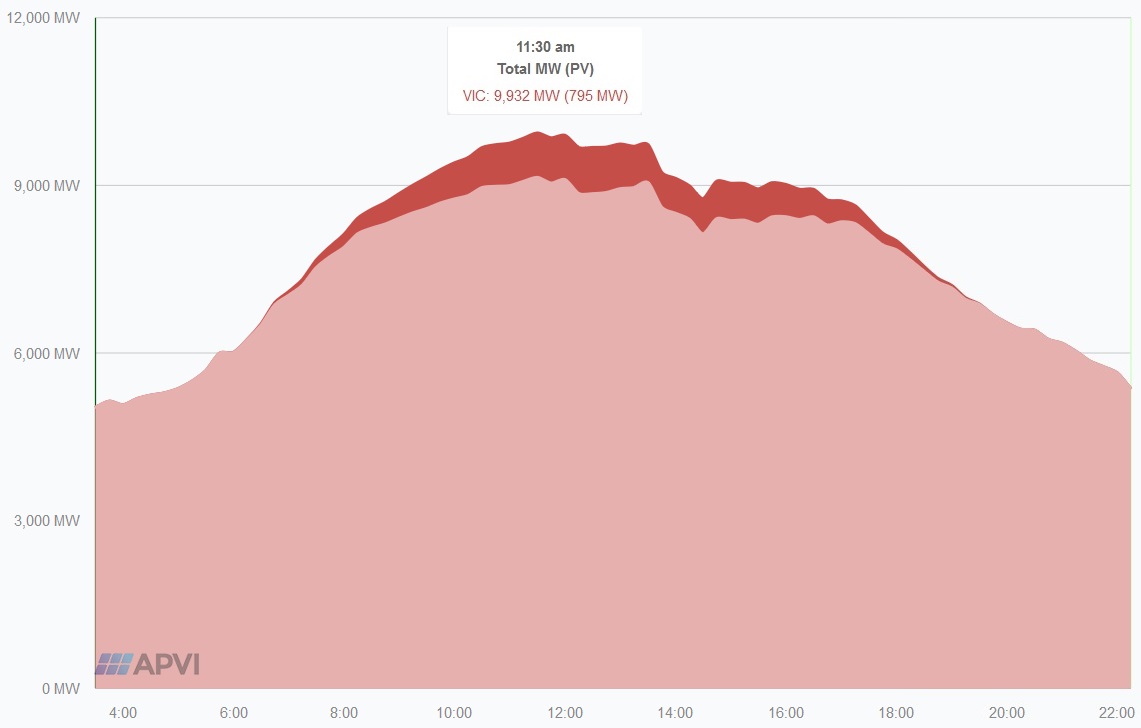 The New Emergency Reserve Scheme Was Used
Because Australia's coal power stations are so unreliable an expensive new scheme known as Reliability And Emergency Reserve Trader or RERT was created last year to  reduce blackouts when coal power craps out.  South Australia's new diesel generators are part of the RERT and were working during the heatwave to help keep Victoria going.
Why Solar Power Is More Reliable Than Coal
Australia's aging coal power stations average over 30 years old, while Victoria's remaining two brown coal generators are particularly decrepit:
The massive 3,300 megawatt Loy Yang A and B are 34 years old.
The 1,480 megawatt Yallourn Power Station has units ranging from 37 to 46 years old.
The ancient power stations can't be relied upon as they are simply getting worn out.  By it's very nature coal power involves the risk of fires and burst pipes.
Solar is more reliable than coal because it has no moving parts.4  While a solar farm could have a large inverter fail, because they have multiple units this is not likely to take much production offline.  A solar farm could suffer a transmission failure, but this is true of any utility scale generation.
Rooftop solar is distributed and produces power where it's consumed.  On one hand this makes it the most reliable energy source as it can still supply power even if transmission lines fail.  On the other hand, if problems with the grid are serious enough for blackouts to occur then most rooftop solar production in blacked out areas will be lost.  This is because most rooftop solar systems shut down when the grid is out as a safety precaution.  Only a tiny number of households have hybrid inverters or battery systems capable of full backup that let them to continue to use rooftop solar during a blackout.
Variable Does Not Mean Unreliable
You may be wondering why I'm saying solar power is reliable when it doesn't work at night and clouds can drift overhead and reduce its output.  This is because while the output of solar is variable, we can accurately predict it in advance and this makes it reliable.
Coal power is like that friend who is always saying they will show up but often pikes and lets you down without notice.  Solar is more like a friend who doesn't always say they'll be there, but when he says he will you can count on him.  He's not willing to rock up at midnight for you, but if he says he'll do something his word is as good as gold.  At the very worst he'll be a little less energetic than you expected him to be5.
If it's clear or overcast it's easy to predict what solar output will be days or even weeks ahead.  Patchy cloud makes it difficult to predict what the output of any one solar power system will be, as more clouds may drift over one rooftop than another, but solar capacity is distributed over a wide area so it's easy to predict what its output will be in aggregate.
Solar can be relied on to have high output during heatwaves because clear skies and hot weather go together.6  Heatwaves also occur in summer when the days are longer.
Unfortunately, high temperatures reduce the output of solar power.  A 15 degree increase in temperature from 30 degrees to 45 degrees will lower the output of a typical solar panel by around 6%.  But this is more than offset by the lack of clouds and long days that go along with heatwaves.  Coal and gas power also have their efficiency reduced by high temperatures.  The effect is not large but does hurt output.  Working out the efficiency drop is complicated as it depends on what kind of cooling is used.7
New Coal Power Stations May Not Be Much Better Than Current Ones
Australia is never going to build a new coal power station.  Coal power is not cost competitive, it's terrible for the environment, and horrible for people's health.  But if the Coalition got their ardent wish and build a new coal power station, don't expect it to be much more reliable than the existing clapped out coal burners.
A study came out a few days ago called Suboptimal Subcritical that looked at Australia's most moderncoal power plant8, the supercritical Kogan Creek Power Station in Queensland which came online in 2009.  The study concluded that its breakdowns:
Occur often
Are the biggest in the NEM
Have contributed to price spikes, and…
Have caused frequency losses outside of the safe operating band — which means the coal power station broke down and suddenly stopped supplying power, which meant grid operators had to scramble to keep the grid stable.
The Coalition wants new coal capacity to be supercritical like at Kogan Creek.  I don't think they know what supercritical means, but they want it anyway.  This means new coal power stations will be less reliable than solar power from day one.
The Chinese companies that are the world experts at building supercritical coal capacity — and which almost certainly would be hired to do the work — will have ironed out many of the bugs, but it's still a risk. Even if these hypothetical new coal power stations have improved reliability, their complexity and combustible fuel means they'll never approach the reliability of literally millions of solar power plants distributed across rooftops and fields.