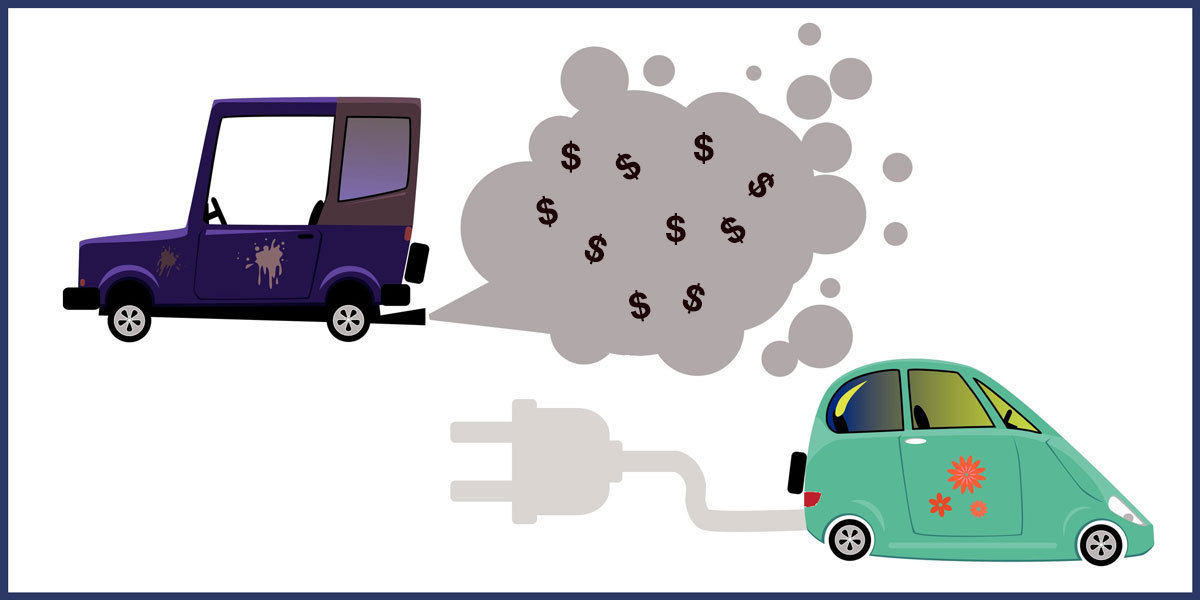 Nope! But We Should Make Cars Pay For Pollution.
So far this year there has been a fair bit of debate over whether electric cars should receive subsidies in Australia.  The Greens are in favor and SA Labor were planning to make electric cars exempt from registration fees up to the point they were defeated in savage hand-to-hand voting.  Our Federal Minister for the Environment and Energy, Josh "build me a fleet of new coal power stations" Frydenberg has come out of closet, or possibly coal bunker, as a fan of electric cars.  Probably because they can be charged with coal power. 
But he hasn't mentioned any subsidies and our honorable1 Member for back-to-the-19th-century-backbenching, Craig Kelly, has assured us that there will be no subsidies for electric cars and that Josh just wants to make sure there are no bureaucratic impediments to people deciding to spend their own money on electric cars.
So the question is — should electric cars be subsidised?
My short answer is — no.  It makes no sense to subsidise electric cars when what we should do instead is make those who emit greenhouse gases and toxins into the air pay for the harm they cause.
But I'll give you another short answer for the same low price as my first one — yes.  Because our current politicians are unlikely to put a price on pollution, some sort of subsidy on electric cars and potentially other low polluting vehicles could be a less efficient, second best policy.
Two Reasons For Wanting More Electric Vehicles
A few days ago I wrote about how, contrary to some people's beliefs, electric cars don't result in greater greenhouse gas emissions than the average petrol powered car.  I also pointed out that, according to official fuel economy figures at least, a hybrid car or even a small, fuel efficient conventional petrol car will result in less greenhouse gas emissions than an electric car charged from Australia's coal heavy grid.  This is true even if you live in Tasmania or South Australia with their high levels of renewable energy generation, because charging an electric car there means less clean electricity will be available for export to dirtier states.
The good news is you can drive an electric car with zero or next to zero emissions (beyond what was required to make it) if you installed rooftop solar to charge it.  For an electric car driven the annual average of 14,000 kilometers, around 2 kilowatts of solar panels is all that's required.
While electric cars charged with today's grid won't reduce greenhouse gas emissions by as much as some expect, what they do excel at is reducing the amount of toxic air pollution in Australian towns and cities .  It's been estimated air pollution kills 3,000 Australians a year and roughly 75% of it is produced by vehicles.  So pollution from Australian cars and trucks probably kills well over 2,000 people a year2.  Last year 1,227 people were killed in road accidents which means the total death toll from vehicle use was probably over 2.5 times higher.
So, the top two reasons for wanting more electric vehicles are:
1. To reduce the suffering and death around the world resulting from global warming caused by greenhouse gases emitted from burning fossil fuels such as oil.
2. To reduce suffering and death in Australian towns and cities caused by air pollution.
A Third Reason To Want More Electric Cars
At the start of this century Australia produced around 700,000 barrels of oil a day.  Now it's under 200,000.  We use around 1 million barrels a day.  In addition, most of Australia's oil is exported, which means almost all the petrol and diesel used by Australian vehicles is imported.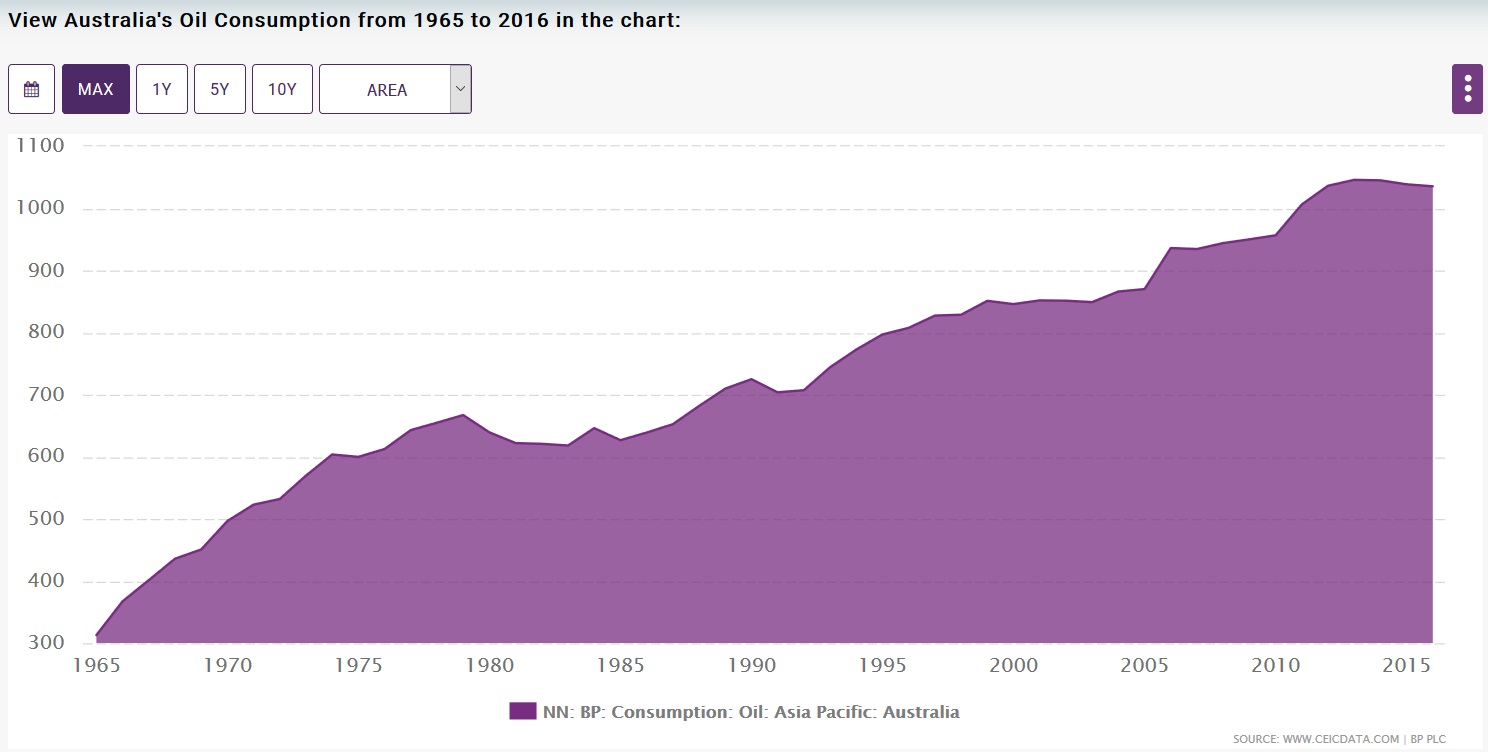 Because of Australia's reliance on imported oil there is some concern about national security and what would happen if there was an interruption in supply.  But Australian politicians are astoundingly unconcerned about this.  We live in the only developed country in the world that has no fuel efficiency standards.  The entirety of our national fuel economy measures consists of requiring new cars to have a sticker with their fuel consumption on it.
While tax makes up a large portion of the cost of petrol and diesel, Australian fuel taxes are still low by developed country standards3.  We only have enough oil set aside to last us about 6 or 7 weeks if imports were cut off instead of the 13 weeks that is internationally recommended for an oil importer.  The situation has me wondering if there are people hoping for a supply disruption so a government funded coal to liquids plant will be built4.
So if you don't trust world leaders to play together nicely you might think it's a good idea for Australia to cut its reliance on imported oil.  Personally, I'm not too worried.  I'm convinced Trump is too lazy to start a war5.  At least intentionally.
Australia Already Has A Large Electric Car Incentive
Australia already has a hefty incentive for people to go electric and that's the 40 cent per litre fuel excise on petrol and diesel.  Of this about 10 cents goes to pay for roads with 30 cents going into general revenue.  So is this extra 30 cents enough to make petroleum fuels pay for the environmental and health harm they cause?
No, it's not.
It's not too difficult to show this is the case by roughly estimating the cost of the environmental damage from CO2 emissions and health effects from burning petrol and diesel.
Greenhouse Gas Costs
Attempting to put a dollar figure on the amount of harm caused by a tonne of CO2 emissions from burning oil products is extremely complex and estimates vary.  Fortunately we don't need to worry about that.  My approach is very simple.  The amount of additional CO2 we can safely add to the atmosphere is zero, so the cost to our society of emitting one tonne of CO2 is equal to the cost of removing it from the atmosphere and sequestering it long term.
There are a variety of methods to do this.  Reforestation, afforestation6, creating and burying biochar, grinding up large amounts of olivine rock that slowly absorbs CO2, dumping agricultural waste in deep ocean waters, and so on.  If one or more of these methods can be used for $100 a tonne on a reasonable scale7 then since burning one litre of petrol results in the emission of around 3.15 kilograms of CO2, the cost of cleaning that up would be 31.5 cents.
Unfortunately we don't actually know how much it will cost to remove and sequester CO2 from the atmosphere, but the lowest estimate I'll accept is $70 a tonne.  If we use this as a minimum, then burning one litre of petrol will result in a clean up bill of 22 cents.  So maybe the 30 cents per liter of the fuel excise that goes into general revenue could cover it if they renamed it the Petroleum Fuel Carbon Price.
But the fuel excise is not also going to be able to cover the health costs, because they're a doozy.
Health Costs
In 2007 it was estimated air pollution killed around 3,000 Australians a year and the cost was $11 to $24 billion.  While cars have hopefully gotten cleaner in that time, the value we put on our lives will have increased.  If we take the mid-point of that range, adjust it for the fact that roughly 75% of air pollution comes from vehicles, adjust for inflation, and then increase it by 16% to allow for population growth, it comes to $20 billion.  With around 32 billion litres of petrol and diesel burned in built up areas per year, the health costs would come to 62 cents per liter.
Security Costs
I have no idea how to work out the cost to national security of being almost completely dependent on imported oil and I am not even going to try.  But it definitely costs something, so if you like, please feel free to add your own estimate to the total below.
Other Costs
Air pollution affects agriculture and makes our cities grimier.  While I won't attempt to estimate agricultural losses or the cost of extra cleaning required, these losses are real and should be included in a full and detailed account of the costs of air pollution.
Total Health And Greenhouse Gas Costs
If the health costs come to 62 cents and the cost of greenhouse gas emissions are at least 22 cents, then we are looking at 84 cents or more per litre from just those two effects.  That's not that far off $1 but I'll just go with 84 cents for now.  So the 30 cents of the fuel excise that goes into general revenue doesn't nearly cover it.
Making Cars Pay The Full Cost
Rather than subsidies for electric cars, in my opinion we should make all vehicles pay the full cost of their emissions.  This will encourage the uptake of electric cars, but it will do it in the most economically efficient way, since it makes sense to directly attack the causes of global warming and air pollution and not come at them in a round about way by subsidising things we think will help.
The cost of greenhouse gas emissions can be added directly to fuel prices.  This makes sense because we can be certain all the fuel is going to be burned.  No one is likely to be injecting petrol back into an oil field.
The cost of air pollution could also be added onto fuel prices, but it would also be good to give people an incentive to buy vehicles that pollute less per litre of fuel burned.  It could also be helpful to have some of the cost front loaded into the purchase price of vehicles, as humans often pay more attention to that than running costs.  But this could be problematic as car manufacturers have become very good at gaming pollution and fuel economy measurement tests.
Electric Car Subsidies
Rather than making vehicles pay the full cost of their pollution we could instead subsidise electric vehicles.  But this raises some problems:
Should fuel efficient hybrids or small, economical petrol and diesel cars get subsidies too?   What about a car with average petrol consumption but extra pollution control equipment?  How about hydrogen powered cars?  It would be possible to reasonably estimate the benefits and thus amount of subsidy for each, but it would be impossible to get it exactly right.
Subsidising electric cars means we will end up with more cars in total than we'd have otherwise and this will result in more congestion on the roads.  If self-driving taxis reduce the need for private car ownership in the future, then many of these vehicles and extra roadworks to support them may end up a wasted investment8.
Why should car owners get a subsidy and not people who use public transport or ride a bike or walk or never leave the house?
Generally only people who are relatively well off buy new cars.  Is it fair they get a subsidy when people who can't afford a car at all get nothing?9
If installing rooftop solar or investing in energy efficiency would provide greater benefit should it receive the subsidy instead?
As you see from the list, things get iffy once you start following the round about route of subsidising things rather than directly attacking problems.  If electric cars are to receive subsidies then, to be as effective as possible, I think the subsidy should have the following characteristics:
It should apply not just to electric cars but to all cars that meet minimum health and pollution standards.
Be on a sliding scale so people will have an incentive to buy the best vehicles rather than ones that just meet the minimum standard.
Real world testing of vehicle models to determine actual emissions should be required.10
Take into account the expected change in emissions intensity over the estimated lifespan of electric vehicles.
The portion of people who charge electric vehicles fully or partially with rooftop solar should be accounted for.
If this seems complex to you, that's because it is a bit complex.  Added complexity is one of the reasons I favor making polluters pay rather than providing subsidies.
Politically Acceptable
I am sure there are people who will say it won't be politically acceptable to make people pay for their vehicle's pollution and increase the cost of petroleum based fuels or the upfront cost of polluting vehicles.  "The punters won't stand for it!" they'll say.
But money could be taken from punters with one hand and given back with the other.  All car owners normally pay over $700 a year in car registration.  So if annual fuel cost were raised by $500 for the average driver, everyone could receive a $500 reduction in rego costs.  This would result in the same incentive to drive less, use public transport more, cycle and car pool more, and to purchase a cleaner vehicle in the future, but on average drivers would not be financially worse off.  Also, this change could be gradually phased in rather than suddenly introduced to lessen the shock.
There is a 10% GST on cars and this could be reduced for clean ones and increased for dirty ones.  I know there will be opposition to making an exception to GST rules, but that's okay, it can be called something else to make it more politically acceptable.  And for people who can afford hoity-toity cars, the luxury car tax could give even more benefit to clean cars and hit dirty ones harder.
I'm not saying it won't take effort to get people to accept these changes, but it could be done.  Just as politicians can get many people to go along with lies if they repeat them loudly and long enough, they can also get them to go along with the truth provided they put the effort into reasonably explaining why Australia will be better off with the change.