50 electric Tesla Semi trucks could be hitting United Arab Emirates' roads as soon as 2020 after a purchase order from Shajah-based Bee'ah.
The Tesla Semis will primarily be used for waste collection and transportation purposes; including transporting materials for recycling and waste-to-energy processing.
Bee'ah's current fleet features electric, CNG and biodiesel vehicles. The company says it will continue to strive to make its fleet as eco-friendly as possible.
"As a torchbearer for environmental responsibility, Bee'ah's move to bring the first and largest fleet of Tesla Semi trucks to the region is a significant milestone in our operational evolution," said Bee'ah Group CEO Khaled Al Huraimel. "Sustainability is at the very core of what we do, and the pursuit of this feeds into every level of our organization."
Bee'ah wasted no time in slapping down an order; placing it very soon after Elon Musk unveiled the Tesla Semi.
SQ blogger Ronald also took an interest in Elon's electric truck (but he hasn't ordered one) – check out his thoughts on the Tesla Semi and Mr. Musk's claims regarding it.
The start of production of the truck is slated for 2019.
Bee'ah's association with Tesla products doesn't end with the Semi.  Nine Tesla Powerpacks (~1,890kWh total capacity) have been installed at the company's new net zero energy headquarters, which is still under construction.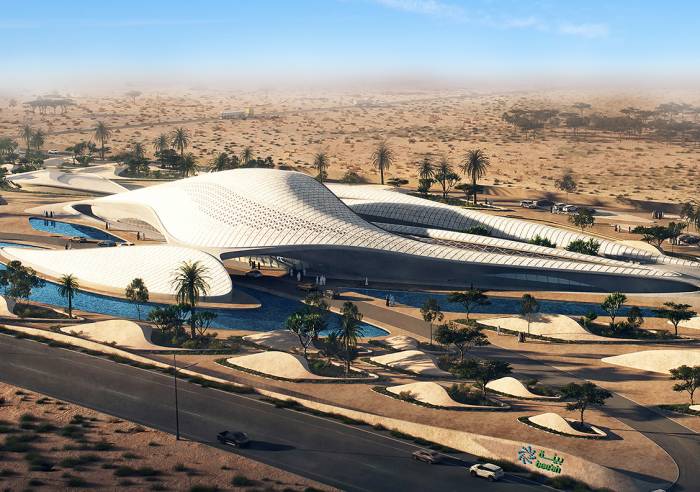 Not your average HQ building either in design or location, it will be fully powered by renewable energy; apparently in the form of solar power (capacity details not provided). Any surplus energy generated that can't be used on-site or stored in the Powerpack battery system will be exported to the grid.
The company says its new HQ building will be platinum LEED certified on completion.
As well as collecting and processing waste, Bee'ah provides "smart" solar powered recycling bins. The compacting bins are equipped with sensors that alert Bee'ah's control room they soon need emptying; saving on time and resources in checking bins.
Bee'ah also owns the region's first, and what it says is the world's largest, waste-to-energy gasification plant. The facility is able to process 160,000 tons of non-recyclable waste annually and can power around 50,000 households. The company has also partnered with Masdar to develop a new waste-to-energy facility capable of incinerating up to 35 tonnes of solid waste per hour.
But is waste-to-energy using incineration really "green power"? Bee'ah thinks so. Further info on incineration vs. gasification can be viewed here and here.
Closer to home, there are a handful on incineration based waste-to-energy plants in the pipeline for Australia.