Disaster has struck the Brakels household! And I'm not talking about a minor disaster like a son or daughter breaking a leg.
Unlike horses, humans can survive a broken leg or two, which is odd when you think about it since horses have twice as many legs1.
The serious disaster that occurred is the amount of grid electricity my home/shed uses has soared by one-third. It has gone from an average of 4.1 kilowatt-hours a day to 5.5.  As soon as I saw the atrocity bill I knew exactly who to blame — my refrigerator!  That metal bastard betrayed both me and the planet!
I first realized I had a problem at the start of December when the milk started going off.  I noticed the fridge was running continuously and slowly getting louder and louder.  I should have done something about it right there and then, but, thanks to my almost superhuman powers of disorganization, I did nothing. Over Christmas, I had to tape the refrigerator compartment shut and use the freezer section as a fridge, because that's all it was capable of doing.  Thank God I don't have enough friends to throw a Christmas party.
I kept hoping it would somehow get better by itself, but by the time the New Year arrived it was clear my fridge was a useless piece of crap that would never do a worthwhile job, spending its remaining time failing and making noise.  So I renamed it President Trump and went shopping.  And by shopping, I of course mean started making spreadsheets.  I haven't been divorced three times because I do things the easy way.
As I investigated, I discovered energy efficiency is an extremely important consideration and in South Australia some people could spend over $500 more to buy a refrigerator that saves 100 kilowatt-hours per year and still come out ahead2.
Discount rates are also a consideration.  They are a measure of how much people prefer to receive money now rather than in the future.  People with a high discount rate may prefer to buy a cheaper refrigerator rather than an energy efficient one.
Those who want to keep at least one out of two icecaps intact can also decide to spend extra money to buy energy efficient appliances for the good of the planet, but this article is only going to look at things from the point of view of your wallet. I'll help you determine what is likely to be the most cost-effective option and you can then decide for yourself if you wish to be altruistic and pay a little extra to destroy the world less.
While this cool article is all about refrigerators, the same techniques can be used on other appliances to find out which are the most cost-effective.
Don't Look At The Stars — Look At The Numbers
Star energy rating labels on appliances seem pretty straight forward.  You pick the one with the most stars and that will be the one that saves the most energy — or at least that's how you'd think they'd work, but they don't.  The number of stars on a label can only be used to compare products of similar size and design.  A large fridge with 4.5 stars can easily use more electricity than a smaller fridge with 3 stars.
Fortunately energy ratings include the number of kilowatt-hours typically used per year and this allows the energy consumption of different sizes and types of appliances to be compared.  This is less convenient than a simple visual comparison, but the fault is not in our stars, rather in ourselves for being too lazy to do maths.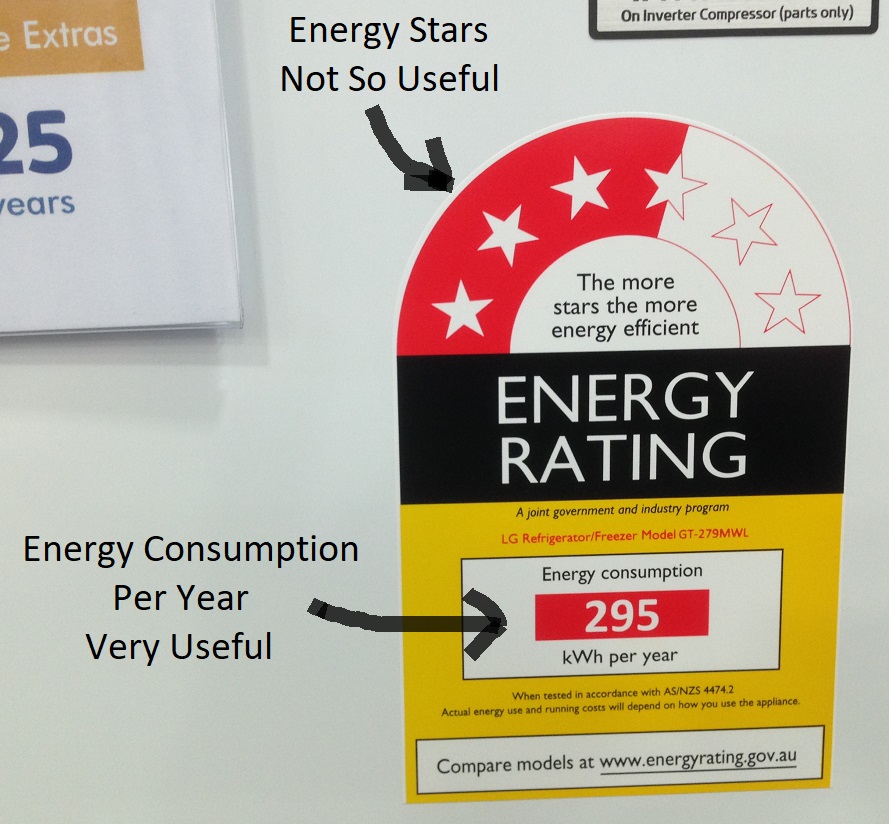 Climate Counts
The electricity consumption figures on energy rating labels are based on typical household use.  Buying a refrigerator and then putting it in an unshaded tin shack in Darwin is not typical3.
It is likely in cooler parts of the country refrigerators will use less electricity than indicated on energy rating labels, while in places such as Townsville and Darwin I'd expect them to use considerably more.
Efficient Fridges Can Reduce Air Conditioner Electricity Use
All the electricity consumed by a refrigerator eventually ends up as waste heat.  If your refrigerator uses 2 kilowatt-hours a day in summer while you are using air conditioning, then it may increase the electricity consumption of an efficient air conditioner by around half a kilowatt-hour a day.  The amount would depend on how you cool the room the refrigerator is located in, but an efficient refrigerator can definitely reduce your air conditioning electricity consumption4.
In winter you might think waste heat from a refrigerator would be useful, but it is much more efficient to use an air conditioner for heating than run an inefficient fridge, so even in winter wastrel fridges won't save you money.
Cost Of Electricity
The more you pay for electricity the more you'll save from buying an energy efficient appliance.  Using SolarQuotes' electricity plan comparison tool I looked up the typical price paid per kilowatt-hour for grid electricity in capital cities.  The following figures include GST and any discounts:
Adelaide: 36.8 cents
Brisbane: 25.7 cents
Canberra: 21 cents
Darwin: 25.7 cents
Hobart: 25.9 cents
Melbourne: 24.3 cents
Perth: 26.5 cents
Sydney: 28.5 cents
This means if you live in Adelaide, getting an efficient refrigerator that reduces your annual electricity consumption by 100 kilowatt-hours will save around $37 dollars year, while in Sydney it will save around $29 a year.
Refrigerator Lifespan
Generally we expect fridges to last at least 10 years.  I know I would be annoyed if my new one died before that.  My old fridge, President Trump, was not a well regarded brand but still survived for 13 years, while my parents tend to buy fridges that last around 20 years or more.  So I am going to assume a refrigerator will last for 15 years.  Over that time a fridge that uses 100 kilowatt-hours less electricity annually will save the following amounts of money in today's dollars:
Adelaide: $552
Brisbane: $386
Canberra: $315
Darwin: $385
Hobart: $389
Melbourne: $364
Perth: $398
Sydney: $428
This means that if you are in Adelaide and are considering buying a cheap $500 refrigerator, you could be better off getting a $1,000 refrigerator if it saves you consuming 100 kilowatt-hours a year.  But these figures are only for households without rooftop solar and they also don't take into account people's discount rates.  They also assume electricity prices remain constant in real terms and only rise with the general rate of inflation.  I think electricity prices are likely to decrease before too long, but other people are convinced they'll continue to increase, so you can adjust the figures as you see fit.
Solar Makes Electricity Cheaper For Households
If you have an old, high feed-in tariff of 44 or more cents, then you definitely want to purchase energy efficient appliances to maximize the amount of solar electricity you export to the grid.  But most people with solar panels only receive a standard feed-in tariff.  These vary with location and electricity retailer.   Most Australians are able to receive a solar feed-in tariff that is around 50% or more of the per kilowatt-hour charge for grid electricity, unless you're in Tasmania where you kind of get screwed – or in Western Australia, where you get screwed with bells on.
I have put the feed-in tariffs available in state and territory capitals below, as well as what percentage of the price of grid electricity they are.  Where there is a choice of electricity retailers I chose the best feed-in tariff available from among the big three — Origin, AGL, and energy Australia.  Origin came out ahead every time:
Adelaide: 18 cents (49%)
Brisbane: 14 cents  (54%)
Canberra: 15 cents (71%)
Darwin: 25.7 cents  (100%)
Hobart: 8.9 cents  (34%)
Melbourne: 14 cents  (58%)
Perth 7.1: cents (27%)
Sydney: 15 cents  (53%)
New rooftop solar systems now average over 5 kilowatts in size.  Households with with 5 or more kilowatts of solar panels generally export three-quarters or more of their electricity generation to the grid.  This means most of the time there should be plenty to spare during the day to run a refrigerator.  Because fridges use more electricity when the ambient temperature is higher, it is possible a fridge in a solar home will get half its energy from the panels.  In practice there may not be many fridges that do this, but I will still use it as a convenient benchmark.
When buying an energy efficient refrigerator (or other appliance that is 50% solar powered) every 100 kilowatt-hours of electricity it saves per year will reduce annual electricity bills by around the following amounts:
Adelaide: $27
Brisbane: $20
Canberra: $18
Darwin: $26
Hobart: $17
Melbourne: $19
Perth: $17
Sydney: $22
Over the 15 year expected lifespan of a refrigerator in a home that produces a large surplus of solar electricity, it should save a total of at least this much in today's dollars, provided feed-in tariffs and electricity prices don't change in real terms:
Adelaide: $410
Brisbane: $300
Canberra: $270
Darwin: $390
Hobart: $260
Melbourne: $290
Perth: $250
Sydney: $330
So no matter where you are it can be worthwhile for solar households to shell out for better energy efficiency, with the greatest savings in Adelaide and Darwin and the least in Perth and Hobart.
These savings depend on feed-in tariffs not falling.  If Adelaide's feed-in tariff averaged half the 18 cents I used, the savings over 15 years would fall by 16% down to around $345.  If Western Australia's low feed-in tariff fell by half it would only reduce the savings by about 8% — so there's an advantage in having a low feed-in tariff in that things can't get too much worse.
The Cost Of Money
Just about everyone prefers to have money now rather than later.  This is because if you have money now you can use it to pay off debts, or invest it, or use it to take that trip to Stalinland you always wanted while you're still young enough to enjoy all the concrete Stalins.
If you have money sitting in the bank that's only earning interest at a rate that is 1% more than inflation5 then the savings from investing in energy efficiency wouldn't need to be high for it to be a better deal for you.  If you instead had a home loan at 5% interest to pay off, the savings from energy efficiency would have to be significantly better for it to be worthwhile to invest in it rather than put the money towards paying off your home.  And if you were paying off a loan at 8% or alternatively could invest money for 8% return then the savings from energy efficiency would have to be quite good to be worthwhile.
The percentage return that is required before energy efficiency or other investment is considered worthwhile is often referred to as a discount rate.  I have listed example discount rates I will use, as well as people who may have those rates, below6:
 0% – No one I know has a 0% discount rate but there may be people out there who are happy with investments that simply keep up with the rate of inflation.
1% – People who keep their money in term deposits may have a discount rate of around 1%.  Examples are many retired people and people who are bad at investing.  (And not just bad, but dull.)
5% – People playing off home loans and sensible but cautious investors.
8% – People with debt with moderately high interest rates.  Some investors including many heavily in the stock market.
The higher a person's discount rate, the greater the value they place on having money now rather than receiving money in the future from investing in energy efficiency.
Personally, my discount rate is around 8%.  I'll let you decide whether or not that's likely to be due to me being great at investing, or because I owe money to the Dutch Mafia, or simply because I enjoy living in the here and now.
Non-Solar Households And Discount Rates
This table show the maximum amount of additional money a household without rooftop solar panels should pay for an efficient refrigerator that reduces electricity consumption by 100 kilowatt-hours per year according to four example discount rates: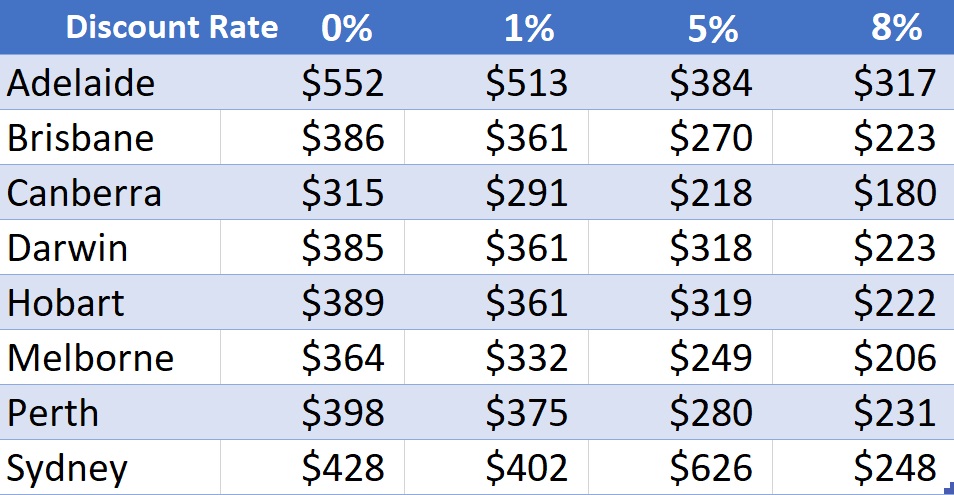 As you can see the savings can be large, as households without solar power benefit more from energy efficiency that those with it.
Solar Households And Discount Rates
This table shows the maximum amount of additional money, by discount rate, solar households producing a large surplus of solar electricity should pay for a sweet, annual, 100 kilowatt-hours of energy savings.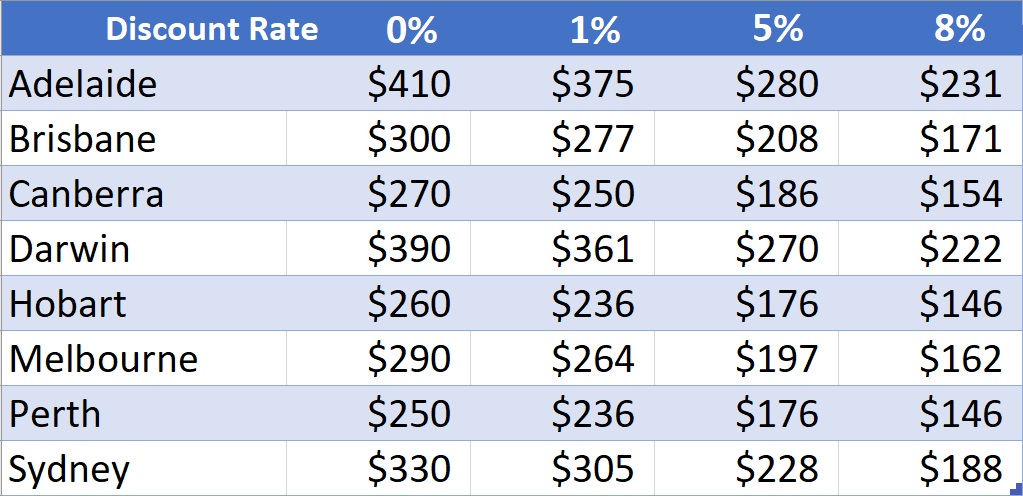 Selecting My New Fridge Using The Tables
I knew from past experience I wanted a fridge of around 350 liters capacity and when I went shopping I found four of around the right size.  Their prices, yearly electricity consumption, and number of energy stars, from lowest to highest, were:
$487   380 kilowatt-hours   3 Stars
$695   331 kilowatt-hours   3.5 Stars
$719   317 kilowatt-hours   3.5 Stars
$748   282 kilowatt-hours   4 Stars
Fridge number 4 uses roughly 100 kilowatt-hours a year less energy than fridge number one, and looking at the table for solar households I see that in Adelaide with my 8% discount rate I should be willing to spend up to $231 more for every 100 kilowatt-hours per year an energy efficient fridge will save me.  But as fridge number 4 is $261 more expensive it is less cost effective than number 1.
Fridge number 2 uses almost 50 kilowatt-hours less electricity than number 1, so I should be willing to pay half of $231 or $115 more for it.  But as it costs $208 more number 1 is still in the lead.  Number 3 uses 63 kilowatt-hours per year less than number 1, so I should be willing to pay 63% of $231 more for it, which comes to $146.  As it is actually $232 more, fridge number one is the champion and the best buy for me in Adelaide with my discount rate.
I then considered if there were any circumstances that might change the result I obtained.  Adelaide can get bloody hot in summer7, but it can also get freaking cold in winter and because I only heat my place when I have visitors I care about, I think my fridge is likely to use a little less electricity over a year than the figure on the energy rating label.  This will slightly reduce the value of energy efficiency.
Usually there are considerations other than price and electricity consumption that influence people's choices.  But of those four refrigerators, only one had a feature I was interested in and I was fortunate enough that it happened to be number 1.  The feature was its warranty was one-third longer than the others.
Why I Am An Arsehole
So why did I take the option that was best for my wallet instead of the one that was best for the planet and not spend a little extra on better energy efficiency?  Well, firstly, I think I overvalued having a longer warranty.  Secondly, I am scraping together money to get my sister a rooftop solar system because she still doesn't have one8 and I think the environmental benefit from that will make up for my small act of fridge related planetary destruction.  That's the way humans work.  We do a good act, or just consider doing one, and we think that makes it okay act irresponsibly at other times.
Energy Efficiency Considerations For Refrigerators
There are a number of factors that affect refrigerator energy efficiency:
A freezer compartment at the bottom is more energy efficient than one at the top.  When I looked at refrigerators I couldn't see any real difference in their energy consumption figures due to this, but I am sure this is a real effect and not just a rumor spread by thieving penguins looking to steal ice cubes.
For some reason, built in ice cube makers are very bad for energy efficiency, so I suggest skipping them.  (Unless you are a penguin or something.)
A refrigerator should have a gap of at least 5 to 8 centimeters on all sides.  Except the bottom side — there's no need to raise it up.  Refrigerators that don't have enough room around them to allow air to circulate and carry away their waste heat can use around 15% more energy.
If your fridge is in a position where sunlight can shine on it for extended periods, either directly or through windows, then you'll want a white one, as it will do the best job of reflecting heat.  But if it sits in the shade, as most fridges do, it's hard to say what the best color is because while darker ones are better at absorbing heat they are also better at emitting it and that could help them get rid of the waste heat they generate.
Refrigerator Warranties
Refrigerator warranties are pretty awful.  Most only have two years and those that have three make a point of boasting about it as if it is something amazing.  The reason why they are almost all so lousy is because some people will buy a refrigerator and whack it in a tin shack in the sun in Darwin where its compressor will work almost continuously.  Because most homes are far cooler than Darwinian sweat boxes they normally suffer a lot less wear and tear and so we typically expect them to last 10 to 20 years.
One thing to watch out for is refrigerators offering a 10 year warranty on their compressor9. These warranties are for parts only.  A salesperson told me10 that if the refrigerator breaks down the company will determine if the compressor was at fault and if it is they will give you a new one in a box and you will have to pay someone to replace it and that will cost around $450.  Since that's about $5 less that what I ended up paying for my new fridge, these compressor warranties did not impress me.  They depressed me.  The only good thing about them I could see is all the refrigerators with them clearly stated the 10 year warranty was for parts only, so hopefully very few people are under the impression they have a full 10 year warranty.
Bargaining
I bought my refrigerator from Harvey Norman because they were having a sale.  When I asked them to lower the price on the one I wanted they said they couldn't do that because it was already on special.  But you can always get money off if you pay cash in these places.  This is because the zero interest payment plans they offer cost them a lot of money.  So I told the salesperson I wanted money off for paying cash and when he said he couldn't do that, I patiently explained to him how store finance worked. At some point early into my lecture on Adam Smith's Wealth of Nations he said he had to go.
They ended up giving me 7% off for paying cash.  I think I could have potentially gotten a considerably larger discount, but I am not good at bargaining.  I'm shy and stink of fear.  But my father was very good at it.  If he couldn't get a shopkeeper down to the price he wanted he'd ask to talk to them out the back.  There would be the sound of a scuffle, or maybe a gunshot, and then everything in the store would be free.
I miss my dad.  Unfortunately, he doesn't miss me.  But because we're family he normally just hits me in the leg.
Delivery
If you're not lugging the fridge around yourself, a typical next day delivery fee is around $60 although it may be more for particularly large fridges.  After it arrived, I quickly checked the exterior for damage before signing for it.  When my parents bought their last refrigerator it had a small dent on the metal door handle and they were refunded $150.  Mind you, I think their fridge cost a lot more than mine.
They can also cart away your old fridge for you.  Harvey Norman did it as part of their delivery fee, while The Good Guys told me they charge $15 to dispose of a fridge.  There are people who will come around to your house and remove a broken down fridge for free — if they like the look of it.  They'll typically want a photograph so they can determine how much potential value it has to them.
Disposal
The most common coolant in Australian fridges at the moment is likely to be HFC-134a.  This substance does not destroy the ozone layer.  Just the planet in general.  It is a greenhouse gas 1,300 times stronger than carbon dioxide.  Fortunately there is only around 70 grams of it in a typical refrigerator, so if it is released into the atmosphere it is only equivalent to burning around 33 kilograms of coal.  It has a half life of around 14 years in the atmosphere, so it won't hang around forever, but it is incredibly powerful while it is around.
If HFC-134a is compressed into a liquid at room temperature and gets on your skin it is far more dangerous than liquid nitrogen at minus 196 degrees.  This is because liquid nitrogen tends to "bounce off" skin and anything warm, while HFC-134a will evaporate and rapidly cool, potentially causing severe frostbite.  So do try to avoid the temptation to jam a screwdriver through an operating fridge compressor.
The salesperson who sold me my new fridge told me the coolant in my old fridge would be dealt with responsibly when I inquired about it, but I must be a terrible person because I suspect it will actually be vented into the atmosphere.
Just Go Crazy With It
While this article has been all about refrigerators, the general principles apply to any appliance that has an energy star label on it that lets you compare energy consumption.  So feel to try it out on different appliances and let me know in the comments how utterly disastrous — or wonderful — it turns out to be.