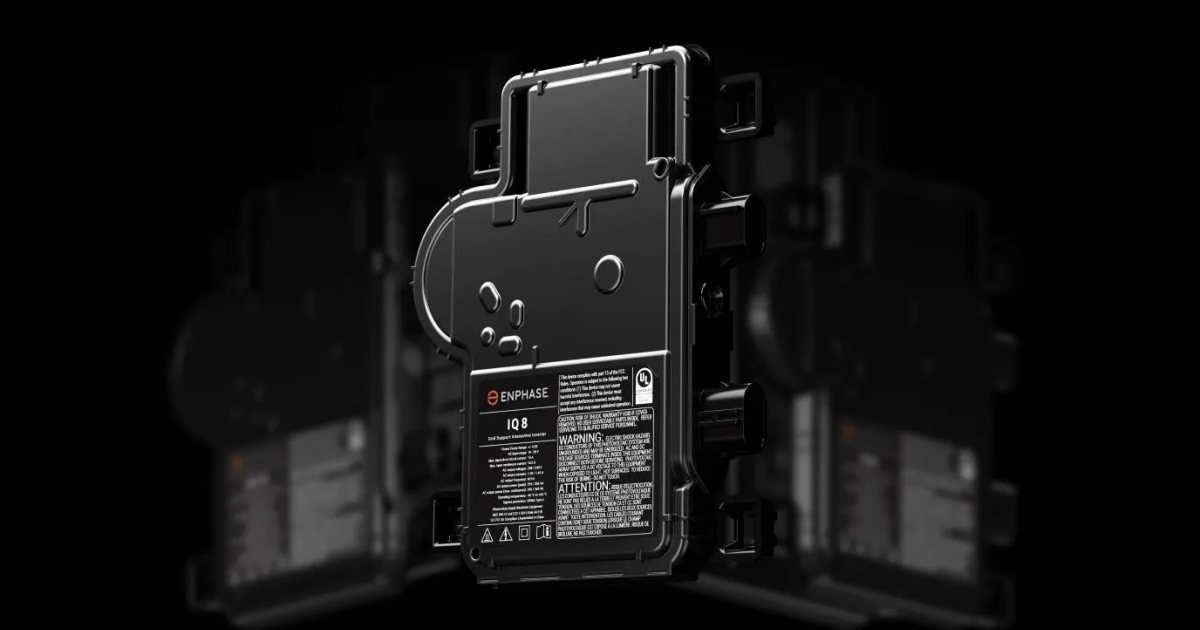 Enphase Energy indicated when we might finally see its IQ8 microinverter available here in Australia during the company's latest earnings call.
A microinverter is essentially a miniaturised solar inverter around the size of a paperback book. One is used per solar panel (or one for two panels in some cases) instead of having a single large "string" inverter, such as is used in a conventional solar power system installation. Using microinverters instead of a string inverter adds about 20-30% more to the cost of a solar power system. You can learn more about microinverters and their benefits here.
The world's biggest manufacturer of microinverters is Enphase Energy. Its products are pretty popular in Australia and Enphase scored a spot on the podium in the SolarQuotes 2022 Installers' Choice Awards for inverters (as it also did in 2021).
Yesterday the company announced its financial results for the first quarter of 2022, reporting record revenue of USD $441.3 million. The company shipped approximately 2,838,693 microinverters, or 1,029 megawatts DC, and 120.4 megawatt-hours of Enphase IQ Batteries in the first three months of this year.
Just as a comparison, in Q1 last year the company reported quarterly revenue of $301.8 million and 2,452,765 microinverters shipped. But microinverter unit shipments in Q1 2022 were down 6% compared to the fourth quarter of 2021, while IQ Battery shipments were up 20%
Badri Kothandaraman, Enphase President and Chief Executive Officer, described Q1 as "a good quarter" and said the company ramped IQ 8 microinverter shipments in North America; receiving positive feedback about the product "in general".
What's The Big Deal About The IQ8?
In a conventional solar power system, if mains grid supply is interrupted so is solar energy supply to the home. This isn't a bug, but a safety feature called anti-islanding protection. This prevents workers attempting to address the blackout from being zapped by solar systems exporting electricity to the grid, or grid hardware potentially being further damaged.
The IQ8's standout feature is the ability to form a microgrid during a blackout, preventing exports while providing backup power even without a battery. But you'll also need other (Enphase) gear to use this feature, and that doesn't look to be cheap. There are some more details on what's needed for the IQ8 and approximate costs here, along with information on the unit's four configuration modes.
IQ8 Microinverter Availability In Australia
I've been bugging Enphase for the past 6 months about when we'll see the IQ8 in Australia. I've been told the IQ Battery (which contains IQ8 microinverters) will be here before individual IQ8 devices will be. And in the earnings call yesterday, Mr. Kothandaraman stated:
"In Australia, we expect to introduce IQ batteries in the second half of 2022."
and …
"We also expect to introduce IQ 8 microinverters internationally into Europe and Australia during the second half of this year."
So, it appears Australians with a longing to get their hands on the IQ8 will need to long for a while longer.
Side note: among other things, Mr. Kothandaraman also mentioned Enphase expects to introduce a smart EV charger to customers in the U.S. and Europe in early 2023 – no mention of Australia. Enphase completed acquisition of EV charging solutions company ClipperCreek in early January.