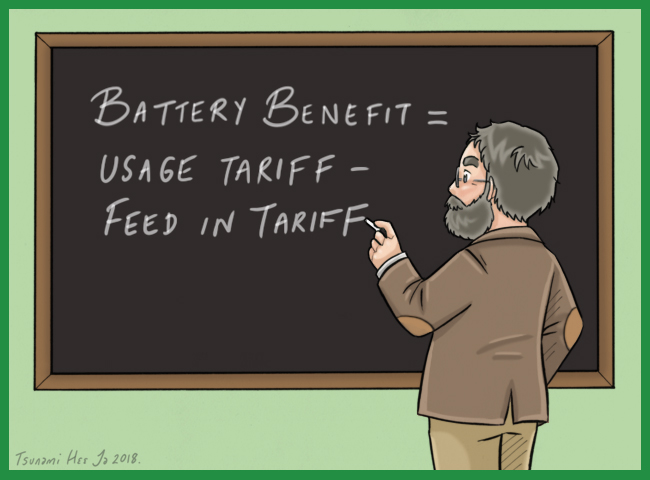 Installing a home battery system right now will not save you money. Maybe in a year or two it will, but I have a very short time horizon so that's almost like never to me.
As of March 2018 I know of no battery system on the market that will save money for a household that has anything approaching normal electricity consumption.
And note I said "on the market".  I don't want to hear about your home made battery system you wired together yourself out of cells found in an industrial bin behind a factory in Tianjin.  If you do have such a system I hope you're not a smoker as that will increase your chance of smelling burnt insulation before it's too late.
This article is about one very important factor that prevents solar batteries from paying for themselves.  If someone says home batteries make economic sense there's an excellent chance they've overlooked it.  Forgetting about it is probably the second biggest mistake made when determining battery payback.  The most common one is so sneaky and insidious and rarely recognized I will immortalize in song anyone who tells me what it is in the comments.
So what is this one thing that wrecks the economics of batteries?  It's your home's feed-in tariff.  Ignore it at your peril, for if you do, both your budget and your spirit may be broken.
Opportunity Cost
The reason why solar feed-in tariffs reduce any return from batteries is because of opportunity cost.  If a home generates one kilowatt-hour of solar electricity they can either:
Store it for later use, or…
Send it into the grid for the feed-in tariff.
It's not possible to do both with the same kilowatt-hour so any household that stores it loses out on the opportunity of getting a solar feed-in tariff.  And vice versa.  Basically you can't have your cake and eat it.  Because after you eat it the cake becomes a food bolus.1
Opportunity cost is such an important concept in economics it even has its own Wikipedia page2, which I am going to totally ignore in favor of this simplistic definition:
Opportunity Cost = Return of Most Lucrative Option – Return of Chosen Option
So we have some people who are just looking at:
Return from Storing Solar Electricity
And thinking that's how much they'll save if they install batteries when what they should be considering is:
Return From Storing Solar Electricity – Return From Solar Feed-in Tariffs
As that is what they'll actually be saving.
But I don't think the real problem is people are ignorant and don't know what opportunity cost is.  I think it's more that people are annoyed with their electricity retailers and want batteries to pay for themselves and so get a little optimistic and overlook the effects of feed-in tariffs in their excitement.  Then when someone completely lacking in tact, such as myself, points out their mistake they can get a little defensive.  No one enjoys having their beautiful battery system dreams crushed.
Examples
I am going to go through three examples to rub in the importance of taking solar feed-in tariffs into account:
A magical land where feed-in tariffs are equal to cost of grid electricity.
A home that receives no feed-in tariff.
A realistic example of a home receiving a typical feed-in tariff.
I am going to assume the batteries in the examples have round trip efficiencies of 80%.  This is significantly worse than what manufacturers normally claim for their products.  For example, Tesla says its Powerwall 2 has a round trip efficiency of 89%.  Unfortunately, I find the anecdotal evidence is mounting that the round trip efficiency of battery systems is closer to 80% in practice.
Example #1 — Darwin
Far to the north there is the magical land of the never-never3 where feed-in tariffs and the per kilowatt-hour charge are as one in magnitude:
Cost of grid electricity per kilowatt-hour = 25.7 cents
Solar feed-in tariff = 25.7 cents
Because of this, there is no point installing batteries in Darwin as they will only lose money.
To show this is the case, let's say there is a Darwinian who installs a home battery system.  Let's pick a name for him completely at random and call him Elon.
If Elon's batteries have an 80% round trip efficiency he'll need to charge them with 1.25 kilowatts of solar electricity in order to draw one kilowatt-hour from them in the evening.  Using that one kilowatt-hour will reduce his electricity bill by 25.7 cents but if electricity required to charge the battery had been sent into the grid instead he would have received 32.1 cents in feed-in tariff.  So for every kilowatt-hour of battery storage he uses, Elon loses 6.4 cents.
The moral of this story is never-never install batteries in the never-never if you can receive a feed-in tariff.
Example #2 — No Feed-In Tariff
Now I'll look at a home that receives no feed-in tariff.  Why it doesn't have one is not important.  Perhaps it's in a rural area and their Distributed Network Service Provider won't allow them to export any electricity or maybe they just don't like feed-in tariffs.  They could be feed-in tariff phobic.
If they are charged the Australian average of 25 cents for each kilowatt-hour of grid electricity they use then every kilowatt-hour of stored electricity provided by their batteries at night will save them 25 cents.  As long as there is enough surplus solar electricity to charge the batteries it doesn't matter how efficient they are because if the surplus energy isn't stored they get no benefit from it.
Example #3 — A Typical Feed-In Tariff In Adelaide
South Australians are charged the most per kilowatt-hour for grid electricity but they also have access to the highest feed-in tariffs outside of the Northern Territory.  Origin, AGL, and Energy Australia, the three largest electricity retailers in the country, all offer feed-in tariffs of 15 cents or more.
Using SolarQuotes' Electricity Price Comparison Tool and looking at AGL's retail plans, I see that with discounts a household can be charged 36.5 cents per kilowatt-hour of grid electricity used while receiving a feed-in tariff of 16.3 cents.
If this household has a battery system with a round trip efficiency of 80% they can use 1.25 kilowatt-hours of solar electricity to charge a battery and draw one kilowatt-hour from it in the evening and lower its electricity bill by 36.5 cents.  But that would cost them the opportunity to send the solar electricity into the grid and receive 20.4 cents in feed-in tariff.  This means each kilowatt-hour of electricity drawn from the batteries will only save the household 16.1 cents more than receiving a feed-in tariff for it.
Without a solar feed-in tariff the household would be 36.5 cents ahead for every kilowatt-hour of stored electricity used so in this example the feed-in tariff cuts the savings from storing energy by more than half.
Solar Feed-In Tariffs Versus No Feed-In Tariffs
To show the difference feed-in tariffs make to the economics of batteries, I will compare the total savings from installing a Powerwall 2 in South Australia without feed-in tariffs and with them.
I will make the following assumptions about the Powerwall 2:
Its total installed cost is $12,000.
Round trip efficiency is 80%.
It is only charged with surplus solar electricity.
It will provide a total of 56.7 megawatt-hours of storage: 50% more than allowed for by its warranty.
It provides an average of 9.7 kilowatt-hours of stored energy per day.
Its lifespan is 16 years.
I will also make the following assumptions:
The cost of grid electricity is 36.5 cents per kilowatt-hour.
When applicable, the feed-in tariff is 16.3 cents.
Electricity prices and solar feed-in tariffs remain constant in real terms.  (Even though I am sure they will fall.)
The cost of capital is 1% in real terms.
All values are given in today's money.
I regard my assumptions about the Powerwall 2 as optimistic, especially the high average daily use.  The low cost of capital I am using is also optimistic, but might be reasonable for a retired couple.  Mind you, it would have to be a retired couple that uses a lot of stored electricity each night.
Adelaide Powerwall 2 Without Feed-In Tariff
Without a feed-in tariff every kilowatt-hour of stored electricity would save a household 36.5 cents which would total $20,696 over 16 years.  I will assume these savings are invested at the same rate as the cost of capital — 1% in real terms — and so they will be $23,812 by end of the Powerwall's lifespan.  Then from this amount we need to subtract the cost of the installed Powerwall.  After 16 years with a 1% real cost of capital that would come to $14,071 putting the household $9,741 ahead.  This is enough to make the Powerwall 2 a solid investment.
Adelaide Powerwall 2 With 16.3 Cent Feed-In Tariff
With 80% round trip efficiency the batteries will need to be charged with 1.25 kilowatts of solar electricity for every kilowatt-hour that is discharged.  This means the electricity bill will only be reduced by 16.1 cents per kilowatt-hour stored.  Over 16 years this would total to $9,129 and when invested at 1% real return it would come to $10,524 over that time.  After 16 years with a 1% cost of capital the $12,000 original installed cost of the Powerwall would come to $14,071.  Subtracting this amount from the money saved plus interest gives negative $3,547.
This means once feed-in tariffs are accounted for, even in the state with the highest electricity prices, battery storage won't pay for itself even when using optimistic assumptions.  If Tesla's round trip efficiency figure of 89% is used instead the loss comes to negative $2,202.  This is not enough to change the basic conclusion.
Feed-In Tariffs Prevent Batteries Paying Anywhere In Australia
South Australia's high electricity prices make it an excellent location to install batteries, but Western Australia should be a little better thanks to their low feed-in tariff of only 7.1 cents.  Their higher and more constant levels of sunshine should also help4.  Elsewhere in Australia time-of-use tariffs could potentially make batteries pay for themselves but that introduces a whole new set of complications, many of which I have covered in the past and I'll probably get around to covering them again in the future.  So it's possible there are homes where batteries could pay for themselves now, but they would be extremely rare and probably really weird.
No Regrets
I'm sorry if I have bummed some people out by dashing their hopes of saving money by installing currently available battery systems.  But I have no problem spreading some mild depression if it spares people the pain of making a hefty financial mistake costing thousands of dollars.  So I have no regrets.
Footnotes
And then it becomes chyme and then feces which is the technical term for a sacrifice to the porcelain volcano. ↩
I would heartily recommend you all use and donate to Wikipedia, except there doesn't seem to be a page about me, so it's obviously broken. ↩
Actually, I had a friend who went to Darwin and she said it was more like the always-always. ↩
I originally wrote that Western Australians aren't allowed to install batteries.  That is wrong and was stupid of me.  I have had some people tell me they haven't been allowed to install batteries in WA and this is something I might look into at some point. ↩